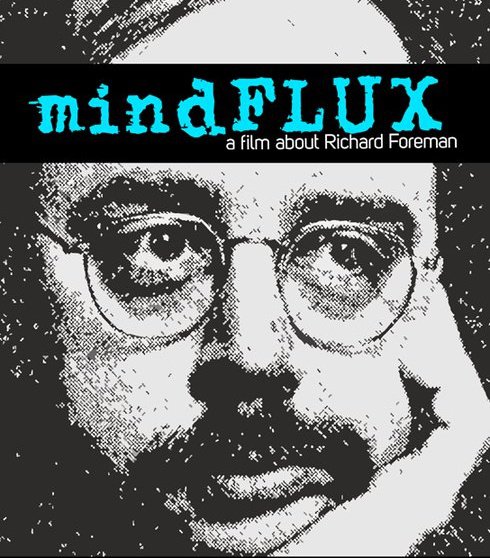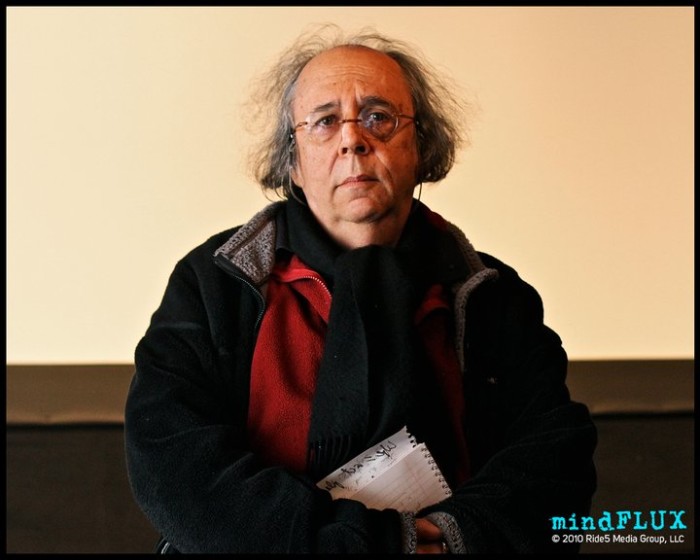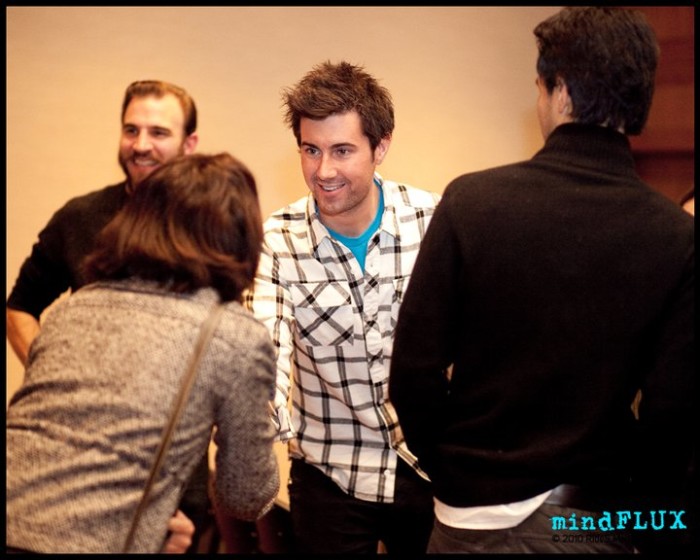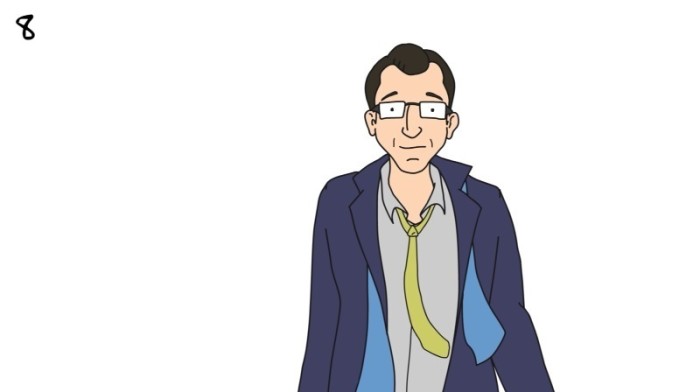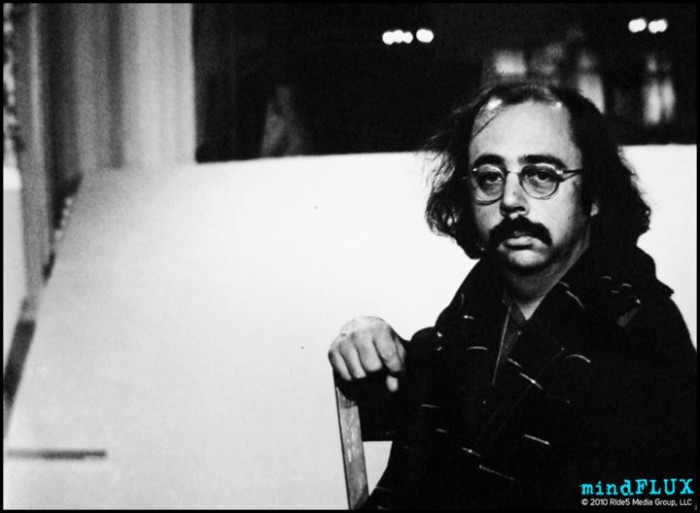 Above, from top: poster; Richard Foreman; director Ryan Kerrison; Jonas Mekas; Anne Bogart; Lou Reed; Yoko Ono; Tony Torn; T. Ryder Smith; my animated self; Richard in the 1970s.
Context
F.Mindflux.Festival Highlights: mindFLUX | DOC NYC
Reviews
Arts Engine, Ariana Costakes – Speaking of controversy and abstract interpretations of reality, the second Monday matinee profiled playwright and director Richard Foreman. How does one describe the theatrical works of this chronically misunderstood iconoclast? Can mere words do justice to the mind-bending experience of his visceral, outlandish performance pieces? Audience members—if they make it through his shows—exit his Ontological-Hysteric Theater speechless and with rapt expressions.  Maybe it's best to leave the narrative to the director himself, his contemporaries and his former and current protégés.
Ryan Kerrison's mindFLUX is an endearing portrait of the renegade playwright in a series of interviews, animation and performance footage from the director's own vault.
Foreman was controversial even among the avant-garde of the 1960s SoHo arts movement. In the film, theater pioneers like James Cromwell and F. Murray Abraham express their initial frustration with Foreman's seemingly fickle direction but later admit they knew they were part of something seminal. Actor T. Ryder Smith speaks of his anxiety leading up to his first audition with the director in the kitchen of his fabled Wooster Street apartment. Pulitzer Prize winning playwright Suzan-Lori Parks discusses Foreman's influence on the early stages of her art. Witnesses describe how the nightmarish sets, disjointed dialog, booming voiceovers and manic scores came together into what was not just a new genre of theater, but a new kind of sensory experience.
mindFLUX is a lighthearted and hilarious celebration of Richard Foreman's life and works. The consensus among its subjects is that a Foreman play is much like a first psychotropic experience; whether disturbing or elating, it heightens the senses and dispels the fog of monotony. The film ends with a message to contemporary artists struggling to produce in an information-age somewhat inhospitable to creative expression: "The world, in fact, waits and is hungry for your uniqueness. The 'you' that is like no one else in the world."
Black Mary film zine – His name may not be as well-known as Stephen Sondheim, but Richard Foreman is a legendary freak of a genius. A playwright whose abstract plays defy definition, his shows of absolute madness and confusion have both turned on and weirded out audiences since the 1960s. Ryan Kerrison's documentary mindFLUX examines the life of this strange and unusual artist, who has touched the lives of many of the most celebrated theater artists in New York City.
Richard Foreman debuted his theater the Ontological-Hysteric Theater in 1968, a venue where he could give a stage to the out-there performers who didn't belong anywhere near Broadway. Ontology is the study of the nature of being, and Foreman's theater is dedicated to balance the primitive with the absolute mad, taking the perplexity of life and throwing it onstage for extensional understanding. Foreman's work is anti-commercial, hilarious in a sick way, and is not performed to please the audience, but rather to challenge them.
Foreman's work has touched the lives of many theater professionals who have either worked with him or been influenced by his eccentricity. Amongst the interview subjects are James Cromwell, Willem Dafoe, Lili Taylor, Suzan-Lori Parks, Yoko Ono, Lou Reed, and Eric Bogosian. As actor T. Ryder Smith tells a long and strange tale of his audition for Foreman, his story is presented in an animated sequence, turning Foreman into a grizzly ogre and his apartment building a dank and smelly fortress, heightening the auditioner's sense of insecurity and hesitation over giving themselves up for critique by this enigmatic individual.
Foreman's work stayed underground for years, until he gets the opportunity to stage Bertolt Brecht's The Threepenny Opera at Lincoln Center in 1976, starring Raul Julia, a gifted Shakespearean actor who got Foreman's macabre side to deliver a stunning performance as Macheath. While Foreman himself is not an accessibly likable character, and his shows that are abstract for the sake of being that way can be frustrating to watch and verge on pretentiousness, his willingness to forgo mainstream acceptance is to be admired. Foreman himself would say of aspiring artists that he is "hungry for your uniqueness." Anybody who shakes up audience's expectations and opens their minds to the reawakening of life is to be commended.
StarsandPopcorn.com, James M. – "Now read it again… as though you were on fire."
mindFLUX offers viewers a fascinating assortment of responses to, reflections on, and anecdotes about legendary avant-garde theater director Richard Foreman. It is a documentary in the simplest sense of the word, no thesis but a subject astutely observed.
For those intimidated by the viscerality of his plays and by Foreman's haphazard method, the documentary functions as a kinder, gentler initiation. By taking as its focus the artist himself and not the vast corpus of his immersive non-texts, the filmmakers further avoid the snooze-fest of an impossible academic mission. Instead viewers get an interesting and fun documentary about how Foreman generates and executes his ideas. The result is not quite a theater of the absurd, or the grotesque, not quite burlesque, but all of these: a theater of the id.
Foreman explains the purpose of his art as the insertion of friction into our slick and easy modern lives. As much an effort of the subconscious as the waking brain, his method is akin to one's feeling the way down a long, dark hallway, blindfolded but confident that what lies at the far end is something absolutely worthwhile.
Commentators include a wide swath of experienced actors, writers and filmmakers, notable among them F. Murray Abraham, Willem Dafoe, James Cromwell, and artist-musicians Lou Reed and Yoko Ono. Renowned SITI director Anne Bogart and Pulitzer-prize winning playwright Suzan-Lori Parks also join the rank. Wary viewers may find it particularly reassuring to hear such respected artists fumble for words over Foreman's art.
Awed befuddlement is the consensus.
Film director Ryan Kerrison's experience with layered motion graphics whilst at the helm of the Ride5 Media Group is apparent in the film's interspersed animated sequences. Along with snippets of actual performances and a robotically catchy music video from the 80s, these short sequences break up the visual monotony of a regular interview piece and make the film a lot more fun to watch.
For its playful tone the documentary at times stokes the mad director's Olympian mythos. While that reverence (which drips from the lips of every interviewee) underwrites Foreman's influence within the theatrical world, and therefore justifies one's viewing of the film, it skews the reality of a man already too well draped in enigma. Only those interviews of Foreman himself help to counterbalance such aggrandizement, to humanize the oft-misunderstood artist.
mindFLUX will most satisfy an audience of artists, art patrons and scholars, though its fluid production and sense of humor go a long way toward giving the subject a more general appeal. A few may even find in its modest runtime the introductory chapter from a how-to for madman savants.
ink19.com, Carl F. Gauze – Who knew there was a Godfather of Avant Garde theater? Well, there is, and it's the enigmatic and little known Richard Foreman. While he didn't start writing for the stage until his 30s, he's been prolific ever since, and established quite a reputation with the New York artist world. Beginning with Angel Face, his Ontological-Hysteric Theater had a string of productions that tended to lose half their audience before intermission. Those who hung on until the curtain have certain bragging rights, not the least of which is the patience to find entertainment in nude people making odd huffing noises while atonal buzzing plays over the PA. This funky documentary visits Foreman, his students, friends, detractors and the patient critics who were paid to sit though his performances. While his works are intimidating and rarely performed, the documentary adds animations and archival footage to let you know just what you missed. Highlights include audition horror stories: "Imagine aliens inserted a voodoo doll in your chest and when you say certain words, the pins are pulled in or out. Read the part as if that's happening, but you can't let me know what words push which pins." That line is a play in itself, and a good introduction to this weird slice of the theater world. At 55 minutes, this film is the right length to bring you up to speed on theater that places location and metaphor above conflict and resolution, but not drive you out to the lobby in search of an exit, pursued by a metaphorical bear.
Lance Around Orlando blog, Thenumberoneson – Here's the problem: We do not own a time machine and therefore we cannot see all the films at the festival (or kill Hitler.) Today we had a choice between a documentary and some sort of surreal psychosexual thriller. We chose the documentary and, of course, the entire time I'm thinking gyah! Boring! What are we doing here? the other film sounded awesome! I think next year we should just watch films at random so there's no regrets.
Anyway the documentary in question: MindFLUX. It's about Richard Foreman, an avant-garde New York theater director, and it's got interviews with, among others, F. Murray Abraham, James Cromwell, and Wallace Shawn!
Not a very good film though. It's one of those documentaries for people with no attention span. It plays a soundbite from one person, then it cuts to another soundbite from another person, then it shows like four seconds from one of the plays. I wanted to scream: stop skipping around! I want to hear people talk! I want to see the play! Also whenever someone is talking it does this awful thing where it switches angles every second and also (ugg) switches back and forth between black and white and color. The movie tries so hard to be not boring that it winds up boring.
And then there's the animation. At one point someone is telling an audition story. And it's a great story. And he's a great storyteller. But instead of letting you see the person who is talking, the movie cuts to a really lousy flash-animated dramatization of what happened. Why do this? The animation doesn't add any information, or any humor. It doesn't add anything. And in fact it takes away something: I bet the interviewee would be even more entertaining if you could see him.
I dunno I'm probably being too hard on this. It occurs to me that I saw an infomercial for a blender the other night, and it didn't really make me want to buy the blender. But today I saw a movie that made me want to buy a ticket to a Richard Foreman play! The plays looked good! It's hard to say for sure because the movie only shows tiny snippets, but they definitely looked like my kind of thing. I am a fan of surreal dreamlogic type stuff, and the sets looked beautiful. Anyway I guess what I'm saying is MindFLUX is probably better than the infomercial I saw the other night.
Oh man what if the filmmaker reads this review and gets disheartened and decides to quit filmmaking and become a banker? Aww don't do that Mr. film director! Actually I'm glad I saw the film! It was interesting! It just, you know, wasn't very good.