Craig Noel award/San Diego Theatre Critics Circle
Outstanding Lead Performance
Lincolnesque, by John Strand
Old Globe Theatre, San Diego, CA
2006
see archive for the production here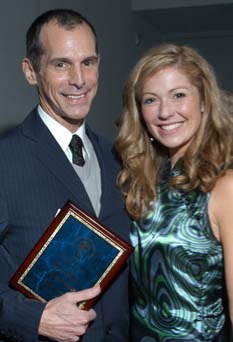 With Rynn O'Connor
Text of my acceptance speech
Abraham Lincoln said rare was the man who could speak well while holding his tongue . . . as opposed to those who enjoyed loosing it, so let me be brief.
I think many of us become actors because we want to have a conversation with our culture. And the theater, as all of us here know, allows that conversation to be an electric and immediate thing. And so I take this award as evidence of how important the conversation of Lincolnesque was, and I'm honored to have been a part of it.
I share this award with several people: Joe Calarco, the director; Jerry Patch, Samantha Barry, and the rest of the staff at The Old Globe, who are the definition of class; with my love Rynn O'Connor; and while I see the Critic's Circle has had the good taste to recognize the work of my castmate James Sutorius, I'm sure James would agree that we both share the award with the other 2 members of our 4-person ensemble, Leo Marks and Magaly Colimon; and I especially share this with playwright John Strand, who showed a character trying to remind us that the solution to political nightmares is integrity, courage, and wit. Here's hoping we can remember that today.
And finally, let me say, as a cynical New Yorker, that if this award represents even half the love I feel for the enchanted city of San Diego and it's exceptional theatre community, I am lucky, indeed.
Thank you.