2007 special award
Outstanding Ensemble Cast
Lebensraum, by Israel Horowitz
Kirk Theater, NYC
see archive for the production here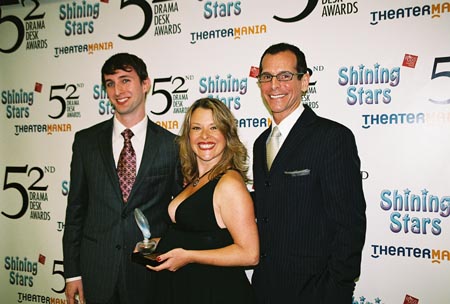 Above, l to r: Ryan Young, Suli Holum, T. Ryder Smith
Our acceptance speech
The three of us tossed around some ideas of what we might say, who should speak, etc, but we weren't entirely happy with any of them. I wrote the following and we rehearsed it in the hallway before we had to go onstage. I'm happy to say it went over well.
Suli was 8 months pregnant, and Ryan and I took her hands as we walked down a short staircase onto the stage.
T (ad-libbing): If you'd waited a few more minutes, you could have given this award to 4 of us.
   Beat. All three speak at once, stop.
T: Sorry.
Suli: Go ahead.
Ryan: After you.
   Beat. All three speak at once, stop.
T: Beg your pardon.
Suli: So sorry.
Ryan: Please go ahead.
   Beat.
T: We –
Suli: Thank –
Ryan: You –
T: For –
Suli: This –
Ryan: En-
Suli: Sem-
Ryan: Ble –
T.: Award.
Suli: And –
Ryan: Share –
T: It –
Suli: With:
Ryan: Israel Horowitz –
T: The Playwright –
Suli: And Jonathan Rest –
Ryan: The Director.
All: Thank you!
*
p.2007 Drama Desk Award Nominations Announced_ Theater News on TheaterMania.com
*
*
2002 nomination
Outstanding Solo Performance
Underneath the Lintel, by Glen Berger
Soho Playhouse, NYC
see archive for the production here
I was honored to be nominated for this but knew it was highly unlikely that I would win. I sat next to my fellow nominee Reno, who felt the same way. We had a good time watching the ceremony, and were very happy when Elaine Stritch won the award.