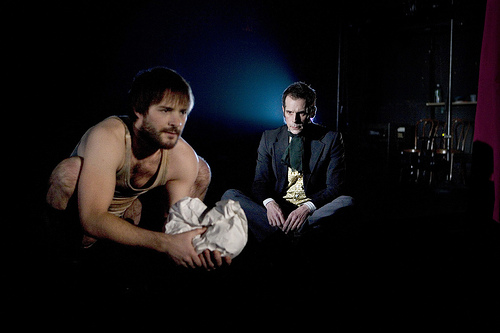 Top photo by Aaron Epstein ; all other photos by T. Ryder Smith/The Hinge Collective
Excerpts from the reviews
Full reviews are below
"The crucial difference between eating household pets and babies, explains a demon (T. Ryder Smith) in "Apparition," is not the taste. (He seems to assume both are delicious.) It's that human bones are easier to chew. "Crunch, crunch, crunch," he says gleefully, like a foodie from the underworld. This scene is an absolute hoot, one of the many small, nervy pleasures of this irresistible collection of gothic tales that puts one in mind of an excellent late-night storytelling session at the Vincent Price camp for disturbed children. . .  Blessed with a subtle and evocative design by Andromache Chalfant, the show could still use a little tightening . . . But all is forgiven when the electric Mr. Smith arrives as the demon . . . His unpredictable line readings are filled with little shockers, but if you want to see where he is heading, keep an eye on his slowly transforming physicality, a masterful example of making full use of his body. He is so creepily hypnotizing that you may decide to keep some lights on when you go to sleep." Jason Zinoman, The New York Times
"This production arrives too late for Halloween, which at least would have offered it a raison d'être. As it is, the disjointed script, by Anne Washburn, offers little inducement to stay tuned, though the director, Les Waters, tries every atmospheric trick to keep it rolling. The short monologues and scenes never develop a sustaining focus, though the nimble young cast—including the ever-resourceful T. Ryder Smith, with his glittering eyes and dry deadpan—does whatever possible to bring out the mordancy in this purple pastiche of ghoulish Victoriana and tongue-in-cheek goth." The New Yorker
"'Apparition', now playing at the lovely Connelly Theatre, takes on the subject of ghostly appearances and hauntings. Eerie dim lighting, costumes with decaying Victorian elements, and the spookiest sound design prepare the audience for some good ghost stories. Unfortunately, the title seems to be a malapropism: the plot is rarely transparent, often opaque. Like little ghosts, the meaning of the play becomes apparent at rare intervals — and we are certainly frightened to think that we have been blind to the plotlines throughout. Accomplished director Les Waters does the best he can . . . The strong cast and the support by a wonderful production team, notwithstanding, the underlying text is missing enough coherence to give these elements sense. There are enough frightening moments to keep the audience alert, but there is not enough meaning in the language for the stories to haunt us when we get home." Lisa Zapol, Curtain Up
Publicity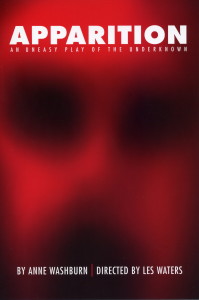 Offstage
Full reviews
Broadway World, Jena Tesse Fox – Of all the young up-and-coming playwrights on the scene today, I'd lay my money on Anne Washburn as one to watch most closely. Gifted with a poet's sense of language and a photographer's vision of theatre, her plays are thought-provoking, intelligent, and entertaining. Her two most recent productions, The Ladies and The Internationalist, announced her as one of the most promising new writers on the scene. Would that her latest play, Apparition, kept that promise. A study in scares, Apparition is a loosely connected series of vignettes and scenes that examine the causes and nature of fear. Spooky stories of haunted forests are told in melodramatic tones. Children talk in false Latin. Macbeth is analyzed, and re-analyzed, and ultimately performed with one witch too many. Demons discuss eating dogs, cats, and babies. And alas, very little of it is very scary. It would be sad enough if the play simply failed to frighten, but Washburn does create some genuine chills. One story runs throughout the play, non-linear and disjointed, about a death in a dark room that might have been accidental… or might have been merely a dream. The fierce pounding on a solitary woman's door might have been some unimaginable monster, or a husband desperately searching for help for his injured wife. The darkness, ambiguity, and simple language of these scenes get under the skin and create a wonderfully dreadful mood, showing off Washburn's talents to their fullest extent. The other scenes do not, and that is the true tragedy of the play. Washburn does not seem to trust her strongest material to stand on its own, and surrounds it with vague and occasionally grotesque scenes that do not frighten, or worse, entertain. Had she fleshed out the story of the mystery in the attic, even leaving it in its non-linear and ambiguous state, she could have had a fascinating and truly haunting story that would leave Poe jealous. Les Waters' direction is equally divided, making the strong scenes stronger and the weak ones weaker. The attic story is effective and intense, while the Macbeth scenes are almost funny in their dramatic weakness. Darron L. West's moody sound effects between scenes initially heighten the mood, but, overused, become a parody of themselves, losing their effectiveness after the first fifteen minutes. Christal Weatherly's Victorian costumes are lovely to look at and brilliant in their detail, but add little to the overall atmosphere. Jane Cox's lighting is the truest star of the production, ranging from blinding brightness to complete darkness, from warm to cold, as each scene demands. Fluorescent lights drain the color from the actors and make Andromache Chalfant's wonderful set even more desolate and lifeless. Footlights line the Connelly stage, casting long shadows and doing much to give the weak scenes some atmosphere. It is truly impressive to see such variety and range of lighting in a single production. The five cast members, who remain essentially anonymous by lack of pictures in the programme or identification on the stage, bring some measure of vitality to Washburn's words. Maria Dizzia, Garrett Neergaard, Emily Donahoe, T. Ryder Smith, and David Andrew McMahon make the most of what they're given, and when the scenes are well-written, they are equally well performed. For all of Apparition's weaknesses, there is enough gold in the rubble of Washburn's script to keep me convinced of her gifts and potential, and I stand by my conviction that she is one of the brightest of off-Broadway's undiscovered gems. May her next play be stronger. 12-5-05
Curtain Up, Liza Zapol – 'Apparition', now playing at the lovely Connelly Theatre, takes on the subject of ghostly appearances and hauntings. Eerie dim lighting, costumes with decaying Victorian elements, and the spookiest sound design prepare the audience for some good ghost stories. Unfortunately, the title seems to be a malapropism: the plot is rarely transparent, often opaque. Like little ghosts, the meaning of the play becomes apparent at rare intervals — and we are certainly frightened to think that we have been blind to the plotlines throughout. Accomplished director Les Waters does the best he can with the convoluted text, especially given that writer Anne Washburn's stage directions state: "With certain interesting exceptions, to be determined by the director, characters shall not move within scenes." Those rare moments of movement are notable. One of the most memorable scenes is between a devil and his demon (the excellent T. Ryder Smith and the underused Garrett Neergaard), in which the demon eats the flesh of a small animal (cat or dog, he is unsure which, but he eats them because he likes "to crunch all the tiny bones"). He is then circled like prey by the devil, trying to convince him to eat a dead baby in a paper bag. There are also other elements of story embedded within the flurry of text. Many characters deliver (albeit non-moving) monologues about eerie coincidences. Maria Dizza plays a weary traveler telling of her first night in a new apartment, which has whispering phone lines, and mysterious pounding at her door. This story certainly gave me the creeps: remembering nights lying awake listening to the creaks of an unfamiliar home. Nearly every frightening monologue ends identically with the lights failing, and the character describing being left in the dark in haunted environs. The lighting design also keeps the characters often in the dark. This design element seems to be the most integrated and sophisticated, defining the environment of the scenes. The author also gives another directive in her playtext: "Space is defined by light." and lighting designer Jane Cox uses an incredible variety of often dim light sources: reading lights over music stands, flashlights in the dark, glowing masks, and a glimpse of a face in a window. From the moment the house lights begin to dim, Darren West's sound design warns us of the frightening things to come. His deft attention to detail creates a world where you are not scared by what is said, but what you think is heard. In this play, where each story finds one or all of the characters frozen with fear, West's soundscape plunges you into the character's nightmare. Whether they be growls of unearthly beasts or faint whispers that beckon softly from the dark, the audience members cringe in their seats. The thoughtful aural nuances help Mr. Waters' production sustain a level of tension that needs to be present to carry the audience through these dark woods. The strong cast and the support by a wonderful production team, notwithstanding, the underlying text is missing enough coherence to give these elements sense. There are enough frightening moments to keep the audience alert, but there is not enough meaning in the language for the stories to haunt us when we get home. What stays is the searing image of a dimly lit face in a window, a glowing mask, a high pitched crackle. 12-3-05
NewYorkCool.com, Eleanor Goldberg – Apparition is the haunting nightmare from which you cannot awake. From the moment that the lights are darkened and the theatre is blackened, an ominous tone sets in as Darren L. West's eerie sounds begin to emanate. Hooting owls, slow and steady footsteps and the opening and closing of mysterious doors resound throughout the theatre, leaving the audience quivering in their seats, anxiously anticipating the next spine-tingling event. The four nameless characters present a series of frightful vignettes that alternate in length and in time period. They each don Victorian style dresses and suits, designed by Christal Weatherly, and bear wan complexions – leaving the audience to wonder if these people are in fact alive or just ghosts revealing the innermost fears of the living. Anne Washburn's script touches on a number of horrific themes as the characters weave through the varying story lines. Each actor offers their own somber and fearful monologue. The most powerful occurs when Maria Dizzia bemoans the enigmatically placed light switch in her new apartment that compels her to trek through her hallway in the complete dark, when there may or may not be an intruder standing right outside of her door. Apparition deals with many present day real fears including murderers and burglars and also touches on some more abstract, inexplicable themes. The actors frequently call upon Macbeth's infamous witches, by reciting verbatim, their jarring incantations and then going on to belt out other, similar sounding Latin ramblings. The actors present dead ghosts revisiting the living and by far, the most disturbing of all, are the baby and dog eaters who thrive on the "crunch, crunch, crunch" of the tiny, little bones. Andromache Chalfant's dark and industrialized set compliments the recurring, haunting scenes, enhancing the darkness of the show, allowing the audience to feel as though the set is an endless blackness from which spirits and ghosts will never cease to appear. While many of the scenes in Washburn's show are somewhat disjointed and confusing at times, it is apparent that she is not trying to create a neat and cohesively orchestrated play. In fact, she succeeds in achieving the exact opposite, as nightmares never seem to follow any direction, even that of the dreamer's. Apparition succeeds in conveying a series of disturbing and frightening events that speak to everyone's deeply rooted fears of the unknown; after all, it seems that no one ever really outgrows their fear of the dark.
The New Yorker – This production arrives too late for Halloween, which at least would have offered it a raison d'être. As it is, the disjointed script, by Anne Washburn, offers little inducement to stay tuned, though the director, Les Waters, tries every atmospheric trick to keep it rolling. The short monologues and scenes never develop a sustaining focus, though the nimble young cast—including the ever-resourceful T. Ryder Smith, with his glittering eyes and dry deadpan—does whatever possible to bring out the mordancy in this purple pastiche of ghoulish Victoriana and tongue-in-cheek goth. 1-9-06
NYTheatre.com, Loren Noveck – I think watching Apparition is supposed to feel like a nightmare: a sequence of things you can't really explain, each one more unsettling—though for no good reason—than the next: strange creatures in shadows, weird noises in the corners, and definitely beasties under the bed. And there were moments when a genuine shudder did run down my spine. Unfortunately, there were far more moments when confusion was simply confusion, frustration, and impatience. There's not a single story here, but rather a series of vignettes—some choral recitations, some monologues, some more traditionally constructed scenes—performed by an ensemble of five actors in vaguely Victorian clothes. (Christal Weatherby's elegantly tattered, gray-and-black costumes make the ensemble look like Edward Gorey drawings.) Sometimes the actors sit at music stands and read; sometimes they seem to be collectively telling a campfire story. Much of the time, they are in complete darkness, or a vague, grey light that presents only silhouettes. Sections of the play involve the retelling of the plot of Macbeth, in evocative detail but without any names. Some of the stories involve weird occurrences in daily life that disturb more than they should—a drink that disappears from an otherwise empty room; hearing pounding on your door in a new place in the middle of the night. As you may be able to tell from the above paragraph, I didn't really understand what was going on, a lot of the time. Or, more precisely—I understood what was happening internally within each section, but I never really got a sense of how the sections fit together, why they were presented to me, or how I was supposed to engage with them. I felt like I was supposed to be having a genuinely terrifying nightmare, but instead I was having one of those puzzling but not exactly scary dreams where suddenly everyone is speaking in a language you don't understand. This was an extremely frustrating experience, perhaps more so because so many of the involved artists are people whose work has impressed me in the past. There seem to me to be two problems here—one of conception, one of execution. The first is that it's really hard to construct a nightmare-scape that scares everyone, without resorting to horror-film blood and gore—the most truly unsettling dreams are the ones that arise within the individual psyche and don't contain elements that would necessarily be scary to anyone but the dreamer. I think it's that kind of imagery and feeling that playwright Anne Washburn and director Les Waters are trying to tap into—but I think it's almost impossible to hit the night terrors of a whole audience at once. So how do you execute this challenging task? Waters, Washburn, and their team of designers seem to be trying to tell a story about feeling scared, or perhaps showing an audience how to feel scared, instead of actually scaring us. Washburn's script feels overly wordy; it narrates every twist and turn in the consciousness of the person having the unsettling experience. Darron L. West's clever soundscape does create tension, but feels almost like a movie score in the way it telegraphs the emotions a scene is meant to evoke. Andromache Chalfant's blasted-apart set creates a decaying no-man's land inside the Connelly Theatre's elegant proscenium. Jane Cox uses deliberately ugly—or completely absent—lighting to harshen and obscure the action. Waters's staging is deliberately static and flat, so that none of the performers really interact. The performances are mannered and stylized, too—the ensemble (Maria Dizzia, Emily Donahoe, David Andrew McMahon, Garrett Neergaard, T. Ryder Smith) seems to relish the complexity of the language but often the actors seem bemused by, rather than involved in, the stories they tell. I can't help thinking that Apparition might be much more effective if it were much less elaborate—if more were left to the power of suggestion. Told in a small dark room with a few candles and the occasional unexplained footstep in the background, some of these stories might be genuinely unsettling, and the overall randomness might take on the quality of a dream. But the piece as it was presented never worked for me, especially in a proscenium theater, with elaborate production values. 12-1-05
Talkin' Broadway, Matthew Murray – It's a rare, unexpected experience when the most scintillating work in a show is that done by its lighting designer. Yet sitting in the Connelly Theater for Apparition, you're always more keenly aware of Jane Cox's contributions than those of anyone else involved in this fitful, frustrating production. A recent example of a more exciting statement of the lighting designer's craft is difficult to recall. With but a modicum of instruments, generally appearing limited in color and complexity, Cox fashions a shadowy nightmarescape of human (and nonhuman) fears. The wavering beam of a single flashlight might be the auditorium's sole light source. Or half a dozen lighting instruments might be so precisely timed and focused as to cause one person to vanish from the stage in the course of a single blink. And when light is extinguished from the theater altogether – as happens several times – that, too, seems by design, intended to produce a kind of anticipatory suffocation. Cox's work is so exceptional in capturing the haunting specter of fear and the unknown that it's almost unfair to harp on the one thing it doesn't do: illuminate a single worthy aspect of Washburn's script. But as this is also something that neither director Les Waters nor his company of five actors can achieve, one's tempted to cut Cox some slack – she's merely delivering the show that Washburn thinks she wrote. Washburn should be glad: Cox's is much more interesting. What Washburn has scripted is something of a theatrical horror anthology, a Twilight Zone-type stage show as might appear at a macabre television theme park. A host of characters spend some 85 minutes worrying about what lies just beyond their range of vision, what they can hear but not see, what they'd have no fear of if only the light were present. There are vivid, poetic allusions to Macbeth; scenes are spoken entirely in imaginary Latin; two demons (one feral) argue over the contents of a mysterious bag. But it all never adds up to anything. Scenic designer Andromache Chalfant has provided a mock-Victorian stage (complete with footlights and elaborate red curtain) to match costume designer Christal Weatherly's period finery, but the dialogue itself seems unstuck in time, one moment classic and the next contemporary, and no overarching style has a chance to develop. Waters's rigid, calculated direction keeps the atmosphere so cool that it's difficult to get heated up even by the few moments that might be genuinely scary. While Maria Dizzia, Emily Donahoe, David Andrew McMahon, Garrett Neergaard, and T. Ryder Smith sound great intoning Washburn's lines, much of the time, it's impossible to know who's saying what, and often the scene ends just as you're about to figure it out. The performers deserve respect for taking on such anonymous chores, but should still project more distinct, discernible presences than they do. This can't be easy, of course, since so much time is spent in the complete absence of light. But that improves the experience of the rest of the play, requiring reliance on other senses: During the stretches of time in which you must make do with little or no light, every sound feels as though it's amplified tenfold, every wisp of air more stinging and startling than it would otherwise be. With your other senses so heightened, it's sometimes hard to know whether you should really be grateful for the lights returning. In the end, of course, you always are. After you're deprived of sight enough times, and given little of note in return, the dark becomes an antagonistic, gimmicky presence. Never a legitimately fearful one, though. Cox might facilitate that with her remarkable work at making you see Apparition's potential, but it doesn't help that everyone else is basically stumbling around blind.
TheatreMania, Dan Bacalzo – It's the wrong holiday season for Apparition. This atmosphere-heavy production might have been a pleasant Halloween treat but, judged solely on its own merits, it comes up wanting. Anne Washburn's play consists of disconnected scenes and monologues about spooky situations. The writing is littered with clichés, made-up Latin phrases, and ho-hum dialogue. Nothing here is truly scary. The five cast members (Maria Dizzia, Emily Donahoe, David Andrew McMahon, Garrett Neergaard, and T. Ryder Smith) play multiple roles, none of which are given a name. McMahon delivers a tiresome speech about a whisky and soda that vanished when he was alone in a room, Dizzia has a lengthy monologue about a jittery voice whispering to her over the telephone, and the entire company offers a retelling of Macbeth. One bright spot of the evening is a scene between Smith and Neergaard involving a mysterious paper bag, a discussion of bus stops, and the eating of small animals. Smith is particularly captivating, his deep, rich tones lending an air of foreboding to the proceedings. The other actors do the best they can but cannot overcome the limitations of the material. On the positive side, the production looks fantastic. Andromache Chalfant's set is like a shifting dreamscape, with a candelabra, a window, etc. appearing, disappearing, and reappearing. A smoke machine generates a layer of fog that is beautifully lit by Jane Cox, whose moody lighting design is the show's greatest asset. Christal Weatherly's costumes have a Victorian look, with occasional out-of-place sartorial elements such as a brown T-shirt that Donahoe wears underneath her black lace dress. Sound designer Darron L. West mixes everyday noises such as a phone's busy signal with eerie instrumental music, to good effect. With such strong design elements in place, director Les Waters is able to create some arresting visual images: the single beam of a flashlight pierces the darkness, a dimly lit figure crouches behind a window pane, and the staging of one scene is reversed to give us a different perspective on the action. Unfortunately, the pacing is oftentimes lethargic, and the production never builds to a climax; at the end of the performance I attended, the audience was slow to start clapping, mainly because they weren't sure if the show was over. 12-8-05
Theatremania/The Siegel Column, Barbara & Scott Siegel – Better Late Than Never? We recently caught up with two shows that are engendering a great deal of love-it-or hate-it reaction: Anne Washburn's Apparition, which ends its limited run on January 7, and the New Group production of Abigail's Party, which has been extended a second time through April 8. Apparition is notable for some flashy stagecraft but, when all is said and done, it's a self-consciously arty piece of gothic frou-frou that adds up to absolutely nothing. Mind you, it's not boring; Washburn is no Edgar Allan Poe, but director Les Waters does a damned fine job of making you think she is. He is helped in the cause by dramatically expressive lighting courtesy of Jane Cox, precise sound design by Darron L. West, and set design by Andromache Chalfant that further adds to the ghoulish atmosphere. Still, there is no meat here, nor even any potatoes or vegetables — just lots of sauce that's tasty but fails to fill you up. Like a lot of things in New York, this show gets by on its good looks. In the case of Abigail's Party, we suspect it's not word-of-mouth that's selling the show. What's getting people into the seats are strong reviews, the presence in the cast of movie star Jennifer Jason Leigh, and the patina of playwright Mike Leigh. Unfortunately, the performance we saw brought forth one of the most tepid audience reactions we've ever witnessed at the end of a so-called hit play. While Barbara feels that the piece has merit as social commentary, Scott is right there with the audience. We both would like to note that we frequently see far superior shows play to half-empty houses. But hey, that's showbiz. 1/6/06
Time Out NY, David Cote – A play should not be able to scare you more than a movie.  Sure, one of the performers could conceivably step off the stage  and stick a steak knife in your eye ("Other than that, how was the  show, Mrs. Lincoln?"), but for the most part, movies, those waking  dreams, raise the gooseflesh. But just get out and see Anne  Washburn's thrilling, hypnotic Apparition—it will frighten  the living hell out of you. A crisply lyrical and darkly  evocative series of monologues, scenes and choral  sequences that examine fear of the unknown and unseen,  Apparition gets under the listener's skin without spilling a  single drop of blood. And director Les Waters doesn't just  serve a first-rate text, he makes generous use of Jane  Cox's insinuating, crepuscular lights and Darron West's  ominous, pounding soundscape. So, during the increasingly  horrific scene in which two demons tensely decide whether  or not to eat some little living thing in a paper bag, just  keep telling yourself, "It's only a play, it's only a play…."     Washburn evokes dread like David Lynch and Stanley Kubrick:  We never know if the madness and violence is coming from within  the characters or without. Is the woman (Dizzia) who describes a  terrifying first night in a desolate new apartment paranoid, or is  there a maniac in the room? Did the sleeping young man  (McMahon) accidentally stab his lover (Donahoe), or is she a  ghost? And, again, what exactly is in the bag that those demons  (Neergaard and the always transfixing Smith) are drooling over?  Do you really want to know? 12.5.05
Variety, Mark Blankenship – It's amazing, really, how much a great production can compensate for a play's shortcomings. Take the cast of "Apparition," an off-kilter mélange of horror tropes from scribe Anne Washburn. All five ensemble members deliver amazing perfs crackling with a genuine dread that the script never musters. Backed by design that also transcends the material, they turn what might have been an arduous trek into a truly compelling journey through darkness. And that includes literal darkness. One of the play's many macabre vignettes — there are almost half a dozen, none of them connected — takes place in total blackness. A woman enters a man's darkened room (her lover? Her friend?) because she's heard a sound, but her intrusion results in morbid consequences that we can only hear. This segment gives the play a chilling apex, since director Les Waters knows just how to exacerbate our blindness by filling the air with rustling skirts and creaking furniture. Meanwhile, the actors whisper lines like, "Aren't you curious? To know what a flayed-open person feels like?" Hearing all this, the imagination is forced to delightfully frightening places. But the sensation doesn't last. Washburn's goal seems to be creating a perpetual mood of terror, one that defies logical narrative and scrapes our primal nerves. She might succeed if she could focus her attention, but her script flits like a hummingbird between stock "spooky moments." Therefore, just when we've gotten used to the terrible blackness, it's time for a backstage look at a staging of "Macbeth," complete with a Weird Sister who might be real. With so many storytelling styles being used, the production never sustains a tone. It doesn't help that Washburn often relies on "Storytelling" monologues, so that supernatural events are recalled rather than enacted. And even worse for maintaining mood, most segments are divided, so that we see part one ages after part two. Ultimately, the script becomes an almost academic study of things that are known to frighten theatergoers. But while Washburn struggles to evoke emotional responses, there's still plenty to be appreciated. The design team, for instance, has created the perfect environment for dread. Jane Cox's lights slash through the Connelly Theater, their stark white beams revealing just enough of that lump in the corner to make it unsettling. Meanwhile, costumer Christal Weatherly drapes the actors in moth-eaten Victorian finery. That might sound like a knock-off of "The Others," but since characters are generally in the present day, the dated clothes place the production in an agreeably out-of-time world. As much as the design accomplishes, though, it's the cast that sells the spirit of the show. Maria Dizzia seems gripped by actual fear as she recalls a demonic force that came to her apartment. Her shuddering breath and quick jerks of the head ("What was that?") read like instinctive reactions instead of an actor's choices. Likewise, Emily Donahoe convincingly slips into madness as she moves from describing Lady Macbeth's breakdown to experiencing it. These thesps' eyes are clearly alive with in-the-moment thinking, and it's inspiring to observe. Equally impressive is the physical prowess of T. Ryder Smith, who in one scene tempts a young man into cannibalism with a viper's calm. His body reflects his evil as he moves from a cross-legged position into snake-like undulation. Smith's slow specificity makes his transformation an alarming tour de force. It's too bad that the dramaturgy keeps what the actors are clearly experiencing so far from the audience. But even if they must be observed at arms' length, there's still much to be said for thesps this skilled at embodying the dark. 12-4-05
Village Voice, David Ng – In his Scottish play, Shakespeare warned that "The instruments of darkness tell us truths." This month, two photo- phobic Off-Broadway productions heed the Bard's words by extinguishing their house lights altogether. In Rope, the Leo-pold and Loeb–esque protagonists dispose of a cadaver in the pitch dark of a London salon, their heinous act concealed by opaque Edwardian curtains. In Apparition, several ghost stories unfurl on a blackened stage with only candles or a solitary flashlight serving as luminary sustenance. If saving on your Con Ed bill constitutes high art, both plays deserve the biggest accolades. In the cruel glare of the curtain call, however, neither lives up to the suggestive power of their darkest moments. First produced in 1929, and famously adapted for the screen by Alfred Hitchcock 20 years later, Patrick Hamilton's Rope takes place over a single evening and in a single location, thus approximating Greek tragedy. Its fatally flawed hero is Brandon (Sam Trammell), a blond specimen of prep school privilege whose vanity compels him to commit a murder and then flaunt his accomplishment in alarming ways. Helped by his live-in boyfriend, Granillo (Chandler Williams), he strangles a school acquaintance and dumps the body in a living-room chest, which he later uses as a serving table for the evening's dinner party. Played in total obscurity, the scene is a nifty shadow drama of murky motives that possibly doubles as a coded sex act between the heavy-breathing conspirators. But as the guests arrive and the lights come up, Rope falls into arthritic lockstep with the PBS Mystery! brand of macabre whimsy. The cast bustles with strained levity, spraying jolly-goodisms with awkward abandon. The late appearance of Brandon's insinuating schoolmaster (Zack Orth, apparently reading cue cards buried somewhere in his shirt collar) kicks the mystery into high gear, though Rope still takes an eternity to unmask its villains. The sole point of intrigue remains the protagonists' vaguely closeted relationship, which director David Warren labors to punctuate with overt hugs and gropes. Are they out? (Unlikely in early-20th- century England.) Are they quasi-out? At one point, an understandably confused guest dismisses the evening as "queer and dark." He's more accurate than he realizes, even if this indecisive production is ultimately lacking on both counts. Anne Washburn's Apparition announces its indecision from the get-go. "It was the 19th century, or something . . . " says one of five performers, each costumed in what looks like Victorian formal meets downtown vintage. The able troupe spends the next 90 minutes conjuring tales of bloody burglary, occult worship, and mysterious baby-eating creatures. More strange than scary, this avant-horror anthology favors darkness over light and the gibberishly incomprehensible over the easily understood. Like Henry James's The Turn of the Screw, Apparition evokes a tremulous obsession with the unseen. Ghostly encounters are nervously recounted rather than restaged, and Washburn frequently cuts off the action just before the supernatural fully manifests itself. The play's most memorable moments are the "non- luminous interludes," which take place in the total absence of light and invite the audience's blank-slate projections. Like radio horror plays of yesteryear, these scenes hinge on the cast's tightly controlled delivery and a deep respect for the strategically deployed silence. Washburn's dialogue is a bizarre amalgam of made-up words and three-point-turn syntax that gives the impression of a cast possessed, though its aggressive nonsensicalness may end up grating even the most adventuresome theatergoers. More perplexing are Washburn's fourth-wall-smashing techniques—in one scene, the actors play themselves assembled for a reading of the very play we're watching. Perhaps allergic to traditional theater, Washburn drags the horror play kicking and screaming into the postmodern era. (Of the cast, Maria Dizzia and T. Ryder Smith best personify the tension between the classical and the contemporary.) If its experimentation yields diminishing returns, Apparition knows when to cut its losses, flipping the light switch to plunge us back into the comforting uncertainty of the night. 12.13.05
The Brooklyn Rail, Richard Fulco – Out of the Darkness – If one had to experience Anne Washburn's Apparition while lying in one's "own shit and piss," as one character laments, one would still be eternally grateful to the playwright.
Under Les Waters' precise direction, the Connelly Theater's revival of Apparition stays true to the author's vision: a series of harrowing monologues and fragmented sketches that explore the boundaries of the spiritual and secular worlds, the known and underknown.
Waters' courageous choice to have much of the performance in blackout enhances the stillness of the oppressive darkness. "The stillness is more terrible than the pounding," a character declares, pausing a moment in her unraveling tale of personal dread. And when the stage is occasionally lit, Jane Cox's brilliant lighting design enshrouds the five nameless characters as they "strut and fret" upon the stage as virtual specters.
It is within the distressing darkness that Washburn's linguistic prowess shines. Characters speak bogus Latin. There is a horrifying tale in which an apprehensive man stabs his lover and listens to her gasp her last breath without as much as a concern. The fact that it's performed in sheer darkness amplifies the violence.
The bleak lighting is occasionally augmented by a lone flashlight, a bare light bulb or stark shadows. Under a hanging bulb, actor Maria Dizzia's character relates a story of perpetual "pounding on her apartment's door." As the story progresses, the crescendo intensifies and before Dizzia's words are extinguished the audience sits warily in uncomfortable horror. Blackout.
In another, and profoundly disturbing, scene, a slick Demon (T. Ryder Smith) presents a paper bag to a "feral" Demon (Garrett Neergaard) who has taken up hiding in backyards of an innocuous suburban neighborhood. Smith, whose slippery reptilian gestures compliment Neergaard's Neanderthal movements (or lack thereof), in turn cajoles, seduces and implores his cohort to "open the bag." As Neergaard feasts on a small furry domestic creature, a cagey conversation about babies hovers in the air. Suddenly, Smith amps up the pressure. As the caveman relents and pulls something…from the bag, this scene too cuts to blackout. Just in time.
Apparition's bag is quite hefty. Buckets of blood, daggers, witches, ghouls, and scattered brains abound. All five actors do a stupendous job telling stories in an enigmatic fashion, establishing and deepening strange moments and heightening the play's inherent suspense.
With terrific alacrity, Washburn is quite capable of fusing the supernatural with the natural, the eerie with the humorous. Washburn's ghost stories and frightening tales are cohesively strung together by consistent and poignant allusions to Shakespeare's Macbeth, otherwise known as the "Scottish Play" to superstitious stage actors. The ensemble, when not slipping into personal reveries or ghoulish figures, play actors preparing to perform this dreaded play—from the comically disjointed associations of actors' table work, onward. (Though the play cleverly and wisely avoids actually playing out the unnamable play itself.)
While the witches/actors are backstage preparing for their entrance, one cautions the others to watch the "slippery blood." As the backstage banter prevails, they discover there are four rather than three witches. Or rather, one extra. A fourth wheel. Divinity is lopsided. "What's fair is foul and foul is fair."
A séance of sorts, Apparition successfully conjures Banquo's ghost amongst other horrid spirits and skeletons that lurk within the deeper recesses of the audience's sub-conscious.
The play's intrinsic beauty is its inchoate structure, its unevenness. It's a challenge to identify this piece. Part gothic tale. Part urban legend. Part nineteenth century drama. Part modern comedy. It can be quite elusive.
Although the play is full of sound and fright, the fury, at times, could stand to be more ferocious. Nevertheless, even if you must travel by bus to the East Village's crumbling but stately Connelly Theater to see it, or be relegated to taking two for that matter, do not miss this esoteric production. It will leave you haunted. 12.10.05
Surplus blog, Jaime – dear. what should have been a twenty-minute mood piece was an hour and a half, no intermission… you know i love weird shit, have a very high tolerance for weird shit, make no demands on my theatre to be linear or narrative or anything old-fashioned like that. but there comes a point when i'm just bored. at the risk of quoting austin powers (and at the risk of, i think, repeating what rami had to say about this) throw me a fricking bone here. maria dizzia and t. ryder smith**** were wonderful and oftentimes compelling – they may also be two of the sweetest people i barely know. (which, incidentally, makes them two people i barely know whom i would like to get to know better. lucky they're in our next show.) but the other three actors weren't nearly as good, couldn't handle the language – but even if they had all been great, the play was just too obtuse. anne washburn is a beautiful writer, but it just didn't hold together. and the lovely production must be noted – i might be close to forgiving les waters for butchering hot n' throbbing – but in the end, meh. it was free, so worth it for the two lovelies, but if it hadn't closed yesterday i'd be telling you not to bother. 1.08.06
New York Times, Jason Zinoman – So Refreshingly Spine-Tingling. The crucial difference between eating household pets and babies, explains a demon (T. Ryder Smith) in "Apparition," is not the taste. (He seems to assume both are delicious.) It's that human bones are easier to chew. "Crunch, crunch, crunch," he says gleefully, like a foodie from the underworld. This scene is an absolute hoot, one of the many small, nervy pleasures of this irresistible collection of gothic tales that puts one in mind of an excellent late-night storytelling session at the Vincent Price camp for disturbed children. Novelists and filmmakers have defined the horror genre for generations, while playwrights have generally kept their distance from the form, so it is refreshing to see Anne Washburn, whose twisty novelistic prose and keen sense of surprise demonstrate a fertile theatrical intelligence, engage in the dirty business of sending shivers down spines. The demon food critic is unusual in that he is on a brightly lighted stage and gives a fairly clear picture of evil. Most of the terror is suggestive and takes place in shadows or sometimes, complete blackness. A name is whispered ominously. A pounding at the door. Someone shouts, "Who's there?" The connection between the various stories, which include an eerie monologue about a woman entering an apartment for the first time and a backstage scene at a production of "Mac–" – I mean, "the Scottish play" – may not seem obvious outside a mood of impending doom, but listen closely and you'll hear many of the same themes and snippets of dialogue echoed throughout the evening. Blessed with a subtle and evocative design by Andromache Chalfant, the show could still use a little tightening. An early two-person scene mostly in Latin comes off as throat clearing, and the loud, tinny scare music belongs to a sendup of horror rather than the real thing. But all is forgiven when the electric Mr. Smith arrives as the demon. (Emily Donahoe and Maria Dizzia also deliver memorably devilish monologues.) His unpredictable line readings are filled with little shockers, but if you want to see where he is heading, keep an eye on his slowly transforming physicality, a masterful example of making full use of his body. He is so creepily hypnotizing that you may decide to keep some lights on when you go to sleep. The strange sound you hear before dozing off (is it a crunch?) is probably nothing.12-7-05
NY Times Reader's Reviews – Underwhelming, December 31, 2005 Reviewer: finder7. Kudos to wonderful performances by a young and talented cast. Monologues were especially mesmerizing, and atmospheric conditions created a perception of dread. Unfortunately, the story line never appeared clear enough to determine just how well the actors performed. You just had a "feeling" that they performed well without ever understanding what they were doing. I found myself looking at my watch every chance I got…which was particularly difficult because of the oft-blackened theater. Polite applause at the play's conclusion and bewildered faces in the audience solidified my perception that no one knew what had happened for those previous 90 minutes onstage. What were they thinking?, December 28, 2005. Reviewer: pwilcox8 I hate to write a poor review, and I'm usually very easy to please. But this play was boring. Poorly written, poorly directed, mediocre acting, considering what the actors had to work with. The lighting and sounds were wonderful, but that can't save a bad play. In one scene, where the actors were reading script, or pretending to, one actor at stage right kept moving in his seat. Acting 101 – don't move in scenes like that if there is no reason in the play to do so. None of the actors looked the slightest bit like they were actually seeing the "apparition" they were describing. The woman behind me kept yawning, which wasn't as annoying as the play. There was only polite applause in a packed house, and no curtain call. Such is life. Not for the faint of taste, December 19, 2005 Reviewer: jspiegel5 A really exciting, interesting show. Not the sort of thing I'd recommend for people who prefer dull, kitchen-sink dramas about overly articulate yuppies with a disease, or plays about one's identity, but a must-see for anyone interested in formal experimentation or the full potential of playwriting. Nonlinear, funny, spooky, and atmosphereic. Worth Seeing, Not Great, December 10, 2005. Reviewer: guapapote. A case study for how exemplary direction, the very best downtown actors, and a lucid design team can compensate for a promising but flawed script. The writer gives us a series of unrelated vignettes, all linked by this deliciously anachronistic gothic sensibility. Half of the vignettes are expertly written, half are overly long and more prose based and frankly boring (literally read off the page by actors at stands). But when the play is at its best it contains pleasures unavailable anywhere else. One scene is conducted in pitch darkness (it works), another with an unidentified naked man crotched at the window, peering in (this also works). I plan to see the next play by this promising writer, and hope she has learned by then to make her obvious intelligence add up to a bit more than unconnected anecdotes. Apparition Rocks, December 5, 2005. Reviewer: percybyshe. It's great to see a show that's smart, interesting, challenging, unique, beautifully designed and totally satisfying. Downtown theatre and its best.  No Tingles Here, December 7, 2005. Reviewer: mydonna. After seeing this show, I was quite upset. Not by unsettling stories or scary scenes, as there was none of that on stage. I was upset that such a show like this was produced and marketed in such a way that one expects just those things, and yet is left out-of-pocket $50 for sitting in the dark for 80 minutes. This show is to be avoided at any price. Not recommended.