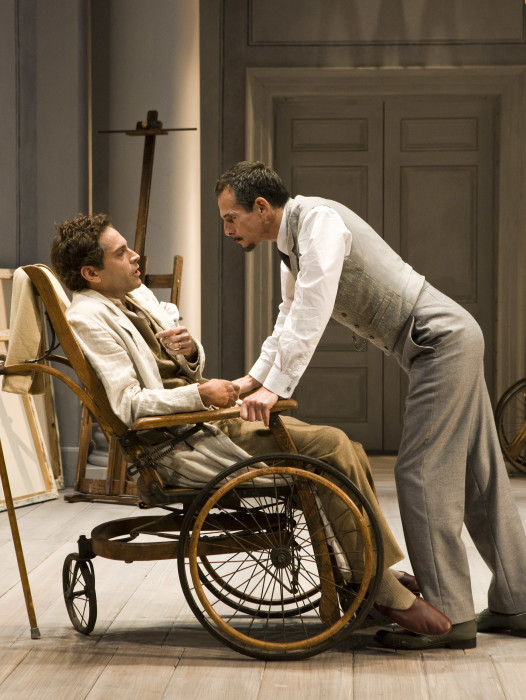 Photos by Craig Schwartz
Above: Omar Metwally, Kathryn Meisle, T. Ryder Smith
Excerpts from the reviews
Full reviews are below
"Adapter/director Doug Wright dispels all library mustiness from the play . . . It's arguably the most modern of Strindberg's trilogy, and in Wright's hands certainly the sexiest and most fun . . . A skein of insights and surprises set in place by Strindberg and polished by Wright to brilliant steel . . . The outstanding La Jolla performances reflect the characters' dualities. Adolf's oscillating fever and bliss can be read in Metwally's very frame, while Meisle is alternately coquettish and commanding as dizzying circumstances dictate. Smith maintains ineffable integrity with each knife twist, throwing in an occasional shoulder rub or hand on Adolf's knee to hint at his intentions . . ." Bob Verini, Variety
"Weaves an intense, if melodramatic, spell . . . a vivisection of Strindberg's troubled heart and mind . . . T. Ryder Smith is characteristically brilliant as the dapper, wily villain . . . his handling of Gustav's final monologue of retribution is masterful, anatomizing the man's viciously puritanical and insecure character, as well as his deep and needy attachment to Tekla. Watching him is like glimpsing an emotional car wreck; you simply can't turn away." Anne Marie Welsh, North County Times
"Wright's adaptation has an articulate crispness that is as attractively polished as his staging, which is enhanced by Susan Hilferty's costumes and Japhy Weideman's lighting. The production makes this 95-minute one-act, written in 1888, seem like a much more recent phenomenon . . . Still, not everyone will have the patience to endure the talky machinations of these three characters, who are boldly (though perhaps too broadly) depicted by the cast . . ." Charles McNulty, Los Angeles Times
"An expert adaptation . . .  Wright and his fine cast create an uncivil war. The play, even with Wright's crisp translation, feels long-winded. What director Wright does beneath the dialogue, however, fascinates . . . In a spellbinding performance, T. Ryder Smith gives Gustav a precise, patient surface not always able to conceal the volcano within." Jeff Smith, San Diego Reader
Publicity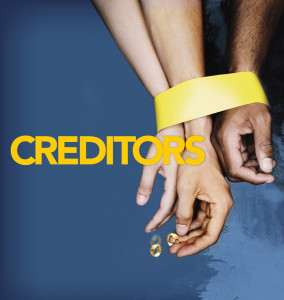 Full reviews 
San Diego Union Tribune, James Hebert – Trio's volatile mix of vitriol and romance gives 'Creditors' its due. In a sun room of the stately coastal resort that plays host to "Creditors," there's a tasteful medical illustration of human musculature. But in this play, there's no need to gaze at the art to see people with their skin peeled off. When the three characters of "Creditors" get done (figuratively) flaying each other, they top off the torment with generous applications of salt. Ah, the things we do for love. August Strindberg clearly did not put much stock in fairy-tale romance (though his characters' cruelty can be as gruesome as anything in the Grimms), and Doug Wright fleshes out all of the work's rage-fed power plays and bristling wit in his world-premiere take on the Strindberg original for La Jolla Playhouse. Wright's lacerating adaptation, which he also directed, is as controlled and cunning as the machinations that drive its plot. He has kept the naturalistic 1888 play in period but made its language and interplay more modern, opening things up for the actors to focus more on character than custom. The trio — T. Ryder Smith as Gustav, Omar Metwally as Adolf and Kathryn Meisle as Tekla — reward the approach with performances that sparkle like hard-cut diamonds (or maybe the edges of stilettoes). Adolf is an ailing artist, an almost impossibly neurotic man of leisure whose mind is like a crate of dynamite waiting to be looted and lit. And Gustav proves just the man for the job. When we first meet the two, chatting casually as Adolf fusses with his sculpting tools at the resort, the intimacy of the conversation makes it seem as if they could be old friends. But it soon becomes clear they've only been acquainted for days. It also becomes clear that the elegant and self-possessed Gustav is very interested in knowing — and beyond that, influencing — Adolf's views of his wife, Tekla. "She took your manhood and hid it, didn't she?" is typical of Gustav's prodding, provocative questions, once he gets Adolf to open up completely. Smith, so good in recent Old Globe shows such as "Cornelia," is marvelously Machiavellian as Gustav. In one memorable, extended scene, he strides around the expanses of Broadway veteran Robert Brill's capacious, vaguely ominous set, making Adolf's knees buckle with every matter-of-fact conjecture about the twisted state of the relationship between his new "friend" and Tekla. What Adolf doesn't know (and it would sabotage a surprise to say more) is that Gustav isn't necessarily just some random visitor, and his analysis of Adolf and Tekla's marriage is based on more than lucky guesses. Metwally does riveting work in portraying a man whose insecurities seem to have rendered him a near-invalid. But after all the poison these two have worked up between them about Tekla, when she actually arrives the play gets blown wide-open. As played with beautiful nuance by Meisle, Tekla comes across as a vital, playful, even liberated woman to whom Adolf's hang-ups and mind games are like artifacts of some alien culture. Meisle brings heart and vigor to counter the men's venom, though she proves perfectly able to wield some weapons of her own. Strindberg is often slagged as a misogynist, but that's far from the feel of Wright's interpretation, which places Tekla as the most honest (if still imperfect) member of the trio. And in the romantic give-and-take hinted at by the title, she's the one who winds up shortchanged. The Pulitzer-winning Wright ("I Am My Own Wife") relied on a direct translation by Anders Cato from the Swedish, which he then sculpted into a piece faithful in spirit and (seemingly) in lyricism. In one nicely turned passage, Gustav laments to Tekla of her husband's supposed lack of passion that "the man lives in a winery, bottles rounded and smooth, and he won't take a drink." "Creditors" (gorgeously lit by Japhy Weideman) is like a fine wine soured into the most bitter vinegar. It's a squirming pleasure to watch these three give it a swig. 10.06.09
North County Times, Anne Marie Welsh – Playhouse's 'Creditors' is taut, suspenseful relationship. A spiteful stranger. A jealous husband. An emasculating woman. A sudden death. Sounds like the ingredients of a Hitchcock thriller or a nighttime soap opera. Those three characters are creations of August Strindberg, however, and they weave an intense, if melodramatic, spell at La Jolla Playhouse, where playwright Doug Wright has made an impressive directorial debut with "Creditors." The unsavory title of the little-produced 1888 play, here adapted by Wright, aptly describes the tight triangle of debts and collections that develops in real time at a seaside hotel toward the end of the 19th century. We first meet two men —- a fragile artist, Adolf, and a manipulative stranger, Gustav. Their scene is long, psychologically convoluted, and sometimes laced with humor as, like Iago, Gustav breeds doubts in the receptive mind of his prey, Adolf. Actor T. Ryder Smith is characteristically brilliant as the dapper, wily villain whose motives are kept from the audience in good Ibsenite fashion until the playwright is ready to spring a surprise. In the more difficult role of Adolf, Omar Metwally suggests precisely the torment that wracked the life of Strindberg, who wrote this play in the same year as his more familiar dissection of a fatally destructive seduction, "Miss Julie." Both men are poisoned by their suspicions —- and whether the sporadically mad and misogynistic Strindberg intended it or not, both men are ruined by their deep-down fear of, and hostility toward, women. Though he seems to cherish his wife's independence, long before he met Gustav, Adolf vacillated between adoration and revulsion when contemplating his beautiful spouse, Tekla. She left her husband for him (he can't forget that she was married before) and somewhere out there lurks "a man waiting for my humiliation." That man, we soon learn, is Gustav. And Gustav reveals that he married a very young Tekla in hopes of controlling her. He says he rescued her from her mother, wiped her slate clean, and then wrote as he pleased upon this tabula rasa, but she eventually divorced him. And who is Tekla? When she finally comes on, all in white after the overlong first scene, she seems an attractive enough flirt, playful at first with her suspicious husband, Adolf. Eventually as he confronts and accuses her in ways she cannot turn to lovemaking, she becomes defiant. Actor Kathryn Meisle looks right in the part of a Swedish beauty passing her prime, but robust and vigorously attuned to life, unlike her semi-invalid husband. Her voice is not the most attractive, and the role requires a certain naivete in the face of Gustav's eventual new seduction, a credulity Meisle doesn't integrate with other elements of the character she portrays. Perhaps no actor could. Still, Meisle holds her own in the emotional dynamic, which Wright has here so skillfully balanced. Strindberg screws the psychic tension even tighter by making Tekla an artist, too, or at least a would-be artist. We never quite know whether her success as a novelist is because of Adolf's connections and intervention (as he claims) or because of her own talent (as she says repeatedly: "You did not write my book!") Her first major novel fictionalized her relationship to her first husband, Gustav, who's depicted as a cad, if not an idiot. So his motivation for revenge is twofold: destroy the man who cuckolded him, and ruin the woman who first dishonored, then publicly shamed him. Smith's handling of Gustav's final monologue of retribution is masterful, anatomizing the man's viciously Puritanical and insecure character, as well as his deep and needy attachment to Tekla. Watching him is like glimpsing an emotional car wreck; you simply can't turn away. UC San Diego grad and frequent Playhouse designer Robert Brill created the elegant, blue-gray taste-of-the-salty-sea set. Japhy Weideman did the wonderful watery shimmer in the lighting, and David Van Tieghem contributed the ominous, but not obtrusive music. In the end, despite a few moments that feel dated or even preposterous, it's the unvarnished and bravely exposed acting, subtly calibrated by Wright, that makes the intermissionless drama feel like a vivisection of Strindberg's troubled heart and mind. 10.07.09
San Diego News Network, Pat Launer –  The Green-Eyed Monster Reawakens. A couple goes on vacation by the sea. An idyllic location, an elegant hotel. But then a snake slithers into their Edenic refuge. A stranger who insidiously, systematically undermines their relationship and destroys their lives. "Creditors" was created by Swedish playwright August Strindberg (probably best known for "Miss Julie," written in the same year, 1888). The La Jolla Playhouse commissioned a new adaptation by Doug Wright, the gifted writer who won a Pulitzer Prize for "I Am My Own Wife," which was workshopped at the Playhouse in 2001 (under Wright's direction) and garnered Tony Awards for the playwright and the stunning star, former San Diegan Jefferson Mays. Wright, in turn, commissioned a literal translation from Anders Cato, a fellow writer/director who's fluent in Swedish. From that he crafted a timeless tale, set at the turn of the last century, but linguistically up to the minute. It's a psychological thriller, a high-stakes game of cat-and-mouse where the price is immeasurable. In a drama with a monetary title, it's easy to conjure fiscal imagery: the high cost of love, the investments we make in each other, the debts due and payable. Scores will be evened, even if the damages are moral bankruptcy. The setting may be a 19th century spa, but the interactions and machinations are eternal. The power shifts with every scene, as do our sympathies. From the get-go, there's something Machiavellian about Gustav (T. Ryder Smith, with an impeccably trim beard and moustache), who probes and prods milquetoast Adolf (Omar Metwally), playing Iago to Adolf's love-besotted Othello. The endless wheedling and needling break down Adolf's defenses, opening the door for the green-eyed monster who, once unleashed, can never be re-caged. At first, it seems that Gustav and Adolf are friends. The former has already, in the course of a day or so, persuaded Adolf to give up painting ("It's a dead form") and take up sculpture ("These days, we want something tangible, three dimensional"). He seems to have an inside track on Adolf's wife, his marriage, his weaknesses. But they've actually just met, and the relationship is just developing, however one-sidedly. Gustav is strong, convincing. Adolf is sickly, weak and suggestible. Gustav's identity is supposed to be a long-withheld mystery, but it's not too hard to figure out, not too far into the play. Still, his maneuvers and manipulations are something to behold. It becomes clear that he's hellbent on undermining Gustav's marriage. And he succeeds – in spades. "She's the force that sustains me," Adolf says early on. "Tekla is actually a part of me, of my body… I can't tell where she ends and I begin" But Gustav convinces him otherwise: "She took your manhood, and hid it in her jewelry box." Hard for a guy to recover from that. And Gustav doesn't stop there. He does more, and worse, to Tekla (Kathryn Meisle). Wright's adaptation is rife with delectable turns of phrase ("I was a broken watch, frozen in time"; "My roots are still in your soil"). The structure of the drama may feel familiar, the outcome predictable. But the journey is thrilling, under Wright's taut direction. The performances are outstanding. Smith is positively reptilian: smooth and slick and slithery. Metwally is excellent as the invertebrate Adolf, who has some contemptible philosophies of women and marriage, though he really does love his wife, to the best of his limited ability. Meisle is a force of nature, coy and flirtatious, dynamic, affectionate and admittedly narcissistic. It's obvious why men adore her. She's the one who surmises the plot, who figures out the intrigue. But it's already too late. These three succulent characters work their wily mutual mischief in an oversized, elegant set by Robert Brill, a Tony nominee who got his start locally, as a co-founder of Sledgehammer Theatre. The lighting (Japhy Weideman) is glaring, appropriate to seashore — or searchlight. The costumes (by Obie and Tony Award-winner Susan Hilferty) have a dash of élan and elegance. The music, composed by David Van Tieghem, is at times overwrought, melodramatically punctuating the action. It's a dark, disturbing, intriguing, acerbic and savage little one-act that gives new meaning to the term "desperately in love."
Variety, Bob Verini – Adapter/director Doug Wright ("I Am My Own Wife") dispels all library mustiness from August Strindberg's "Creditors" in the reworking commissioned by the La Jolla Playhouse. The 1888 tragicomedy is the least-known leg of a marital slugfest trilogy including "The Father" and "Miss Julie" though it's arguably the most modern, and in Wright's hands certainly the sexiest and most fun. Strindberg's massive influence over contemporary drama can be discerned as three trenchant scenes slice and gut a relationship.The setting — a luxury spa's drawing room overlooking a veranda — is airier than Strindberg's usual chilly confines. But this is still one of his connubial dances of death, designer Robert Brill's shrewdly chosen gray walls and clutter (including horns mounted above a bedroom door) complementing a marriage's downward spiral. Ailing Adolf (Omar Metwally), a painter of fading accomplishment, has come for the waters but stays for some man-to-man time. Widower Gustav (T. Ryder Smith) proves a willing sounding board regarding wife Tekla (Kathryn Meisle), best-selling author and accomplished flirt. (Or "old flirt," as Adolf was unwise enough to point out at their last meeting.) Distinct echoes of Mamet's "Sexual Perversity in Chicago" or any number of Neil Labute buddy raps, are heard as Adolf reveals the perils of marriage to an independent woman: "Anything I have to offer? It's never good enough." He encouraged her writing, but did she nurture him? Not as far as he can pinpoint, while emptily averring "she's the force that sustains me, that keeps me alive." Gustav sees through the equivocations. "This is cannibalism," he deduces. "She's eaten your soul," having undone Adolf's art and compromised his manhood. The widower plants seeds of doubt like a more urbane Hickey in O'Neill's "Iceman Cometh," stripping a friend of pipe dreams. "Sometimes you have to scorch the earth in order to renew it," he quietly observes upon retiring. Scene two plays like Albee at his most devilish, in exploring the thin ice all romantic relationships tread. Adoring, pixieish Tekla is a far cry from the monster described, though we detect a hint of the succubus: "Come and bite me, little brother," she wickedly burbles, Adolf still in a tailspin. As they kiss, everything's ducky until an offhand comment sets off a major battle over who owes what to whom. Wright's pacing and rhythms bring out the uneasy truce always in place on the domestic front. About scene three nothing may be said here, so as to protect the skein of insights and surprises set in place by Strindberg and polished by Wright to brilliant steel. (He scrapes away a century's worth of fustian from Anders Cato's literal translation, to reveal conversation fresh as today.) Suffice to say we're left with no ambiguity as to the title: Every lover is a creditor, Strindberg believes, and the tragedy lies in our readiness to allow a desire for debt repayment to trump our best interests. The outstanding La Jolla performances reflect the characters' dualities. Adolf's oscillating fever and bliss can be read in Metwally's very frame, while Meisle is alternately coquettish and commanding as dizzying circumstances dictate. Smith maintains ineffable integrity with each knife twist, throwing in an occasional shoulder rub or hand on Adolf's knee to hint at his intentions. Susan Hilferty's stunning costumes seem inspired by Bergman's "Smiles of a Summer Night", particularly Meisle's white gown tantalizingly hiding and revealing the voluptuousness within. And Japhy Weideman reflects the healing spa waters as ominously flickering window light, as if anticipating the Strindberg who would abandon naturalism for the kinder, gentler expressionism of "The Ghost Sonata."
Los Angeles Times, Charles McNulty – With its beautiful curving coastline, carefree surfer dudes and posh shops, La Jolla makes for a somewhat incongruous locale for encountering August Strindberg's baleful vision of intimate relationships. Ducking into La Jolla Playhouse's Saturday matinee of "Creditors," I confess I was a bit disoriented at the start of this sulfurous study of marital discontents. This new version of Strindberg's seldom-revived work, adapted and directed by Doug Wright (author of the Pulitzer Prize-winning "I Am My Own Wife"), is often invigorating. Yet it was as if I had just caught a glimpse of Nietzsche, a major intellectual influence on the psychiatrically shaky Swedish playwright, in sunglasses and bathing trunks on the beach. La Jolla Playhouse, of course, has a long history of producing challenging work. And the truth is that the ferocity of interpersonal conflicts in Strindberg's plays—the way characters go for each other's jugulars—are always disquieting. The rap on the author is that he's a misogynist, but the scarier truth is that he's a misanthrope whose ruthless perceptions about human behavior cannot be dismissed as the disturbed mutterings of an certifiable crank. "Creditors" is from Strindberg's naturalistic period, the phase of his writing when he took inspiration from the French trailblazer Emile Zola and formulated his own approach to a more socially acute, psychologically incisive theater that was in stark opposition to the melodramatic contrivances that had been dominating the 19th century European stage. "The Father" and "Miss Julie" are his best-known plays from this group, but Strindberg felt that "Creditors," a play he labeled a "tragicomedy," more fully realized his desire to distill the drama down to a series of fundamental clashes. Although "Miss Julie" is considered one of his finest achievements, Strindberg felt that it "still made concessions to romanticism and décor."  He described "Creditors," on the other hand, as "a really modern piece, human, amiable, with three sympathetic characters, interesting from one end to the other." Strindberg was a strange guy, and his definition of amiable was quite different from most people's. "I find the joy of life in its cruel and powerful struggles," he wrote in his preface to "Miss Julie." And these words hold equally true for "Creditors," which for all its cat-and-mouse routines between characters, still amounts to a deadly game of emotional manipulation and revenge. The play is divided into three duologues, capped off by a floridly theatrical ending that foreshadows Strindberg's movement into expressionism. The setting is a luxurious spa on the Swedish coast, handsomely brought to life with scrubbed wood floors and gray-blue walls by scenic designer Robert Brill. Adolf (Omar Metwally), a neurotic artist, is convalescing from a mental and physical collapse. He's trying to regain his strength as well as his manhood, which he feels has been severely weakened by his marriage to Tekla (Kathryn Meisle), an older and more experienced woman whose previous marriage inflames his jealousy. Hobbling around with a cane from his wheelchair to his sculpting table, he's desperate to find a solution to his personal and professional self-doubt. In the play's opening exchange, Gustav (T. Ryder Smith), a professor of "dead languages" with a Mephistophelean goatee, is advising Adolf on how to regain his pride and power. After having persuaded him to switch from painting to sculpture to rescue him from his creative slump, Gustav is now counseling Adolf on his private conduct. He diagnoses that Tekla has assumed the masculine role in their relationship, and that for the sake of his health, Adolf must refuse to sleep with her for a time and exploit every opportunity to put her in her place.  The second colloquy revolves around Adolf's attempt to gain the upper hand with his wife, who can hardly believe some of the outlandish things her husband is proposing. For all the flaws in their marriage, the two enjoy a pleasurable bond, even though it's undeniably undermining Adolf's well-being. (Strindberg's stormy marriage to Siri von Essen, chronicled in his autobiographical novel "A Madman's Defense," suggest real-life parallels.) The final movement pits Tekla against Gustav, in a battle for control of Adolf's soul that culminates in a wild tragic epiphany. Shakespeare's "Othello" and Goethe's "Faust" are both invoked, yet the condensed form and intense psychological scrutiny of "Creditors" identify this work perhaps even more as precursor to the psychodramas of Ingmar Bergman. Wright's adaptation (from a translation by Anders Cato) has an articulate crispness that is as attractively polished as his staging, which is enhanced by Susan Hilferty's costumes and Japhy Weideman's lighting. The production makes this 95-minute one-act, written in 1888, seem like a much more recent phenomenon. Still, not everyone will have the patience to endure the talky machinations of these three characters, who are boldly (though perhaps too broadly) depicted by the cast. Metwally trembles with a nervous vulnerability, Smith adopts a dapper, diabolical air and Meisle exudes a sensuous obliviousness. All three performers are essentially on target, but if the play's pathos is slightly diminished, it may be because their characterizations are a bit too pat. These figures need to be augmented with more individual color if the ultimate meaning of the work is to seem credible. That's a tall order, however, and Wright's approach at least has the benefit of an austere beauty. "Creditors" is about the unpayable debts owed to those who have come and gone from one's current affections. The subject is harrowingly surveyed by a writer who can be accused of many terrible things but never of false cheer. That bleakness comes through in this production like cold Northern sunlight. 10.12.09
SDTheatreScene.com, Charlene Baldridge – Dreamy design enhances world premiere at Playhouse. THE STORY: The fragile Adolf and his beautiful wife Tekla are staying at a bright and airy seaside spa. During Tekla's long daytime absences, Adolf makes the acquaintance of Gustav, a stranger who occupies the adjacent suite. The action takes place in a large sitting room apparently shared by occupants of the two private suites. Tekla is not aware of Gustav's presence nor of his influence on Adolf, whom Gustav has counseled daily. Adolf sculpts now, having been persuaded by Gustav to switch from oil painting. He shows Gustav his work in progress, a nude depiction of a more youthful Tekla. The two men discuss women, the way they think and function, and their place in society and marriage. They talk of aging and possible effect of libido on health. Gustav suggests that celibacy might improve Adolf's undiagnosed condition, which seems to make him weaker by the day. We learn that Tekla was married before, had a child, then met and had an affair with Adolf. She forsook both husband and child to marry Adolf. Adolf's paintings supported them in grand style and more recently Tekla wrote a successful novel based upon her youthful marriage to a tyrannical man. Always social, she craves outside contact and thus she goes to the mainland by ferry each day. "I let her come and go as she pleases," says Adolf. Gustav suggests that Tekla must be meeting a lover in town. "Maybe you should curb her," he says. Gustav leaves as Tekla returns and alone with Adolf, she tries to reassure him of her love. Then she meets Gustav, who has pre-arranged for Adolf to witness their meeting unobserved. The measured unfolding of this taut psychological tale is fascinating. It's 1888 and Freud has yet to publish. The playgoer observes the era's foment and beliefs about social structure, morals and medicine, and understands the milieu from which Freudian psychotherapy evolved. Because Strindberg is the author one expects bizarre and unexpected behavior and possibly surreal elements; however, this early work is straightforward. The denouement leaves one with feelings usually experienced as the result of Ibsen's fearful intimacy. THE PERFORMERS are meticulous. At first one believes that Gustav may be Adolf's doctor, counseling the weakened man as he moves from lounge to wheelchair, aided by a cane. Soon it becomes apparent that Gustav represents the prevalent thought that one man may mold another's mind with his manipulative power. The casting of the two men, Omar Metwally as Adolf and T. Ryder Smith as Gustav, is absolutely brilliant. Each turns in a beautifully calibrated performance. Kathryn Meisle has the disadvantage of showing up after she's been much talked about by the two men. She moves gracefully in her gorgeous summer gown of white lace accented with a red corsage and red shoes. We quite believe her need for admiration and social intercourse; but we are not convinced of her intelligence, perhaps more fault of the writer, a notorious misogynist, who finds these men much more interesting. Strindberg's hammer falls more than once, leaving all in ruins. As for the text, one takes much pleasure in its repeated phrases and key words as the interactions shift from between manipulator and artist, wife and husband and then wife and stranger. As he did with the Pulitzer Prize and Tony Award winning I Am My Own Wife, which he wrote and directed, Creditors director/adapter Wright proves himself a theatre artist of extraordinary gifts. THE PRODUCTION is worthy in every way of this unusual, revivified work. Robert Brill's airy scenic design is magnificent, all windows on one side, covered with sheer curtains that move slightly in the breeze coming off the sea. Lighting designer Japhy Weideman evokes Scandinavian summer over the course of a midsummer afternoon. Sound designer Jill BC DuBoff provides the gulls and ship's horn, and David Van Tieghem adds musical underscoring. Susan Hilferty's country clothing with vests and spats for the gentlemen and a magnificent lavender blue morning coat for Smith are scrumptious, as is the aforementioned dress..
San Diego magazine, Don Braunagel – When emotional debts come due.  "Creditors," one of August Strindberg's lesser-known plays, is getting a new adaptation at La Jolla Playhouse. But don't be misled by the title. It's not a work about financial transactions, updated to spotlight bank bailouts and foreclosures. Rather, it's about emotional dealings, the give-and-take of relationships and an attempted foreclosure through revenge. And while the plot strains credibility at times, it makes its points as sharply as when Strindberg wrote it in 1889. He had just gone through the second of his three bitter divorces, and the play's three characters personify his cynicism about love in general and marriage in particular. Adolf, an ailing artist recovering at a seaside spa, strikes up a friendship with a visitor. The man, Gustav, says he wants to help Adolf get well, but his seeming prescription for health soon becomes an attack on Adolf's marriage and wife, Tekla. Adolf claims to deeply love her and to be proud of her success as an author who had a best-seller about the wickedness of her first husband. But Gustav's barrage of words — "she took your manhood and hid it"; "women love by taking" — crushes Adolf. He admits to feeling that he sacrificed his career for Tekla's, and he fears that she's going to be unfaithful because he taunted her as an "old flirt." The men devise a plan. Adolf will confront Tekla while Gustav listens from another room, then Gustav will meet with her while Adolf eavesdrops. In the second scene, Tekla arrives in a loving mood, but gets shattered and mystified by Adolf's rebuffs and accusations. The final scene brings the not-too-surprising revelation that Gustav was Tekla's first husband, and his actions have been motivated by vengeance for her leaving him for Adolf. Gustav, knowing Adolf is overhearing, attempts a retaliatory seduction, and Tekla, still reeling from her husband's rejection and insult, is tempted to succumb. Strindberg has a notorious reputation for misogyny, but of these three flawed persons, Tekla comes off as the most reasonable and understandable, especially as given a coy dimension by Kathryn Meisle. T. Ryder Smith is strong as the conniving and harsh Gustav, but less so in the softer moments, making Tekla's renewed attraction to him a tad questionable. The role of Adolf must be one of the toughest in theater, because the character ranges — sometimes almost instantly — from sickly to vital, from lover to hater, from sympathetic to antipathetic. Omar Metwally meets most of those demands. Doug Wright directs fluidly, keeping the cast in motion to ameliorate the talkiness of the script. His adaptation, using Anders Cato's translation, usually rings true but sometimes slips into anachronistic modernity — as with "for fuck's sake" and "I blew so much smoke up her skirt." Robert Brill's set, with its columns, high windows and scattered wheelchairs, excellently captures the look of an anteroom in a posh, fin-de-siecle hotel that caters to the infirm. Japhy Weideman's varied lighting particularly delineates the scenes, and Jill BC DuBoff's sound design effectively uses David Van Tieghem's compositions in oft-ominous underscoring. Susan Hilferty's costumes are true to the period. 10.05.09
San Diego Reader, Jeff Smith – Thus far, the La Jolla Playhouse's season has been forgettable. In Terrence McNally's slight Unusual Acts of Devotion and Claudia Shear's not-ready-for-prime-time Restoration, the sets — for good or ill — were more memorable than the plays; Herringbone and The 39 Steps, a curio and a diversion, stressed performance over theme. None of these plays dared to engage large emotions, in the characters or in us. Doug Wright's expert adaptation of Strindberg's drama The Creditors ups the stakes. In this stormy folie á trois, love becomes mere economics, and mental cruelty, once unleashed, assumes a life of its own. Seven years ago, after he taught her taste and refinement, Gustav's wife Tekla took a lover and not only dumped Gustav, she wrote a libelous tell-all about him. The book became a best seller, Gustav a national villain. Humiliated on the streets and in the classroom, where he taught "dead languages," Gustav vowed revenge. Gustav — and the misogynistic Strindberg — swears that Tekla's a vampire of souls (the idea appears in Marlowe's Dr. Faustus: when the doctor kisses a demon disguised as Helen of Troy, he shouts, "Her lips suck forth my soul!"). For seven years, Gustav's certain, Tekla stole his talents. He gave, she took. He was the "creditor." She tore up the receipts. Tekla's second husband Adolf also sees himself as a creditor. Now an invalid — Tekla stole his energy? — Adolf taught her to write and, by calling in favors from critics, helped forge her literary reputation. But as in her first marriage, Tekla's begun to gaze beyond her vows. Both men define themselves as victims. They'd much rather scapegoat Tekla than admit culpability. That they see love as a commercial exchange — a keeping score, rather than a mutual giving — indicts them. They refuse to acknowledge that in any punctured relationship, each side digs half the hole. Along with soul theft, Strindberg became fascinated by a demented form of autosuggestion: using hypnosis and insistent repetition, so the theory went, one could induce negative thoughts and debilitating physical symptoms in another (Strindberg believed, for example, that Iago used autosuggestion on Othello). As part of his revenge on Tekla and her husband, Gustav tries to implant epilepsy in Adolf. The ploy's certainly a stretch. And even Gustav's surprised at how well he succeeds. For the La Jolla Playhouse, Robert Brill devised a stately seaside resort's day room (though his antsy lighting telegraphs important moments, Japhy Weideman's design includes the hypnotic flickering of water images on gray tile). Long, wooden wheelchairs suggest infirmities throughout the building. Stage right, the playwright provides a constant visual comment on the proceedings: the unfinished sculpture of a naked woman. It's of Tekla who, even after we meet her, remains somewhat incomplete. The statue also underscores a leitmotif: all three characters are, or wish they were, the sculptor; and each, in different ways, is as malleable as clay. The 90-minute piece unfolds, almost musically, in three movements: Gustav's lengthy indoctrination of Adolf; Tekla and Gustav's reunion; Adolf and Tekla's final confrontation. The play, even with Wright's crisp translation, feels long-winded. What director Wright does beneath the dialogue, however, fascinates. Every exchange is a contest of wills. At any given moment one will rise and the other sink: Tekla grabs control, then Adolf trumps her, or by means of some deft twist, Gustav vaults up several rungs. As each works to dominate the other, the actors reveal a growing desperation — a sense of the battle being lost, more troops needed, change the rules of engagement. Strindberg believed that all human interaction, every second, was a "mental struggle for domination." Wright and his fine cast create an uncivil war. In a spellbinding performance, T. Ryder Smith gives Gustav a precise, patient surface not always able to conceal the volcano within. As tormented Adolf, Omar Metwally flips from assertion to grave hurt, often using the latter as his best control tactic. By the time she enters, given Strindberg's descriptions, one would expect Tekla to swoop down on a broom, with fangs for teeth and snakes for hair. Instead, in Wright's balanced staging, Kathryn Meisle is lively and vital (albeit too young to hear she's "too old to take a lover"). Her Tekla's capable of everything Strindberg says, but Meisle gives Tekla equal time in what have been unequal partnerships from the start.