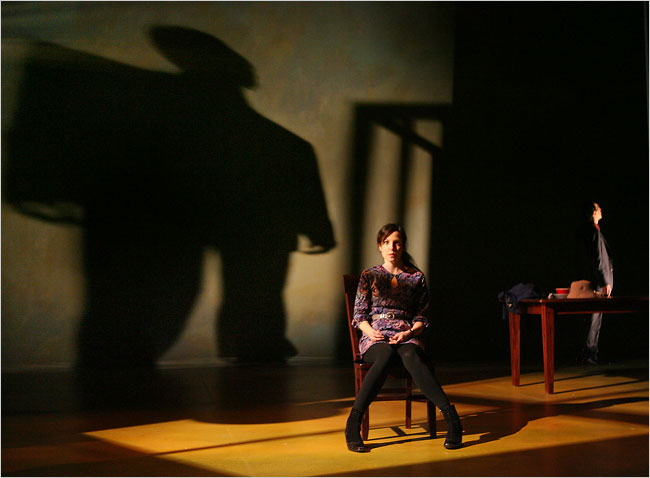 Excerpts from the reviews
Full reviews are below
"A beguiling new comedy . . . Mary-Louise Parker, her poker-faced style embellished with deliciously odd new flourishes, stars as an unexceptional woman who embarks on a loopy odyssey into the lives of others when she inherits — confiscates, really — the phone of a stranger she meets in a cafe. As the title of this poetic fantasy intimates, that meeting is a bit awkward because one of the parties happens to be dead when it occurs. . . . T. Ryder Smith is terrifically mordant in a monologue from the beyond . . . Ruhl's work blends the mundane and the metaphysical, the blunt and the obscure, the patently bizarre and the bizarrely moving . . ." Charles Isherwood, New York Times
"Ruhl's blend of cerebral showmanship, of swinging for the fences both visually and emotionally, has won the talented 34-year-old a slew of admirers and just as many detractors. . . . Although Ms. Parker overplays her mousy shtick early on, she gives Jean a blinkered tenacity that makes her actions moderately plausible. But the sketchy demands of the plot get the best of Gordon's family, with the priceless Ms. Chalfant reduced to withering-socialite clichés. Only Gordon himself holds his own against his well-meaning interlocutor: Mr. Smith, whose cadaverous appearance and Krusty the Clown-on-Valium voice lend him a ghoulish authority, provides "Dead Man's Cell Phone" with a pungent boost when he resurfaces in Act II. But when the dead man gets all the best lines, his cell phone isn't the only thing that would benefit from a recharge." Eric Grode, NY Sun
"One can hardly imagine a more felicitous combination than Parker's exquisitely tuned performance, Sarah Ruhl's enticing romantic comedy "Dead Man's Cell Phone" and the production's clever, minimalist staging by director Anne Bogart. . . . T. Ryder Smith is excellent . . . " Alexis Greene, Reuters/Hollywood Reporter
"Those who've seen the MacArthur Fellowship winner's earlier plays know her style is decidedly off-kilter. So, too, is this determinedly wacky examination of the emotional voids in our lives that are filled with inessential and, indeed, deceptive communication. . . . The initially intriguing premise is squandered in a second act that relies on such silly slapstick moments as a slow-motion brawl between Jean and one of Gordon's shady female clients. And the lengthy comic ruminations on the inanities of cellphone decorum are, by this point, hardly fresh. . . . Director Anne Bogart's staging does well by the surreal proceedings, and the work by the supporting cast is exemplary: Smith is particularly riveting in a long post-death monologue that is the play's single best scene . . . " Frank Scheck, New York Post
"Put together a playwright known for quirky stories (Sarah Ruhl), an actress known for a mannered touch or two (Mary-Louise Parker), and a director whose company specializes in stylized experiments (Anne Bogart), and what do you get? About what you'd fear, I'm afraid: a giant slice of whimsy drenched in whimsy sauce. . .  " Jeremy McCarter, New York magazine
Publicity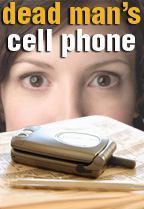 Full reviews
New York Times, Charles Isherwood – A Nagging Call to Tidy Up an Unfinished Life. That commonplace gadget you are advised to turn off when the lights in the theater go down, or when the plane takes off, becomes a mysteriously powerful totem of transformation in "Dead Man's Cell Phone," the beguiling new comedy by Sarah Ruhl that opened on Tuesday night at Playwrights Horizons.
Mary-Louise Parker, her poker-faced style embellished with deliciously odd new flourishes, stars as an unexceptional woman who embarks on a loopy odyssey into the lives of others when she inherits — confiscates, really — the phone of a stranger she meets in a cafe.
As the title of this poetic fantasy intimates, that meeting is a bit awkward because one of the parties happens to be dead when it occurs.
Hunched over a bowl of soup at lunch one day, the mousy-looking Jean (Ms. Parker) becomes flustered, then irritated, then quietly outraged as the phone of a man across the way trills insistently. He makes no move to answer, so Jean gingerly approaches, only to find that the man is not afflicted with rudeness but with a mild case of rigor mortis.
The phone continues to ring. And as Jean will later say with mournful truth, a ringing phone demands to be answered. So she flips it open. "Hello?" Pause. A sidelong glance at the guy who failed to fog a spoon. "No, he's not. Can I take a message?"
Jean will proceed to take many for her new intimate, who turns out to be a man named Gordon Gottlieb (T. Ryder Smith, terrifically mordant in a monologue from the beyond). She will learn that Gordon has — had? — a frostily elegant mother, an emotionally estranged wife, a mysterious mistress, a lonely brother and a sinister career.
Clinging doggedly to the symbol of her life-changing communion with a corpse, Jean will not stop at playing the dead man's social secretary either. She also channels Gordon's spirit, after a fashion, by delivering messages to his survivors that she hopes will bring them succor, even if she has to fudge the truth. (She tells his mother, whose calls Gordon had stopped returning, that he'd tried to phone her on the day he died; her number was on the outgoing calls list — really.)
"I only knew him for a short time," Jean confides to the Almighty on a visit to church to pray for Gordon's soul, fudging even to the presumably all-knowing, "but I think that I loved him, in a way."
This seemingly absurd statement is typical of the startling leaps made by the characters in Ms. Ruhl's work, which blends the mundane and the metaphysical, the blunt and the obscure, the patently bizarre and the bizarrely moving. Characters in her plays, which include "The Clean House" and "Eurydice," negotiate the no man's land between the everyday and the mystical, talking like goofs one minute and philosophers the next. She writes surrealist fantasies that happen to be populated by eccentrically real people, comedies in which the surface illogic of dreams is made meaningful — made truthful — by the deeper logic of human feeling.
Her theme in "Dead Man's Cell Phone" is the paradoxical ability of the title device (and the people who use it) both to unite and isolate. Gordon's mother, played with glistening imperiousness by Kathleen Chalfant, ends her funeral oration by calling for a certain hymn by Rodgers and Hammerstein: "You'll Never Walk Alone."
"That's right," she adds dryly, her eulogy having been interrupted by the telltale sound of a muffled phone. "Because you'll always have a machine in your pocket that might ring."
But the machine in the pocket means that wherever you are present, you are potentially absent too. "I never had a cellphone," Jean reflects. "I didn't want to be there, you know. Like if your phone is on you're supposed to be there. Sometimes I like to disappear. But it's like — when everyone has their cellphones on, no one is there. It's like we're all disappearing the more we're there."
As the play takes surprising twists and leaps — right up into the stratosphere, actually — the lament for the supposed coziness of predigital culture (some of which we've all heard before) takes on layers of nuance and contradiction. In one scene Jean uses Gordon's phone as a tool of emotional withdrawal from his brother. (Anyone who has felt a twinge of jealousy toward a friend's Blackberry can relate.)
But it is the act of answering a phone that draws Jean into the mysteries of life, death and the varieties of love, from the compassion for a stranger that an overheard conversation can evoke to the continuing challenge of romantic intimacy.
Ms. Parker, who also stars as the pot-dealing soccer mom on Showtime's "Weeds," gives a bold, stylized performance in tune with the dreamy spirit of Ms. Ruhl's play. With a floppy hat pulled down over her ears, nerdy eyeglasses and a flowery dress over black leggings, Jean initially looks like a Roz Chast character who has escaped from the pages of The New Yorker.
But as the play proceeds, Ms. Parker eases up on the uncertain gait, the deadpan nasal drone, transforming her character from a cartoon into a human being. A nice touch: the way this far-from-earthbound woman's heels never touch the ground when she's sitting down.
The director, Anne Bogart, best known for directing her own troupe, the SITI Company, is likewise sympathetic to the hallucinatory style of the play. The set by G. W. Mercier, mostly a series of colored panels, and the lighting by Brian H. Scott evoke the paintings of Edward Hopper: the lonely rooms, the slanted light, the night-tinted hues. (One epigraph to the text of the play is a quotation from the poet Mark Strand's book of commentary on Hopper.)
Ms. Ruhl's allegiance to whimsy can be exasperating. I could have done without the cloying bit in which Jean brings Gordon's family little gifts from the cafe where he died: a saltshaker, a knife, a spoon. And the bond she forges with his brother, Dwight (David Aaron Baker), over the glory of embossed stationery rates too highly on the cuteness scale for my taste.
But her affection for the unexpected phrase, the kooky observation, the unlikely juxtaposition is essential to her central belief that the smallest and most trivial things in life — a bowl of lobster bisque, in Gordon's case — can be charged with meaning. And her characters' quirkiness is in keeping, too, with the play's doleful central theme, that each human being is a book full of surprises even to intimates, and one that is destined to be left unfinished.
That observation, quoted by Gordon's mother at his funeral, comes from Dickens's "Tale of Two Cities." I suspect the advent of the text message would not have changed his opinion. 3.5.08
Reuters/Hollywood Reporter, Alexis Greene – Mary-Louise Parker in welcome return to NY stage. Mary-Louise Parker has returned to the New York stage after an absence of four years, and what a pleasure it is to see her again. One can hardly imagine a more felicitous combination than Parker's exquisitely tuned performance, Sarah Ruhl's enticing romantic comedy "Dead Man's Cell Phone" and the production's clever, minimalist staging by director Anne Bogart.
The premise of Ruhl's new play is the sort of darkly comic incident that anybody who either is addicted to cell phones or nourishes a healthy hatred of them will appreciate.
Fortysomething Gordon (the excellent T. Ryder Smith) is sitting in a restaurant one day having lunch when he dies. His cell phone, however, lives on, receiving calls and ringing. Jean (Parker), a quirky fellow diner who likes her quiet, takes charge of the offending instrument and, suffused with conflicting surges of repulsion, guilt and generosity, becomes involved with the people who continue to call, even though they know that the phone's owner is dead. There's Gordon's rich, obsessive mother (Kathleen Chalfant); his mistress (Carla Harting); and his unhappy wife, Hermia (Kelly Maurer). Jean meets them all, including Gordon's odd younger brother, a stationer named Dwight (David Aaron Baker), with whom she falls in love.
Ruhl has mingled death and romance in her plays before, notably in her Blackburn Prize winner "The Clean House" and the earlier "Euridyce."
But "Dead Man's Cell Phone" is lighter in tone and spirit, despite moments that purposely take us to the dark side (Gordon, it turns out, sold human organs on the black market). Not to worry, though. Ruhl, with Bogart's deft help, turns that plot twist into a kind of film noir spoof, and so the play rockets along, leading us fancifully in unanticipated directions.
Through much of this, Parker maintains a kind of deadpan attitude and voice, which adds to the comedy by being wonderfully at odds with the grim premise. From the moment when Jean gingerly but insistently nudges Gordon, who has died sitting up, she controls the comic mood. And when, toward the end of this two-hour-plus production, Jean emerges from her own near-death experience and declares her love to Dwight, she blossoms and lifts the production into a pleasurable happy-ever-after realm.
There is, of course, a theme running through Ruhl's newest, very theatrical jaunt. Cell phones are killers when it comes to making connections. The only true connections are the human kind, made through sex and love. 3.4.08
New York Newsday, Linda Winer – Eternal quirkiness and metaphysical whimsy have returned to New York in "Dead Man's Cell Phone," the third Sarah Ruhl play to receive a major Off-Broadway premiere in the past 18 months. How I wish I could understand the appeal.
This one, which opened last night at Playwrights Horizons, even has Mary-Louise Parker in her first stage showcase since becoming America's favorite pot-dealing suburban mom on Showtime's "Weeds."
Unlike that admirably resourceful glamour puss, her character here is meant to be a mouseburger. We know this because she wears glasses and has bad posture. She also takes tiny steps in her high-heeled ankle boots, and, when she sits, her knees flop together and she turns what's meant to be endearingly pigeon-toed.
She is, for a while, fun to watch, as are the marvelous Kathleen Chalfant and everyone else in Anne Bogart's affectionate and imaginatively lean production.
How long the fun lasts, alas, depends on one's threshold for flights of rhapsodic eccentricity and precious smile-button incongruity. Ruhl, a 2005 Pulitzer Prize finalist for "The Clean House," is a playwriting protege of the dazzling Paula Vogel and a recipient of a MacArthur "genius" grant.
Like "Clean House" and last year's "eurydice," "Dead Man's Cell Phone" involves romantic cosmic quests infused with odd-duck darkish fantasy and cutesy insights passing as childlike wisdom.
Parker plays Jean, who gets annoyed when a man in a cafe refuses to answer his cell phone. When she discovers that the man, named Gordon, is dead, she answers his phone. She also falls a little in love with him, sweetly embracing the corpse and promising, "I will stay with you as long as you need me."
Jean makes up comforting lies for his estranged relations, including his wife (Kelly Maurer), his mistress (Carla Harting) and his less powerful brother Dwight (David Aaron Baker). He works in a stationery store. He and Jean bond over a reverence for embossed paper.
Chalfant (currently doing eight performances a week in this and playing Virginia Woolf downtown in "Vita and Virginia" on Mondays) plays Gordon's wondrous flesh-eating monster of a mother. This is the sort of woman who wears a mink coat and hat over a red dress to her son's Catholic funeral (costumes and minimal but witty sets by G.W. Mercier). During her eulogy, she admires the height of the cathedral: "I couldn't have put all this into a low-ceiling room."
We want to know more about this creature. We also enjoy the idea of the life of a cell phone. But what begins as an evocative modern journey dwindles into a grab bag of increasingly asinine scenes about Gordon's cruel international business and no less than the meaning of life and death. Ruhl scatters unrelated character cues about – let's see now – raging carnivores, life as expressed by a Brillo pad, the Holocaust Museum, dead souls who kiss "with their hair" instead of their mouths, John Donne, the "Ride of the Valkyries," the pathos in the name Dwight. And more, much more.
We wait, hoping that the playwright might possess a magic string that will pull all the seemingly unrelated splatter into an amazing – or even interesting – whole. Instead, she comes back to a Dickens observation in "Tale of Two Cities" about every human creature being a "profound secret and mystery to every other." This is not enough, and way too much, at the same time. 3.4.08
NY Post, Frank Scheck – LIFE-AND-DEATH DRAMA HAS FAMILIAR RINGTONE – 'WEEDS' STAR MARY-LOUISE PARKER TAKES THE STAGE. For a woman in her early 30s, Sarah Ruhl sure seems obsessed with death. The subject – central to her plays "The Clean House" and "Eurydice" – forms the theme of her new dark comedy, "Dead Man's Cell Phone," starring Mary-Louise Parker.
Those who've seen the MacArthur Fellowship winner's earlier plays know her style is decidedly off-kilter. So, too, is this determinedly wacky examination of the emotional voids in our lives that are filled with inessential and, indeed, deceptive communication.
The central character is Jean (Parker), a mousy office worker – in a Holocaust museum, no less – who, as the play opens, is annoyed by the incessantly ringing cellphone of a patron sitting near her at an otherwise empty café.
It soon becomes apparent why the man refuses to turn it off – he's dead. Taking it upon herself to answer it, Jean impulsively interjects herself into the dead man's life by assuming the identity of his co-worker to his loved ones, including his mother (Kathleen Chalfant), wife (Kelly Maurer), brother (David Aaron Baker) and even his mistress (Carla Harting).
This sets off a chain of increasingly bizarre events, as Jean discovers just how the dead man, Gordon (T. Ryder Smith), made his living: Let's just say it involves the black market. She becomes romantically involved with his emotionally needy brother and meets Gordon himself in the afterlife.
As in Ruhl's other plays, there's a lot of deadpan wit here, as well as a tendency toward self-satisfied cutesiness.
"You're very comforting, like a very small casserole," the mother tells Jean.
The initially intriguing premise is squandered in a second act that relies on such silly slapstick moments as a slow-motion brawl between Jean and one of Gordon's shady female clients. And the lengthy comic ruminations on the inanities of cellphone decorum are, by this point, hardly fresh.
Director Anne Bogart's staging does well by the surreal proceedings, and the work by the supporting cast is exemplary: Smith is particularly riveting in a long post-death monologue that is the play's single best scene.
Only the normally reliable Parker is disappointing, delivering a one-note performance. 3.5.08
The New Times, Chesley Plemmons – Cell phone conceit: Dead man talking. I guess it was inevitable — the marriage of consumer electronics and drama. Computers made their appearance in plays about murder ("The Dying Gaul") and anonymous sexual liaisons ("Closer"), so finding cell phones — those ubiquitous hand-held devices — in a plot line should comes as small surprise.
Sarah Ruhl's "Dead Man's Cell Phone," which opened last week at Playwrights Horizons in New York City, starts off with an interesting concept but soon gets swamped by the playwright's muddled blend of Frank Capra-style whimsy and flatly grounded romanticism.
The play stars the enchanting Mary-Louise Parker, who can usually make a character's kookiness bearable but is directed here by Anne Bogart to resemble an almost stylized copy of her previous work.
Parker plays Jean, a nondescript museum worker who is enjoying a lunch of lobster bisque when the cell phone of Gordon (T. Ryder Smith), a man at an adjoining table, goes off.
With characteristic New York stoicism, Jean first ignores the steady ringing. When she gets her dander up and goes to suggest he answer it, she realizes he's as dead as the lobster in her soup.
Because she believes a phone needs to be answered, she does: "No, he's not," she says. "Can I take a message?"
Fine so far, but the playwright wants Jean to be something like the angel in "It's a Wonderful Life" and turn her chance encounter with death into an uplifting effort to reunite estranged family members and balance tragedy with hope.
It is very much like the characters fixated on connections between love and death in Ruhl's last two plays, "Eurydice" and "The Clean House," both seen in past seasons at Yale Rep in New Haven.
Walking with a stiff, doll-like gait and speaking in a wispy drone, Parker could have stepped out of one of television's adult cartoons. With a floppy hat, black leggings and dark-rimmed eyeglasses, she seems the penultimate New York nerd.
This caricature distances us from the reality of the circumstances in which she finds herself, circumstances she immediately appropriates for a mission of misguided kindness.
In a nonce she decides to become a spokesperson for Gordon, righting his wrongs and trying to convince his family that he really cared for them — even if he never took the time to communicate his feelings to them while alive.
Pretending she was something of a personal secretary to Gordon, she makes up testaments of love and affection that she tells his bereaved family he meant to tell them.
There's his snobby mother, Mrs. Gottlieb (Kathleen Chalfant); Hermia (Kelly Maurer), his widow; his mistress (Carla Harting); and his younger brother, Dwight (David Aaron Baker).
Along the way Jean discovers Gordon's dark side — trafficking in human organs — and in metaphysical lift-off she joins him in the beyond for a scene in which he attempts to justify his queasy profession. This journey to the underground can easily be seen as a connector to Ruhl's "Eurydice."
In addition to Parker's mannered interpretation, the humor is sometimes on the fey side. Jean and Dwight discover their attraction for each other is enhanced by their mutual love of embossed stationery! Shades of Christopher Durang.
There are some witty touches. During the funeral service for Gordon, a cell phone goes off while the song "You'll Never Walk Alone" is being sung. "That's right," says the wry Chalfant, "because you'll always have a machine in your pocket that might ring."
The underlying philosophy of the play, in addition to the obvious carpe diem, is Gordon's admonition to Jean that people should let those they love know that they love them.
All of the actors give it their best, but except for Ryder Smith's dark and droll Gordon, the characters remain mostly one-dimensional.
Bogart's direction is straightforward and without much subtlety, and the production is equally austere with its backdrop of sliding panels by scenic designer G.W. Mercier. They're boldly lit, however, by Brian H. Scott's lighting plan, and there is an appropriately ominous sound design from Darron L. West.
Film buffs may remember the 1952 film "Phone Call from a Stranger," in which the survivor of a plane crash contacts the families of some of the victims and attempts to rectify soured relationships. Sound familiar? 3.9.08
Bloomberg News, John Simon – Mary-Louise Parker Picks Up `Dead Man's Cell Phone'. What a pleasure to have Mary-Louise Parker, one of our most extraordinary actresses, back on the New York stage after a too-long absence. This even if the play is Sarah Ruhl's profoundly nonsensical "dead man's cell phone" (no caps, for further distinction) at Playwrights Horizons on 42nd Street.
Parker's style (and perhaps even her nature) is to convey a sort of holy innocence. Once this would have been called kookiness: wide-eyed, with a languid but nonsensual, slow-motion drawl, as of someone surprised by her own gift of speech; someone whose very walk reveals a soulful daintiness beyond muscle and sinew. Charm adheres to her.
Her one flaw can be her choice of vehicles — catastrophic in this instance — shared, however, with the many institutions that have showered Ruhl with prizes (including a half-million- dollar "genius grant" from the MacArthur Foundation) and the numerous theaters here and abroad that mount plays as mediocre as her "Clean House" and as appalling as "Eurydice" and this.
"dead man's cell phone" finds Jean writing at a cafe table. Nearby, a cell phone rings and rings, for good reason: Upon investigation Jean discovers that its owner, Gordon, is dead. She takes over his cell phone and his life.
Platitudes: Jean answers countless messages, leading her to Gordon's preposterous mother, Mrs. Gottlieb (a foolish role for the gifted Kathleen Chalfant), also Gordon's wife, Hermia, his mistress, known only as the Other Woman, and his brother, Dwight. All of them behave irrationally and speak in platitudes, non sequiturs or utter absurdities.
Jean prays for help keeping Gordon's memory alive:"I only knew him for a short time, God/but I think that I loved him, in a way." This is some sort of presumptive verse. She informs the dead man she'll stay with him "as long as you need me." Later she swears she'll attend that cell phone forever.
Mrs. Gottlieb delivers her son's eulogy in church. It contains such moving homilies as, "Raise your hand if you've answered your cell phone while you were quietly urinating." She concludes: "You'll never walk alone…. Because you'll always have a machine in your pants that might ring."
Small Potatoes: The play becomes steadily weirder. Act 2 starts with a long soliloquy by the dead Gordon, beginning: "I woke up that morning — the day I died — thinking I'd like a lobster bisque." There remain 90 minutes of ever more outrageous claptrap — clearly the sort of thing that earns someone half a million bucks.
Under Anne Bogart's direction, the acting is uneven; in the case of Kelly Maurer's Hermia, outright repellent. G.W. Mercier, a specialist in inexpensive decor, has provided panels of different colors that are shifted around by three walk-ons in waiter's attire. Some of Ruhl's bizarre stage directions are ignored; others, unfortunately, are not.
The one comforting news we glean is that because we go to the "Otherworld" with only the clothes on our backs, we are nude at the laundromats for the weekly wash. That would be a good deal more entertaining than a play by Sarah Ruhl. 3.8.08
New York magazine, Jeremy McCarter – Put together a playwright known for quirky stories (Sarah Ruhl), an actress known for a mannered touch or two (Mary-Louise Parker), and a director whose company specializes in stylized experiments (Anne Bogart), and what do you get? About what you'd fear, I'm afraid: Dead Man's Cell Phone, Ruhl's new play at Playwrights Horizons, is a giant slice of whimsy drenched in whimsy sauce.
Ruhl begins with an intriguing Hitchcocky premise: a man expires in the middle of a café as his cell phone begins to ring. When a timid thirtysomething woman answers it, she's ushered into his family and shady business life. The unfolding action is sometimes funny, and Parker is as charming as any actress who insists on using that girlish drawl can be, but the eccentricities here are laid on so thick that Wes Anderson looks like a panting hyperrealist by comparison.
Much as I liked her spin on Eurydice, Ruhl has been falling into a pattern. She writes speeches that draw you up short—as when the dead man (the terrific T. Ryder Smith) describes how people outrun their souls when they travel—amid stories that you wish would end already. She's racking up the trophies (MacArthur "genius" grant, Pulitzer finalist, etc.), but I still wonder if Ruhl might be a gifted poet straining to be a workaday playwright. Whatever the cause, she keeps writing scripts I'd rather read than see. 3.14.08
NY Sun, Eric Grode – No Life at the End Of This Line. Depending on who you ask, Sarah Ruhl has been either buoyed or hindered by directors with a taste for visual trickery. In the playwright's previous New York productions, "The Clean House" and "Eurydice," Bill Rauch and Les Waters saw to it that her surreal, unabashedly sentimental works were plastered with string houses, satanic tricyclists, and indoor hailstorms of half-eaten apples. This blend of cerebral showmanship, of swinging for the fences both visually and emotionally, has won the talented 34-year-old a slew of admirers and just as many detractors.
Anne Bogart, the guiding force behind "Dead Man's Cell Phone" and herself a revered manipulator of stage space, works with a much smaller palette as she attempts to invest Ms. Ruhl's whimsical narrative with the atomized pulse of actual lives being lived. But as the plot slides from a shrewd gloss on technology to a well-calibrated melodrama to a rather shopworn treatise on altruism, the author's less welcome qualities intensify under the added exposure. This particular house is a little too clean.
It all starts one afternoon when the nice enough, bright enough, pretty enough Jean (Mary-Louise Parker) has her lobster bisque interrupted by the steady chirrup of a cell phone owned by the restaurant's only other patron. His name is Gordon (T. Ryder Smith), and he has just died of a heart attack.
Out of curiosity at first, and then an ill-defined blend of solicitude and thrill-seeking ("I want to remember everything. Even other people's memories"), Jean makes off with the phone and inveigles herself into Gordon's mysterious line of work as well as the lives of his semi-loved ones — his domineering mother (Kathleen Chalfant, in what amounts to a glorified cameo), put-upon brother (David Aaron Baker), unloved widow (Kelly Maurer), and mysterious mistress (Carla Harting). By inventing a series of complicated scenarios designed to soothe these frayed relationships, Jean becomes a guardian angel in reverse for Gordon.
She is so busy creating an idealized existence for this man that she scarcely begins to articulate anything about her own life. We hear briefly of a dog and of an office job at a Holocaust museum, and that's about it. But how much do we really know, or at least remember, about Scheherazade? Both live by and for telling stories, and despite Ms. Parker's efforts to undercut Jean's borderline saintliness with an eye-catching distractedness, Ms. Ruhl is more interested in the transformative effect of these stories than in the woman who impulsively decides to share them.
Unfortunately, the journey toward self-knowledge is riddled with some of the author's increasingly predictable devices. Ms. Ruhl specializes in a sort of drive-by imagism, with virtually every character peppering the audience with self-consciously poetic metaphors of wildly varying impact. We learn from the hapless Dwight, for example, that his burgeoning relationship with Jean is like the letter "Z" (two people connected with a diagonal) and, four lines later, that their commingling of souls is like tearing and partially exchanging their own clothing. ("You gave me one of your buttons.") In their previous scene, we learn that embossed paper feels like branches, a leaf, tablecloths, and wool.
Now, going back to the first set, I find the clothing concept to be both charming and — given what we subsequently learn about the job Gordon had and that Jean tentatively broaches — chillingly apt; in light of the recent death of Dwight's brother, it also has a welcome biblical tinge of rending one's garments. The "Z" bit, meanwhile, strikes me as forced and meaninglessly vague. (No comment on the tablecloth paper.) Others might easily love the "Z" and dismiss the buttons as something out of Magnetic Poetry.
The larger point is not which among this glut of comparisons make emotional sense, but rather how the audience is to make sense of characters who indulge in such relentlessly whimsical equivocations. And while Ms. Ruhl's previous directors used smoke and mirrors to counteract this trend toward preciosity, essentially choosing for her by spotlighting or illustrating individual examples, Ms. Bogart leaves the stage relatively spare, letting G.W. Mercier's class-conscious costumes and Brian H. Scott's chilly lighting carry much of the visual load. The lines of dialogue are left to fight for themselves, and as a result, fewer of them get out alive.
And when Ms. Ruhl's language fails to pass muster, her plots are unlikely to take up the slack. After a twee visit to the afterlife (where people kiss with their hair and go to the Laundromat once a week), "Cell Phone" devolves into musty cloak-and-dagger antics that come off as a pale Xerox of Paula Vogel's metaphorically rich "Third Man" references in "The Baltimore Waltz."
Although Ms. Parker overplays her mousy shtick early on, she gives Jean a blinkered tenacity that makes her actions moderately plausible. But the sketchy demands of the plot get the best of Gordon's family, with the priceless Ms. Chalfant reduced to withering-socialite clichés. Only Gordon himself holds his own against his well-meaning interlocutor: Mr. Smith, whose cadaverous appearance and Krusty the Clown-on-Valium voice lend him a ghoulish authority, provides "Dead Man's Cell Phone" with a pungent boost when he resurfaces in Act II. But when the dead man gets all the best lines, his cell phone isn't the only thing that would benefit from a recharge. 3.5.08
NYTheatre.com, Martin Denton –  A woman—middle-aged, distinguished, monied—enters a church to speak at the funeral of her elder son. She says: I'm not sure what to say. There is, thank God, a vaulted ceiling here. I am relieved to find that there is stained glass and the sensation of height. Even though I am not a religious woman I am glad there are still churches….Could some one please turn their fucking cell phone off. There are only one or two sacred places left in the world today. Where there is no ringing. The theater, the church, and the toilet. But some people actually answer their phones in the shitter these days….
If you believe that a middle-aged, distinguished, monied woman talks like this at her elder son's funeral, than perhaps Sarah Ruhl's new play Dead Man's Cell Phone is for you. I do not. And this play is unquestionably not for me.
I had actually figured that out even before I heard Kathleen Chalfant, as Mrs. Gottlieb, the grieving matriarch, deliver the foregoing with as much elegance and style as she could muster. I figured it out in Scene One, in which only two characters are present, Gordon, a dead man seated at a table at a cafe, and Jean, a young woman seated nearby. Gordon's cell phone rings….and rings…and rings…and Jean, annoyed, finally comes over to investigate why this man is letting his phone ring and ring and ring. Pretty quickly she determines that he's dead. And so she does what anybody would do…she finds the manager; calls the police; tries to figure out who his relatives are.
Oh no…she doesn't do any of those things. No, Jean just answers Gordon's phone. Several times. And then inserts herself into this stranger's life, deceiving his loved ones into believing that she knew and cared for Gordon when in fact she never spoke a word to him in his life.
Ruhl never supplies back story for Jean that might explain why she'd do something so preposterous and monstrous. Indeed, Ruhl doesn't let on that Jean's behavior is bad at all. I wondered, throughout Dead Man's Cell Phone, when we'd arrive at the subject of the sanctity of life. We never do. This playwright, as far as I can tell, thinks life and death are matters for frivolity, for trivializing, for jokey banter. I cannot think that: I hope that should I die alone in a coffee shop that whoever found me would respect me and my family and friends sufficiently to NOT answer my cell phone.
But this is Ruhl's play, and Jean does answer the phone, and soon she finds herself among strangers like Mrs. Gottlieb, a person who muses on architecture when she ought to be talking about her son. Among these people, Jean gets herself into the thick of an adventure that would not be out of place in a Hitchcock film. She also finds love, or so we are to believe; indeed, the "moral" of Dead Man's Cell Phone is apparently something like, love is the answer.
The play frequently seems to veer into the fantastical, but even under Anne Bogart's stylized direction it always feels anchored in, or near, reality; the absurdities in the piece merely feel absurd, rather than fanciful and beautiful or satirical and pointed. Bogart's staging involves three men dressed as upscale waiters moving tables and chairs around in between the many scenes—so much so, in fact, that the play seems to be as much about its scenery as it is about whatever Ruhl intends it to be about.
Chalfant and her colleagues on stage offer an impressive show. Mary-Louise Parker does one of her trademark mannered-and-quirky leading lady turns. T. Ryder Smith has fun as the dead man, and David Aaron Baker is surprisingly sympathetic as Gordon's brother. Carla Harting and Kelly Maurer complete the cast as, respectively, the dead man's girlfriend and wife.
I value the contributions of these live actors greatly. Ruhl does not appear to value the lives of the characters she's created for them to portray, however. And that was a big problem for me. 3.1.08
BroadwayWorld.com, Robert Diamond – Dead Man's Cell Phone: The Time Of Your Life. I don't know about you, but when I first heard the title of Sarah Ruhl's comic fantasy, Dead Man's Cell Phone, it immediately brought to mind the title of Sister Helen Prejean's book, Dead Man Walking.  The sister's title refers to those who are still living but imprisoned on death row, but Ruhl's variation brings to mind the way technology has allowed the dead to figuratively walk among the living.  Personal web sites, blogs and cell phone voice mails assuring us that the person we're trying to reach will reply if we leave a message serve as our evergreen footprints, widely giving the impression of continuing life far more effectively than dusty old diaries or the fading memories of loved ones.
That appears to be a major concern in Ruhl's play.  I say "appears" because as funny and charming as it certainly is the deeper points the author seems to be trying to make never emerge with any clarity, leaving an evening that's perfectly enjoyable but not as memorable as you'd think it could have been.
The premise is a gem.  While quietly sitting in a café, the unobtrusive Jean (Mary-Louise Parker) asks the nearby stranger, Gordon (T. Ryder Smith), to answer the cell phone that continually rings at his table while he just sits there motionlessly.  Since it wouldn't be much of a play if she just moved out of earshot, Jean answers the phone, offering to take a message for the caller before realizing that Gordon is in no condition to ever receive it.  After fielding another call (and, of course, dialing 911) Jean connects with Gordon's mother (Kathleen Chalfant), which leads her to encounters with his widow (Kelly Maurer) and his Other Woman (Carla Harting) and her own quickly blossoming love affair with his brother (David Aaron Baker).  Though it turns out Gordon was apparently not an especially nice person and dealt in a morally questionable business, Jean sees fit to make up stories of his undying love and affection to comfort those he left behind.
If it all sounds a bit absurd, Mary-Louise Parker's sweet commitment to the premise, as well as her child-like nasal tones and affectedly nerdish manner, makes it all somewhat plausible in director Anne Bogart's ethereally whimsical production.  Chalfant, as the uppity mom, supplies the evening's more earthbound crudeness, including a very funny scene where she's continually interrupted by cell phone rings while trying to eulogize her son at his funeral.  ("You'll never walk alone.  That's right.  Because you'll always have a machine in your pants that might ring.")
It's during that scene that sound designer Darron L. West does a remarkable job of making it seem like different cell phones are ringing in very specific spots in the audience.  Weeks from now I may not remember much about Dead Man's Cell Phone, but I will remember the uneasy feeling when, even though common sense told me it must have been part of the show, another part of me believed that someone among us may have actually forgotten to silence their ringer.
Well, at least nobody was unwrapping candy.
Variety, David Rooney – The abiding obsession with love and death that rippled through Sarah Ruhl's "Eurydice" and "The Clean House" is again in evidence in her eccentric new comedy, "Dead Man's Cell Phone." But while director Anne Bogart's cerebral approach has served to elucidate the work of writers like Charles Mee, bringing coherence to his often unruly collages, it douses Ruhl's oddball lyricism in manneristic coldness. The mismatch between playwright and director stretches the fragile charms of this unsatisfying commission from Playwrights Horizons even thinner.
The big disappointment here is the misuse of Mary-Louise Parker, whose film and television career has kept her increasingly absent from New York stages. Playing a mousy woman not entirely comfortable in her own skin, and speaking in a cartoonish drone, Parker's natural, nutsy whimsicality is stifled by affectation. And while her connection with the plays of Craig Lucas underlines similarities between "Cell Phone" and that writer's work from the 1980s, the comparisons are unfavorable.
An intriguing title and an equally strong premise for existential comedy, the play chronicles what happens when sweet-souled Holocaust museum worker Jean (Parker) comes into possession of a phone belonging to Gordon (T. Ryder Smith), who dies at the next cafe table to her while coveting her bowl of lobster bisque.
Despite never having met the man while he was breathing, and initially knowing nothing of his sinister line of work trafficking in human organs, Jean becomes desperate to somehow keep Gordon alive by answering his calls. She poses as his colleague and begins trying to set things right with the thorny man's friends and family, convincing his mother (Kathleen Chalfant, in imperiously dotty dowager mode), widow (Kelly Maurer) and mistress (Carla Harting) that he died while reaffirming his love for each of them.
Ironing out life's messes already was a central element in the far superior "Clean House," but like many rehashed ideas here, it has no emotional weight. Ruhl toys with themes of remembrance and redemption, of offering even the most morally dubious character a cleansing of the soul. She also touches on frequently heard reflections concerning the isolation of people in an increasingly technology-dependent society. But there's too little follow-through in the unfocused second act.
Bogart's glacial pacing and fussy scene changes should allow these themes time to resonate but they just sit there, accumulating more quirks than clarity.
Ruhl's trademark compassion is all over Jean, and Parker grows more disarming as the play progresses — despite the monotone delivery and windup-doll walk. There are touching moments in her connection with Gordon's unassuming brother Dwight (David Aaron Baker), depicting two gentle people at odds with the world at large, drawn together like magnets. Underscoring the play's ambivalence toward the ubiquitous cell phone, Jean and Dwight bond over their love of stationery. "I think heaven must be like an embossed invitation," she sighs.
However, when Jean gets sucked into Gordon's dangerous professional life and a funny Hitchcockian encounter sends her spinning into the underworld in a typically Ruhlian flight of fancy, the play becomes like "Eurydice" redux, without the emotional payoff.
Smith gives Gordon a jaundiced malevolence that's certainly arresting, but mostly the actors are too constrained by the flimsy play's preciousness to create full-bodied characters.
Brian H. Scott's sharply defined lighting and Darron L. West's brooding soundscape lend some heat and texture to G.W. Mercier's chilly design of sliding panels. But for a play about the importance of conveying love while people are still around to receive it, Ruhl's comedy is distant, flat and almost as stiff as the original cell phone owner. 3.5.08
Theatremania, David Finkle – Over the past decade or so, theatergoers have gotten used to the pre-performance kindly-turn-off-your-cellphones announcement. They've even become accustomed to, if not particularly appreciative of, the various attempts to make the obligatory request somehow amusing. So it's undoubtedly a logical development that MacArthur Fellowship recipient Sarah Ruhl has turned an entire play, Dead Man's Cell Phone, now at Playwrights Horizons, into a warning about the unexpected consequences of cellphone deployment.
While it starts with a genuinely intriguing premise, Ruhl eventually piles on so much whimsy that it's a strong possibility patrons exiting the two-act piece will quickly reactivate their phones for the express purpose of discouraging friends from making the same attendance mistake.
The play's legitimately cute hook has café patron Jean (Mary Louise Parker) being disturbed when a phone belonging to a man at a nearby table begins to ring, stops, rings again, stops, then rings again. As it happens, Gordon (T. Ryder Smith) isn't answering the calls because — although he's still sitting upright — he has figuratively turned up his toes. Not immediately realizing as much, Jean answers the phone and in a trice becomes involved in the deceased fellow's life, eventually meeting his hoity-toity mother Mrs. Gottlieb (Kathleen Chalfant), his widow Hermia (Kelly Maurer), an exotic woman of his acquaintance (Carla Harting), and his younger brother Dwight (David Aaron Baker).
Learning from family and friends that they're unsure of how Gordon regarded them, the curiously affectless Jean lies to them, relaying made-up messages citing Gordon's love and affection. She does even more for Dwight: she falls in love with him. Eventually, she takes an action that leads her to join Gordon in the afterlife, where he gives her an explanation about life that involves the need to let the people you love know you love them. At this point, it becomes apparent that Ruhl has composed the work as an oblique companion piece to her acclaimed Eurydice, although Jean, unlike the mythical Greek heroine, gets to come back from her eternal reward.
The play — Ruhl's newest addition to a growing library of unfortunately overrated works — has Jean and her associates speaking some lines that will cause inward (and maybe outward) audience groaning. For example, in the second-act opening speech that Gordon makes about the work he did connecting organ donors and organ receivers, he comments, "I make people feel good about their new organs — I call it 'compassionate obfuscation.'" Later, the forever epigramizing fellow declares, "Life is essentially a very large Brillo pad."
What's worse about an unsatisfactory property like this one is the squandered work put into it by director Anne Bogart — who doesn't minimize the fluff — and the dedicated cast. Because it's impossible for Parker not to look good in anything she takes on, she emerges unscathed. Her flat-toned nasal line readings as the isolated and isolating Jean are consistently amusing. Kathleen Chalfant, tough and touching these Monday nights as Virginia Woolf in Vita & Virginia at the Zipper, comes off less well. She's asked to spout a few obscenities, which someone incorrectly thought would be hilarious coming out of her mouth, but she does have the opportunity to sing nicely a few bars of "You'll Never Walk Alone." The others are primarily notable for not letting on that they're in something somewhat beneath them.
Ruhl illustrates her moral lesson by way of the Jean-Dwight romance, which is only half a day old when the two cement their bond. "I don't need more than 12 hours to get to know you, Jean," Dwight insists, and the audience is encouraged to believe him and take the advice home with them. But how much can a contemporary ticket buyer hope to benefit from a playwright who doesn't know what an extremely shallow insight this is? The answer is not much. 3.5.08
Newark Star-Ledger, Michael Sommers – 'Cell Phone' leaves unclear message.  Theater circles lately have been buzzing how "Dead Man's Cell Phone" is a new Sarah Ruhl play that will finally appeal to mainstream viewers.
Already two of the emerging playwright's works have been frequently produced at regional theaters. Here, Ruhl's quirky "The Clean House" appeared at Lincoln Center Theater in 2006 and her pensive "Eurydice" at Second Stage in 2007.
Although these surreal plays scarcely pander to conventional tastes, they certainly glint with promise. Ruhl displays a good deal of imagination and a nice way with words. "The Clean House" was even a finalist for the 2005 Pulitzer Prize.
Nevertheless, both works involve offbeat flights of fancy unlikely to ignite box office stampedes.
First produced last year by the Woolly Mammoth Theatre Company of Washington, D.C., "Dead Man's Cell Phone" was said to have its narrative feet planted more firmly in the middle of the road than Ruhl's airy previous works.
Not so. The basic situation for "Dead Man's Cell Phone" may recall the old Sandra Bullock film "While You Were Sleeping," but the show that opened Tuesday at Playwrights Horizons soon wanders off into Ruhl's brand of hazy whimsicality.
A kooky performance by Mary-Louise Parker in the central role of a mousy do-gooder lends some oddball charm to the proceedings. Parker portrays Jean, a little nobody who answers the persistently ringing phone of a middle-aged stranger silently sitting at a nearby cafe table. Apparently this man, Gordon (T. Ryder Smith), is newly dead. Jean sympathetically bonds with the corpse and takes custody of his phone.
In this way Jean comes into contact with Gordon's imperious mother (Kathleen Chalfant), neglected wife (Kelly Maurer), mysterious lover (Carla Harting) and easygoing brother Dwight (David Aaron Baker). Pretending to be an old friend, Jean makes up comforting lies about Gordon that she hopes will help everyone get over their loss.
Jean and Dwight strike romantic sparks over their mutual fondness for embossed stationery. Then Gordon's peculiar line of business (let's not reveal that here) leads Jean into danger and — well, by now magical realism has long taken over the plot.
Despite the cool and fluent stylishness of Anne Bogart's staging, neither the handsome production nor the play ever jells into focus, let alone significance. At the end of two hours, the play yields little more than occasional patches of pretty writing.
Making her first stage appearance in four years and since her TV series "Weeds" became a hit, Parker delineates the sketchy character of Jean with a droning voice, a myopic stare and an apologetic air. All hollow cheeks and burning eyes, Smith's dead but still-talking Gordon looks like a vampire Ben Stiller.
Much like Ruhl's previous efforts, "Dead Man's Cell Phone" begins with a promising idea but refuses to develop into anything that might fascinate viewers into going along with her capricious storytelling. 3.4.08
Talkin' Broadway, Matthew Murray – Not long into the first act of Sarah Ruhl's latest play Dead Man's Cell Phone, which just premiered at Playwrights Horizons, a funeral scene is interrupted by the chime of a phone in the audience. It might seem like it's coming from a few rows in front of you or perhaps just to your left, but it's unmistakably among the onlookers. When this happens again, just moments later, the ringing is coming from somewhere else, it's still from some indefinable yet uncomfortably close place in the house. It's a triumph of sound design.
Darron L. West's vivid soundscape is also the only triumph of this off-putting evening, which is too wrapped up in itself to tackle the giant questions of life and death it teases you with. Anne Bogart's cold production, which stamps out the usually unquenchable fire of its leading lady, Mary-Louise Parker, only cements the impression of a play whose creative batteries have run way down.
This likely won't surprise you if you've seen Ruhl's other plays in New York, The Clean House and Eurydice, which also traded on a neo-absurdist approach to storytelling that included mortality as a central figure. Twinkling comedy mingling with tingling tragedy and dozens of uncategorizable surprises is Ruhl's modus operandi, suggesting she realizes that death is so serious that it can only be treated as the most laughing of matters.
Whether you'll join in the guffawing is another matter. Dead Man's Cell Phone is not just yet another variation on Ruhl's typical theme, but also a sabotaging of an idea with infinite inherent potential. A story about a young woman named Jean (Parker) finding the abandoned phone of a man who died while eating his lunch in a café is full of promise, an unusual (and strangely underexplored) way of examining the legacies we leave behind when we die. Yet the outcome is neither somber nor comedic; it's closer to A Very Special Episode of Looney Tunes than a trenchant look at how being in constant communication has altered our lives in the 21st century.
Jean adopts the phone as her personal responsibility, answering it instinctively and using it to correct the myriad mistakes its owner Gordon (T. Ryder Smith) made in life. These include reconciling with his wife (Kelly Maurer), brother (David Aaron Baker), and mother (Kathleen Chalfant), as well as giving his devastated mistress (Carla Harting) a reason to go on living. Oh yes, and there are frequent detours into such pressing matters as the sensual qualities of stationery, the rehabilitative powers of the Ice Follies, and the intoxicating dangers of the international organ-donation black market.
How does everything fit together? Because it's all in a Sarah Ruhl play, it doesn't – dramatic elements are suspended randomly, like bits of fruit in half-solid gelatin. But there's nothing tantalizingly sweet about the latest of Ruhl's forays into the curiosities that populate the border between here and the afterlife.
The play's sheer cutesiness radiates forth in everything from an extended speech about the appeal of lobster bisque (Gordon's unfortunate dramatic centerpiece) to the performances, which rarely rise above the embarrassing. Parker lives in Jean's phlegm-flooded voice box, giving her the intensely pinched nasality of a mouse with a head cold, that she devotes no discernible energy to explaining the source or substance of her newfound obsession. Smith brings a brooding heaviness to Gordon that makes one wonder how he ever managed to never collapse under his own weight. Baker, Maurer, and Harting routinely struggle with finding the appropriate balance between comedic delivery and serious emotions, but are seldom successful at attaining either.
Only Chalfant, with her unforced, fiercely patrician delivery, taps into the comic rhythms of Ruhl's writing to extract some recognizable humanity. Chalfant approaches intimate scenes with caution, reflecting Gordon's mother's suspicious nature, but gradually reveals how the woman is coming to understand the mother-son bonds ran more than simply skin deep. Chalfant finds in the mother a grace and an elevation that unite her unrequited love for Gordon with more unruly traits, like her considering Charles Dickens as sacred scripture or her distaste for public cell-phone use.
She's the one officiating at Gordon's service when those rings erupt around you, and the first to chide the phones' imaginary owners. Her stepping downstage and taking you to task for all the cell phones that have ever rung at inappropriate times is the only serviceable bridge between the play and the real world. Chalfant also gets the show's best joke: When the hymn she requests, Rodgers & Hammerstein's "You'll Never Walk Alone," is also pierced by an insulting ringtone, she concludes, "You'll never walk alone. That's right. Because you'll always have a machine in your pants that might ring."
Maybe, but cell phones can be a boon on the rare occasions that the person calling has something vitally important to say. This Dead Man's Cell Phone, however, may as well stay set on silent. 3.4.08
Backstage, David Sheward – At the beginning of Act 2 of Sarah Ruhl's Dead Man's Cell Phone, Gordon, the titular deceased character, delivers a comically ironic, coolly moving description of his last morning. Delivered with a dry, almost deadpan wit and a knowing sneer by the sly T. Ryder Smith, the monologue is a sharply observed commentary on our fragmentary, disconnected age. Everyone Gordon passes is on a cell phone, revealing the most intimate details at the top of his or her lungs. On the subway ("a tomb for people's eyes"), he conjectures that people in transit are moving too fast for their souls to catch up with their bodies, making subways and airports very similar to hell. "That's when you bomb them," he concludes. There are further bits of fascinating opinion, including the idea that how people eat their sushi or breakfast cereal reveals their innermost attitudes. It's a wry, fascinating, ultimately shaking five minutes.
Unfortunately, that's the high point of the play, because Gordon is not the protagonist. That role is taken by Jean, a shy, mousy woman who happens to be dining at the same café when Gordon silently passes away. She answers his cell phone when he fails to pick it up and becomes intimately involved with his dysfunctional family and his criminal business dealings. Jean is a blank slate, seeking an identity through Gordon's abandoned phone. We know almost nothing about her. Indeed, Ruhl has made her so nondescript that not even the magnificent Mary-Louise Parker can bring her to believable life. Parker does manage to make Jean a sympathetic figure, but Ruhl gives her so little to work with that we soon lose interest in Jean's sad little life. And it doesn't help matters that Parker endows Jean with a halting speech pattern reminiscent of Sandy Dennis; instead of revealing character, it just becomes annoying.
In addition, Ruhl ventures too far into crazy Christopher Durang territory — sending Jean to South Africa on a bizarre clandestine mission and then into a boring existential afterlife. These wacky side trips lessen the impact of the valid and vital views she offers. I loved her thoughts on how digital cameras eliminate the need for memory, while stationery and letters provide permanence because paper is real. But she detracts from these pointed observations with the nutty, ungrounded shenanigans. One can overlap pointed realism with outlandish comedy, but you have to establish characters we care about; Ruhl has missed this step.
Anne Bogart provides a smooth, efficient staging, beautifully lit by Brian H. Scott, and the cast is certainly game. As Gordon's mink-draped mother, the always moving Kathleen Chalfant conveys sorrow and frostiness simultaneously as her funeral oration is interrupted by ringing phones.
It's ironic that the play has individual worthy fragments, as Ruhl's point is that we live in fragmentary times. Bits of information fly through the air and we can only snatch at a few. Dead Man's Cell Phone is as unsatisfying as an overheard conversation: We've only been given part of the story. 3.4.08
CurtainUp, Elyse Sommer – You decided to help a dead man because only a dead person can be 100% good. When you're alive, the goodness rubs off you if you so much as leave the house. Life is essentially a very large Brillo pad—Gordon. If playwright Sarah Ruhl's cellphone rings, it's a good bet it will be from some prestigious theater company wanting to produce or commission her work. She's one of the hottest and most acclaimed young writers working in the theater today. Her plays have received top quality productions all over the country. (Curtainup has covered productions of her Clean House three times). She has also been awarded a MacArthur genius grant, and while "genius" is a debatable tag, she does have a vivid imagination and a knack for eminently quotable dialogue.
In Dead Man's Cellphone Ruhl has come up with a timely concept with which to explore love and death. To give this world premiere at Playwrights Horizon a big boost the cast is headed by Mary Louise Parker. Parker, currently best known as Nancy in the showtime series Weeds, has the stage chops (How I Learned to Drive, Proof, Prelude to a Kiss, Reckless) to make her the ideal cell phone pickerupper, a lovably quirky eccentric named Jean.
The play starts off with a comic bang— or, more to the point, the sound of a cellphone ringing. It belongs to a man (T. Ryder Smith) sitting at a cafe table at one corner of the stage. He lets the phone ring, and ring, and ring. This is clearly annoying the woman (Mary Louise Parker) sitting at a table at the opposite end of the stage. There's something peculiar about the way the man sits there. He's motionless but doesn't look particularly dead. But hey, the play you're watching is called  Dead Man's Cell Phone . . . so, yes, he  is  dead — and when the woman sitting at the other table gets no response to her "Aren't you going to get that? " she ambles over to his table and answers the phone. Once the realization that she is indeed answering a dead man's cellphone takes root, Jean has some kind of instant epiphany that makes her feel connected to Gordon (she learns his name from one of the callers). That connection takes the form of a promise to stay with him as long as he needs her and then vowing to comfort his loved ones and try to make the memory of him live on positively in their minds and hearts.
The outcome of that vow takes up the rest of the first act. Parker is deliciously, weirdly ditzy — and so are the "loved ones" she meets and "comforts" with whatever made-up conversations and e-mailed missives it takes to surround Gordon's memory in a positive halo: Gordon's imperious mother, Mrs. Gottlieb (Kathleen Chalfant); his mistress (Carla Harting); his erstwhile Danish Figure Skater wife Hermia (Kelly Maurer, who actually looks a bit like Sonia Henie); his charming but underappreciated brother Dwight (David Aaron Baker)—at least he's underappreciated until Jean comes to dinner.
The first act ends with a brief image, the equivalent of what the British Women's magazine I once wrote serial romantic novels for called "the curtain" that would leave readers panting for the next installment. Since T. Ryder Smith is not an actor to play just a human prop to get things moving, it is inevitable that he will return at some point, so it's hardly a spoiler to tell you that the act one closing image is of Gordon. Given the basic premise, you can also count on Ruhl to spice up much of the play's dialogue with comments about cellphones. The elegant and very proper looking Mrs. Gottlieb, for example, inelegantly interrupts her eulogy to her son when a cell phone goes off at the back of the church with "Could some one please turn their fucking cell phone off". She goes on to comment that the sacred places left in the world today where there is no ringing are the theater, the church and the toilet, though she posits that the last mentioned might not be all that sacred. My favorite Mrs. Gottlieb line, however, is when she asks Jean to stick around because she finds her very comforting, "like a very small casserole."
Unfortunately, the second act fails to live up to the promise of the first. It begins well enough, with a terrific monologue from Gordon. The mots keep flying. But when Ruhl, who has in the past indulged in a fondness for magic realism, detours into metaphysical territory, what began as a potentially witty comedy about love, death and socially invasive inventions like (what else?) cell phones cries out for a stronger less messy rewrite.
Anne Bogart's staging supports the fancifully surreal aspects of the story but it is somehow too icily stylistic and off-putting. G. W. Mercier's scenic and costume design is, however, an especially vital asset. Mercier's costumes for Ms. Chalfant shrewdly characterize her as a woman locked into an era when Manhattans were the cocktails of choice and women were not averse to fur stoles complete with heads and tails.
Dead Man's Cellphone  will be most likely to please theater goers and critics who have elevated Ms. Ruhl to the playwriting equivalent of the best new thing since sliced bread. Others may wish more than ever that she'd learn not to wander off in too many fanciful directions. Of course, if you're a Mary Lou Parker fan you won't won't want to miss a chance to see her back on stage after a four-year absence, but this is a limited run, so go soon —and don't forget to turn off you cellphone. 3.5.08
NY Press, Leonard Jacobs – STRAIGHT TO VOICEMAIL. In Sarah Ruhl's Dead Man's Cell Phone, mousy Jean (Mary Louise Parker) is unnerved by a man's cell phone ringing nearby. She doesn't know he's dead, but she answers the phone anyway. Once she sees the guy is a goner, she keeps answering the phone, slowly trapping her in the residue of the deceased.
The goner is Gordon (T. Ryder Smith), a man made rich from human organ trading; although to judge by the lifestyle and hauteur of Gordon's mother, Mrs. Gottlieb (Kathleen Chalfant), he was already well off. Soon, Jean encounters the rest of Gordon's retinue: wife Hermia (Kelly Maurer), who's more relieved than bereaved by his death, especially when drunk; an Italian mistress (Carla Harting) who looks like an extra from Fellini's La Dolce Vita; and introverted brother Dwight (David Aaron Baker). After a dinner scene in which Mrs. Gottlieb's vulgarity and quirks openly explode, Dwight and Jean discover a mutual love of stationery and head to Dwight's job, where they can feel up engraved invitations as well as each other.
Parker does stellar character work with her twinkle-toed walk in high-heeled shoes, her wan face, nasal voice and her hallowed, wandering eyes. But the character is a cipher: Parker never questions why Jean goes on answering Gordon's phone or immerses herself in his life. Unfortunately, Ruhl never questions this either. In Dead Man's Cell Phone, she takes one of the digital age's great questions—when we die, what happens to our websites, blogs, computers and iPods?—and gives us read-only memory.
Smith, whose long, pinched, WASPish face internalizes emotion instead of expresses it, is great casting as Gordon—who is offstage for most of the first act. Indeed, Gordon's first line arrives at the first act's final moment, when his character speaks into an intermission blackout. He does deliver a monologue at the beginning of the second act—a painstaking chronology of Gordon's last day alive—that embodies what can be dazzling about Ruhl's work, even if her thematic sense in this play is the same thing as a busy signal.
Director Anne Bogart's staging is smooth as gin—watch her fold G.W. Mercier's plot-accentuating set pieces into the action. Still, it was her job to ask Ruhl for definitive answers to legitimate questions about the play, and she demurred, preferring to pivot off visual cues—say, the tight dress Mercier gives Parker to walk in—rather than force the playwright to be clear.
Chalfant's acting helps. Although detestable, Mrs. Gottlieb is real, even when running around madly near the play's end, told by Jean that Gordon awaits her in the afterlife. This is the apex of Ruhl's relentless whimsy: Jean has just been overseas to meet one of Gordon's organ dealers, played by Harting, with whom she ends up in a Crouching Tiger, Hidden Dragon–style fight scene. Then Jean meets Gordon, alive but dead, who gives her the information that makes Mrs. Gottlieb go berserk. For all of this, Chalfant nevertheless invests Mrs. Gottlieb with a mother's confidence in the inevitability of happy endings.
When Mrs. Gottlieb eulogizes Gordon in the first act, a cell phone goes off that sounds as if it's coming from row G. Chalfant's delivery of the following speech was priceless:
"Could someone please turn their fucking cell phone off? There are only one or two sacred places left in the world today. Where there is no ringing. The theater, the church and the toilet. But some people actually answer their phones in the shitter these days."
I wonder if that's where Sarah Ruhl is writing her next play. 3.5.08
NorthJersey.com, Robert Feldberg – I'd prefer to think that Sarah Ruhl's "Dead Man's Cell Phone," which opened Tuesday night at Playwrights Horizons, is intended as payback.
In the last decade or so, theater performances have been plagued by the ringing of cellphones left on by thoughtless ticket-buyers.
A line in the play repeats — knowingly or not — the memorably profane directive that Laurence Fishburne snarled at an audience member who let his phone ring on and on during a speech the actor had in "The Lion in Winter."
It's not, however, the frequent phone sounds coming from the stage that are disturbing in Ruhl's play. We've all become conditioned to the familiar noises on the street and in other public places.
The author, with director Anne Bogart as close accomplice, has unleashed something on the audience that's far worse: a play that's as relentlessly tedious and just plain uninteresting as anything seen in years.
Since Ruhl can do so much better — she's written such esteemed works as "The Clean House" and "Eurydice" — one can conclude only that "Dead Man's Cell Phone" is her way of sticking it to the ticket-holders.
Even the presence in the cast of the wonderful — except here — Mary-Louise Parker doesn't help.
The actress plays Jean, a woman sitting in a café whose attention is drawn by a ringing cellphone at a man's table. As it goes unanswered, she hesitantly walks over and discovers the man is dead.
The rest of the play — a bit of self-conscious whimsy that has all the lightness of a concrete block — follows the consequences of her answering his phone.
Now, if Jean had been shocked by her discovery, or even flustered, she might have been a human being we could connect to. But she reacts to every experience, including coming upon an unexpected corpse, with a near-catatonic serenity that suggests — unintentionally, I'm sure — brain damage. That she speaks throughout the evening in a flat monotone only emphasizes her oddness.
Jean meets the dead man's overbearing mother (Kathleen Chalfant), strange wife (Kelly Maurer), sexy mistress (Carla Harting) and nerdy brother (David Aaron Baker), trying, in each case, to impart some invented information about the deceased's regard that is supposed to be comforting.
In the second act, the dead man (T. Ryder Smith) delivers a monologue that reveals he was a creep who sold human organs for a living.
If there's a point to this claptrap other than audience irritation, I couldn't detect it. 3.5.08
Light & Sound/America Online News, David Barbour – "I want to remember everything, even other people's memories," says the sad, bedraggled heroine of Dead Man's Cell Phone — and, boy, does she get what she wants. Sitting in a café, irritated by another patron's ringing cell phone, Jean tries to complain — and discovers that the man, Gordon, has died sitting at this table. She answers his phone – and she's off on an odyssey into the darker corners of Gordon's life.
Keeping the cell phone, Jean attends Gordon's funeral service, memorably presided over by his aristocratic mother. She has a clandestine encounter with his mistress, who thinks that, among other things, Jean needs a makeover. She breaks bread with his depressed widow and milquetoast brother — by now, she's wildly manufacturing lies about Gordon, in order to provide them with some comfort. She even meets Gordon (it's a long story) and gets embroiled in his grisly career, the details of which I won't describe, as the revelation, when it finally happens, causes gasps from the audience.
Sarah Ruhl, the playwright, has achieved critics'-darling status in a remarkably short time, thanks to her earlier works, The Clean House and Eurydice, both of which left me bored and baffled. This time, however, thanks to the ultra-knowing direction of Anne Bogart and the extremely simpatico performance of Mary Louise Parker as Jean, I finally started to see what Ruhl is all about. And, during the first act, Parker and company successfully perform a delicate high-wire act, balancing deadpan comedy, understated sadness, and bizarre flights of fancy.
Parker makes good use of her trademarks — flat-affect line readings, ultra-dainty gestures, and wary demeanor – to make Jean into the sort of sad oddball who might end up entangled in the lives of total strangers. The opening scene, in which she encounters Gordon's corpse, is a prime piece of sly farce; she's also touching in her love scenes with Dwight, Gordon's hapless brother, a stationer. (Jean and Dwight share a fondness for embossed invitations.) Even when the action turns terminally silly, she gives her all, as in a battle scene with a sinister stranger in a South African airport. The script doesn't offer one detail about Jean or her life, but, thanks to Parker's skill, you feel like you know everything about her.
Kathleen Chalfant is an understated riot as Gordon's fur-clad mother, especially when she registers pained dignity during a funeral marred by ringing cell phones and an organ rendition of "You'll Never Walk Alone." As Dwight, David Aaron Baker is underused, but he and Parker make a perfect matched set of lovable losers. T. Ryder Smith is a droll, sepulchral presence as Gordon, especially when he returns to explain the exact nature of his work. (Hint: There are two departments: Incoming and Outgoing.)
Sad to say, however, the fun house erected by Ruhl has no solid foundation, a fact that becomes increasingly clear during a second act that is wildly in search of a suitable ending. Jean gets embroiled in international intrigue, then gets dispatched to the afterlife for a climax that plays eerily like a revival of Eurydice. There's still a childish streak in Ruhl's jokes ("It's so sad that it's awful; I now know why they call it awful sad."), as well as a straining after poetry ("Heaven must be like an embossed invitation") that continues to grate.
Still, there is something affecting and oddly illuminating about Ruhl's vision of human loneliness exacerbated rather than alleviated by modern technology. Like Jean, you may be asking yourself, where do all those cell phone conversations go, anyway?
Bogart's staging is immeasurably helped by G. W. Mercier's set design, which makes use of moving panels to move the story with the cinematic efficiency it requires. His costumes include a coupleof wickedly amusing grand-dame outfits for Chalfant (Gordon's mother prefers animal prints) and an amusingly accurate ice princess gown for Hermia, Gordon's widow, who finds her true calling after his death. Brian H. Scott's richly colored lighting scheme adds depth and a palpable feeling of sadness to each stage picture. Darron L. West's sound design takes in plenty of ringing phones, jazz saxophone, Wagner's Ride of the Valkyries, and the unmistakable sound of someone being dispatched in a backyard barbecue.
Love her or loathe her – and I'm still making up my mind — Ruhl is an original, and, in Dead Man's Cell Phone, she's working with the right collaborators. It makes the best case for her work that I've seen yet.
Hofstra Chronicle, David Gordon – New play proves 'dead men' still make phone calls. Jean (Mary-Louise Parker) is quietly writing a letter at a deserted café when a ringing cell phone interrupts her. The phone's owner, Gordon (T. Ryder Smith), is sitting quietly, Jean thinks, letting his cell phone ring. And ring. And ring. It's only when Jean gets up and answers the phone that she realizes Gordon, sitting up and staring into nothingness, is stone-cold dead.
This begins "Dead Man's Cell Phone," a new play by Pulitzer finalist and MacArthur Genius Grant recipient Sarah Ruhl, now playing through March 23 at Playwrights Horizons. Jean keeps the cell phone, feeling it is her duty to answer its calls and keep Gordon's memory alive, delivering odd comforts to his mother (Kathleen Chalfant), the wife he hated (Kelly Mauer), his gawky brother (David Aaron Baker) and his mysterious mistress (Carla Harding). In doing so, Jean is sucked into his not-so-attractive world, and on the way takes a trip to South Africa, with a pit stop in Hell, before returning home to Kansas.
Ruhl is known for the journeys on which she sends her characters. They are both emotional and physical-her Pulitzer finalist, "The Clean House," sent a doctor to Alaska in search of a cancer-curing birch tree, while his doctor-wife cared for his dying mistress. In the second act, "Dead Man's Cell Phone" sends Jean on the search for a kidney and Ruhl draws interesting comparisons on the physical need for a kidney, and the obsessive, emotional need for cell phones.
But that's as profound as the play gets. Save for a scathing monologue criticizing cell phone users, and whether or not people walking down the street, screaming their personal details into their phones, are doing it to gain attention or think they're alone, "Dead Man's Cell Phone" doesn't have much to say. Once everything is wrapped up neatly with a nice little bow, you leave feeling oddly dissatisfied.
It's the cast that makes the play click. Emmy and Tony winner Mary-Louise Parker is delightful as Jean, the geeky mouse. Her characterization, truly defined down to even the slightest detail, makes the audience realize what a treat it is to see her on stage. The same goes for Tony nominee Kathleen Chalfant, who, with a single glare, gets the audience in the palm of her hand and never lets up. T. Ryder Smith is mesmerizing and menacing as Gordon, the unsavory dead man of the title. His monologue about the day he died at the top of the second act is nothing short of astounding (I don't even think he blinked).
They are given ample support by their co-stars, Kelly Mauer, David Aaron Baker and Carla Harding, as well as Anne Bogart's simple and fluidly staged minimalist production. There are few blackouts and a spare set by G.W. Mercier which consists almost solely of a large dining table that doubles as, among other things, the closet of a stationary store. His costumes are spare and appropriate as well. Brian H. Scott's lighting is haunting and, with Darron L. West's "soundscape," an avalanche of ringing cell phones, steals the show.
Anne Bogart is known for her thought-provoking and experimental productions. Her staging delves deeply into the depths of religion and the meanings of death and life. Fortunately, with Ms. Parker and a great cast in tow, Bogart's production of "Dead Man's Cell Phone" ends up a sweet, unassuming night at the theater. And we need one of those every now and then. 3.6.08
TimesSquare.comKevin Filipski – There is no more incandescent stage or screen performer than Mary-Louise Parker, a rare actress who blends wholesomeness with sex appeal, naïveté with shrewdness, and flightiness with a tough inner strength in whatever part she plays. When she originated the role of Catherine, the daughter of an eminent mathematician, in Proof, her winning manner and easy grace illuminated the complexities in David Auburn's Pulitzer Prize-winning play.
Parker's luminous presence can even brighten an otherwise lifeless affair like Dead Man's Cell Phone, a very minor play by Sarah Ruhl, who has been supplying diminishing returns to local theatergoers over the past year: Her Lincoln Center Theater debut, The Clean House, had moments of insight interspersed among the whimsical dross, but her updated Eurydice at Second Stage was a leaden take on a classic tragedy. Dead Man's Cell Phone stirs together unfunny comedy, a witless spoofing of Hitchcockian thrillers, and anything-goes surrealism in an old-hat cautionary tale about the dangers of our technology-struck world. The result is an unpalatable stew.
Parker plays Jean, a seemingly normal woman who, while minding her own business at a café, answers the cell phone of Gordon, a middle-aged man who has just died at a nearby table. Jean is drawn into the lives of Gordon's family and those he worked with, and is soon caught up in a plot that's less absurdist than absurd.
Dead Man's Cell phone begins as a lively comedy about how acting out of frustration (answering an annoyingly ringing phone) can have lasting consequences for someone who values her privacy. But the play soon falls apart, due  to the one-note humor of Jean continuing to answer Gordon's phone and the quickly palling swipes at our dependence on electronic devices at the expense of human interaction.
Eventually, the play collapses even further into sticky metaphysical bunk about how our afterlives are populated by those who love us (or something like that). Ruhl goes so far as to toss in quotations by Dickens and Donne; these are at least more artfully phrased than her own dialogue, which strains for profundity but remains mundane. Director Anne Bogart also cranks up Wagner's "Ride of the Valkyries," a musical cliché that should finally be put to rest.
A game cast is defeated by the material, although Kathleen Chalfant daringly throws caution to the wind in playing Gordon's obnoxious mother. As for Parker, she nearly pulls off the miraculous feat of making Jean a sympathetic character and not merely a candidate for a strait-jacket. Her manner of speaking in a flat, wary monotone is delightful; simply by drawing out a single syllable, like "yes" or "no," this actress approaches aural poetry. Even Parker's walk, which echoes her voice, is something to behold. Too bad her glorious presence is wasted on an ultimately trivial play.
NY Times Reader's Reviews:  Weighed down by Whimsy, March 12, 2008. Reviewer: anthonyweigh. Mr Isherwood's review of Dead Man's Cell Phone is excessively kind in my opinion. The play is slight in the extreme. I could have handled one act of the sort of queezy whimsy that Ms. Ruhl seems to favor, but two???!! Sentimental stuff. What could have been quite a satisfying haiku of a play was strung out into the most interminably sacharine tome. Ms. Ruhl seemed to be giving everyone around me in the theater just what they wanted . . . confirmation that even the slightest event in their lives has meaning…well…you know what? That may be true…but I like to think theater has the ability to challenge the banal, not make an artform of it. To quote a currently running show on Broadway: Ms. Ruhl "give us more to see"!!! Not less. Actors in search of a plot, March 11, 2008. Reviewer: geo3rge. The actors in this effort do their jobs quite well. The problem is the script. Why does *everyone* have to be so dumb? Surreal plays can be quite effective, but to pull it off, one has to go for broke. This play plays it safe. There are lines that are obviously intended as jokes that aren't really funny. What is the theme of this play — that we had better find someone to love or to love us because that is really all there is? How depressing. Could have been much better!, March 11, 2008. Reviewer: ron10023 I've been of a fan of Ms. Parker since seeing her Cherie in "Bus Stop" on Broadway over twelve years ago. And there's Ms. Chalfant who never fails to give a standout performance. So when Playwrights announced they would both appear in the same play, I was quite excited. I did not see Ms. Ruhl's previous two successes, "Eurydice" and "The Clean House". But it appears that once one reaches a certain level of notoriety even a sit-com, if written by the right person, can get produced in New York even on Broadway. Not that Ms. Ruhl has reach that level of reputation, and this play may tarnish her renown. The play has a interesting premise, draws us in to the slightly absurdist plot and goes along well until midpoint in the second act when Ms. Ruhl loses her way. If the heroine's objective is comforting the deceased's loved ones why would she suddenly make the trip to South Africa to take part in the deceased's vocation which she abhors? It must only be to have the show finish with a happy ending! It doesn't work for me! So what could have been a wonderful, insightful comedy about technology and its hold on us turns out to be simply "cute". It is a superb production with wonderful performances which fails to dazzle! Superb, March 09, 2008. Reviewer: podder. Any time I see a truly poisonous reader review such as one of the others in this list, I am driven to ask two rhetorical questions: (1) …and, what show did YOU see???, and; (2) Baby, what axe are YOU grinding? But I guess, theatre, just like art, food and wine, does not appeal to everyone in the same way. Such is life, and pity to those whose minds are closed to different experiences "just because". I saw this show. I loved it. It wasn't perfect – what is? But Mary-Louise Parker was SUPERB, and all of the other actors were quite effective and engaging in bringing what you might simply call a "fun" show, or which you might see as something deeper – an exploration of an existential experience with a lot of morals to the stories. Sure, it was improbable. Sure, it was a fantasy. Compare this to a trip "Through The Looking Glass", and have some fun fercryinout loud. Seriously, if you want Macbeth, go see Macbeth. If you want to see Willy Loman, go see "Death of A Salesman". But if you're open to the idea that theatre can have deeply poignant moments exposed with magical reality and outright fantasy, you might just love this show, as I did. BRAVO, Playwights'. I've been waiting for one like this ever since Grey Gardens. Can you hear me now, March 07, 2008. Reviewer: munkustrap178. This production is Gr8. The fantasy and the journey that Jean (Parker) takes is it real or imagined the viewer decides. The chracters all have quirks, foibles and life, don't we all. Playwright (Ruhl) exagerates these into an entertaining script that the production team vividly paints onto a warped canvas. Yes it is stylized, yes it is a dark comedy, yes it is not Parkers normal role, yes director (Bogart) mines gems of subtext, yes Mrs Gottlieb (Chalfant) is fluid and wonderfully manic ,yes there are weakness but the dynamic of the entire production hides the few flaws. Just as our own personalites hide each of ours. I want to see it again! Isherwood should be fired, March 06, 2008. Reviewer: mary103. Isherwood has no integrity as a reviewer. This was not a good show. Everybody else panned it. Isherwood gave it a rave. Why? Because years ago he "discovered" Ruhl and told the world she was a genius and now her work is personal to him. Which is the problem with all of his reviews. It's all personal. There are no professional standards by which he judges anything. Please just fire the man and promote someone like Zinoman who approaches his work with at least a modicum of rigor and perspective, instead of publishing his diary. Ring Cycle, March 01, 2008. Reviewer: lloydtarger. Another strange but stylish comedy by Sarah Ruhl. Ruhl has been mystifying off-Bway audiences with Eurydice last year and The Clean House (which I did not see) the year before. Both Eurydice and Cell Phone include trips to an afterlife, that only an original writer like Ruhl could imagine. The main character is Jean, played by Mary-Louise Parker in a performance so deadpan, you hardly realize she is acting. Jean is dining in a cafe when the cell phone of the man at a table nearby rings incessantly. Before she realizes he is dead, she answers the phone and then becomes a central figure in his circle. He is Gordon, a shady broker in human organs, with a frustrated wife, a glamorous mistress and an elegant, imperious mother. Gordon is played by T. Ryder Smith whose face is so gaunt, he really appears to be dead. His mother is played by Kathleen Chalfant in another charismatic performance. She is seen as Wagnerian — the Valkyries' theme playing when she appears on stage. She also ascends (or descends) to the afterlife, behind a screen this time — not in an elevator as in Ruhl's Eurydice. Gordon's family is so detached from humanity that they embrace Jean even though they know nothing about her. Ruhl is also commenting on the role of the cell phone which brings previously unconnected souls together as people seem not to hesitate sharing details of their lives with strangers who just happen to be nearby intimate cell phone conversations. A strange but satisfying production, February 27, 2008. Reviewer: leenyc3. Mary Louise Parker is outstanding in this odd little comedy. The second act goes rather metaphysical, but it works, and the humor in the first act really catches the audience. Definitely worth seeing.
Hartford Courant 3/5/08 – Malcolm Johnson: Parker Waifish, Wonderful The sometimes whimsical Sarah Ruhl has turned her imagination to two 21st-century subjects, the all-pervasive cellphone and the disturbing global trade in body parts. Mary-Louise Parker heads the small cast as Jean, a sweet, naïve woman in Ruhl's smart blending of humor and horror.
Jean, a pretty, quiet young woman, sits at an upstage table as the play opens, not understanding at first that the man whose cell is sounding cannot answer it. She speaks to him, crosses the space between them and begins to question him. At last, after speaking to a caller and learning that the man's name is Gordon, she discerns that he is dead and calls 911.
"Dead Man's Cell Phone," which opened Tuesday night at Playwrights Horizons, gives Parker another role that exploits her ability to play waifish women, as in "Proof" and "Reckless." Here she adopts a flat accent that stretches vowels and sometimes puts an odd emphasis on a syllable. She pronounces Gordon as Gore-DUN. It is all part of her innocence and odd charm.
It takes some time for Jean to discover that Gordon was in the highly lucrative business of dealing in kidneys and other precious organs. But the phone, her constant companion, leads her to Gordon's family after attending the funeral and meeting with a mysterious glamorpuss known only as "The Other Woman," once Gordon's lover.
During that rendezvous, the cellphone affords an invitation to visit with Gordon's mother, Mrs. Gottlieb, an overbearing woman in red filled with superior airs by the excellent Kathleen Chalfant. The older woman, who advises Jean on her aging eggs, asks her to stay for dinner, where she meets Gordon's tart widow, Hermia, and his brother, the neglected, rumpled Dwight.
Jean comes across as nice and helpful, but she does not always tell the truth. She claims she worked with Gordon, though she has no idea of his business.
Left alone with Dwight, who has cured her hiccups by making her drink bourbon upside down, she begins to talk of cellphones. Ruhl turns to mysticism in a play that has thus far been realistic.
Dwight, affably acted by David Aaron Baker, speaks of the value of remembering. "People say I love you— on cellphones — and where does it go? No paper. Remembering requires paper." To which Jean replies, "Yeah. But maybe the air remembers. Sometimes."
Dwight insists on the importance of paper and reveals that he works at a stationery store. And together they visit the store, which becomes the scene of their first kiss, and their love-making. But before they wind up entwined, Gordon appears, and the first act ends.
At the start of Act II, Gordon delivers a long monologue, recounting his desire for lobster bisque before his heart gave out. As it turns out, Jean enjoyed the last bowl of bisque, and only lentil soup is offered.
T. Ryder Smith, a skeletal-visaged actor who replaced Bill Camp, makes Gordon a selfish monster, a citizen of the world. "Is it my job to stop executions in China? I don't have that power. What I can do, however, is make sure that these miserable … who die for no reason have a reason. I make sure their organs go to someone who needs them." Smith takes Gordon up to the moment of his death, as he wonders whom to call. He thinks bleakly of Hermia, decides against talking to his mistress and mother, and sees Jean, who has eaten his soup. "Then I die."
As the play grows more surreal, Jean and Gordon find themselves at a cafe, "a hell reserved for people who sell organs on the black market and the people who love them," Gordon says. He tells her of a laundromat full of naked people washing the only clothes they have, those they died in. But it is all a dream, and Dwight retrieves Jean, as Maurer's Hermia flies by in a sparkling skating costume. And "Dead Man's Cell Phone" ends happily.
Working on a mostly bare stage, with chairs and sliding panels in the setting designed by G.W. Mercier, with a shimmering lightscape by Brian H. Scott upstage, director Anne Bogart ably blends realism and surrealism in a way that adds up to a finely measured, engaging and fascinating stage experience. The play, by the creator of "The Clean House" and "Euridice," brings another triumph to Parker, who has consistently returned to the stage even as she has starred in television and films. Again, watching her and experiencing her odd, delicate personality feels wonderful.
Broadway Bridge & Tunnel blog, James Camner – Dead Man's Cell Phone, a play by Sarah Ruhl. Playwrights Horizons, starring Mary Louise Parker and Kathleen Chalfant, directed by Anne Bogart. This is the third play we've seen by the young genius of a playwright, Sarah Ruhl. Compared to "Eurydice" (a modern masterpiece that is already playing all over the country – in fact it's being done at Princeton this week as a student thesis), and "The Clean House", we found "Dead Man's Cell Phone" slightly uneven. At its considerable best it's a comic metaphysical meditation on the ubiquity and absurdity of life in the cell phone era, and a romantic story that transcends time and space. These are weighty themes that are mixed in with the absurdest hijinks's for which Sarah Ruhl is celebrated. But the conclusion felt rushed, the bits with a BBQ and a karate fight each landed like a thud. But these were the exceptions in an otherwise charming and witty, and very thoughtfully observed play that featured an amazing monologue by T. Ryder Smith (the dead man) and a vintage performance by the great Mary Louise Parker. With a little work, this lovely tragic comic romance could be another masterpiece. Even short of that, it's a must see in the growing repertory of one of America's most original young playwrights. Broadway Bridge and Tunnel Test A-. 3.8.08
Theater news Online, Bill Stevenson – A STRANGE DIAL TONE. Sarah Ruhl's  new play has an intriguing premise-what happens when someone takes the cell phone of someone who just died-and marks the return of Mary-Louise Parker to the New York stage after a four-year absence. Like Ruhl's Eurydice,Dead Man's Cell Phone involves interaction between the living and the dead. But it's a slighter, less mystical, and less magical play.
Jean (Parker) is sitting in a café when she hears a nearby cell phone ring repeatedly. She goes over to the table where the phone's owner, Gordon (T. Ryder Smith), sits unmoving and expressionless. It turns out, of course, that he's dead. But that doesn't stop Jean from answering his phone. I'll take a message, she says, even after realizing that Gordon is dead. Jean decides to hold on to the phone, which brings her into contact with Gordon's mistress (Carla Harting), wife Hermia (Kelly Maurer), mother (Kathleen Chalfant ), and brother Dwight (David Aaron Baker). I'll keep his phone as long as I live, Jean says with utmost sincerity.
Because she is particularly well intentioned, Jean tries to make the people in Gordon's life feel better about their relationships with him. This involves inventing stories, since Jean never even met Gordon though she tells people they worked together. She tells his mistress that Gordon said he loved her, informs Hermia that he wrote her a note before he died, and fibs to his mother that he tried to call her the day he died. As for Dwight, he and Jean hit it off in a stationery store. (Their shared love of stationery makes sparks fly.)
As in Eurydice, there are whimsical moments that probably won't be to everyone's taste. The most winning one for me was the unexpected appearance of Hermia in a figure-skating outfit. (She was a former skater.) In the second act, Dead Man's Cell Phone becomes increasingly concerned with the afterlife. For instance, Gordon delivers a monologue from beyond the grave about his grisly line of work and a bowl of lobster bisque that eluded him.
Along with the supernatural elements, Ruhl provides dashes of humor. Employing a somewhat ditsy voice and an affected walk, Parker is frequently amusing. Appealing as she is, however, her performance isn't nearly as memorable as her work in How I Learned to Drive and Proof. (For that matter, she's more winning on the Showtime series Weeds.) Chalfant has fun with her role as Gordon's haughty mother, who wears an array of furs and chooses You'll Never Walk Alone for her son's funeral service. The other cast members, directed by Anne Bogart, also have funny scenes.
While this isn't Ruhl's strongest play to date, she has a distinctive style and an original voice. I look forward to seeing where her imagination will take her next.
Theatre news Online, Sandy MacDonald – BUSY SIGNAL. The ancient cultures pretty much wrapped up the creation-myth beat it's up to modern playwrights to keep devising tales to help us deal with the prospect of an afterlife. Sarah Ruhl's latest , Dead Man's Cell Phone, is a doozy. The tendency toward whimsy that threatened to topple The Clean House  is here kept nicely in check, thanks in large part to the rigorously restrained performance of Mary Louise Parker  as Jean, the self-anointed keeper of the titular device. Jean is a mousy, near-affectless late-thirties child-woman who comes into her own when she discovers a dead body – with ringing appendage – across from her in a cafe. Jean proves, in extremis, a born romantic and gifted liar. Solicitously fielding the dead man's incoming calls and arranging to meet the survivors, she seems to know just what to say to each in turn: the deceased's vain and vapid widow (Kelly Maurer), a self-assuredly sensuous other woman  (hilarious Carla Harting, sporting a Russian eccent ) his meat-loving, fur-brandishing gorgon of a mother (Kathleen Chalfant ) and his also-ran schlub of a younger brother (David Aaron Baker ). Ultimately, in a leap of imaginative scripting, Jean even interacts with the dead man himself (T. Ryder Smith, whose classically villainous, chiseled face too readily reveals Gordon's hitherto hidden dark side: Bill Camp, originally cast in the role, would have been more intriguingly ambiguous). Still, all the performances are staggering, Anne Bogart's staging is swift and ingenious, and if you think you've already heard every conceivable stand-up joke regarding the various annoyances imposed by the proliferation of cell phones, be prepared to think again – on a more cosmic level.
Rockland Journal News, Jacques Le Sourd – Don't answer this 'Cell Phone'. "Dead Man's Cell Phone," now at Playwrights Horizons, is a play about a dead man's cell phone.
The play barely has a pulse.
It comes from a special land of catatonia, colonized of late by the playwright Sarah Ruhl.
Ruhl has been highly praised for her works ("The Clean House," "Eurydice"), and even won a MacArthur "genius" grant. No doubt "Dead Man's Cell Phone" will be highly praised, too.
And countless people will give up on the theater altogether, after experiencing a new level of deadly tediousness.
The star of "Dead Man's Cell Phone" is Mary-Louise Parker, a Tony Award winner for "Proof" who has been absent from the New York stage for four years. (She has been present on Showtime's "Weeds," as a suburban marijuana dealer.)
For this play, Parker assumes a slack jaw and vacant eyes, and speaks in a ponderous monotone.
"Hello," her character, Jean, says very slowly, having picked up the dead man's cell phone in a coffee shop. "Hello."
Mary-Louise Parker has been compared, in her open-mouthed way, to the late Sandy Dennis. Though she is fun to watch, she wears out Jean's welcome pretty fast.
The dead man with the cell phone is Gordon, played by T. Ryder Smith. He comes alive in Act Two, which takes us (I think) to the land of the dead. Gordon tries to rip out his own kidney, and he generally gives us an earful.
What the dead man was, though Jean is the last to know it, was an illegal broker of dead people's organs.
For a while, Jean makes up stories about Gordon that she thinks will please his survivors, who know what he did for a living.
These bits of cell-phone conversation and final thoughts are all invented, because she never laid eyes on Gordon until his cell phone rang.
The other characters include the regal Kathleen Chalfant as Gordon's mother, Mrs. Gottlieb, dressed in several silly hats by costume designer G. W. Mercier.
"You're very comforting. I don't know why," Mrs. Gottlieb tells Jean, in a typical line of mindless dialogue. "You're like a very small casserole. Has anyone ever told you that?"
Others are Gordon's widow Hermia (Kelly Maurer), a murky collaborator in his business identified only as The Other Woman (Carla Harting) and his brother Dwight (David Aaron Baker).
She conducts a mild flirtation while suddenly standing with Dwight on a table that represents a stationery store, which, incidentally is misspelled "stationary" throughout the printed script for the play.
With The Other Woman, Jean has a brief, slow-motion wrestling match over the dead man's cell phone. Is it intended to be laughable, or does it just turn out that way in the general ineptitude of director Anne Bogart?
There are, along the way, one or two speeches about the wider meaning of cell phones that break no new ground and offer scant poetry.
But you don't need poetry when you're touched by genius.
I guess somebody had to write a play about cell phones. Sarah Ruhl wasn't the one.
Heaven knows where she's direct her genius next. But I'll try to remember to duck. 3.6.08
TheaterBlog, Joseph Cervelli – Sarah Ruhl is one of the more interesting newer playwrights around. I found "The Clean House" quite intriguing even through its baffling parts and her "Eurydice" forever fascinating. Her latest concoction "Dead Man's Cell Phone" at Playwrights Horizons is equally admirable in its boldness and importance in terms of the times we live in with our dependency upon our cell phones. For too many it almost seems like an added appendage. I especially enjoyed the sometimes incredibly funny and on target first act but felt the second act becomes too bizarre and so over the top that it negates some of the themes the playwright is opting for. When you start to combine the metaphysical, surrealistic and even absurdist style comedy you are going to get bogged down into confusion and that is what, unfortunately, happens here.
We first meet the timid Jean (Mary-Louise Parker) sitting in a cafe whose attention is drawn to a man (T. Ryder Smith) sitting at another table with his back towards us. His cell phone rings repeatedly without him answering it. She is quite disturbed by this and when she goes over to him discovers a perfectly justifiable reason for this. The man is quite dead. She takes it upon herself to answer the phone and that leads her into a journey entering the outlandish world this man whose name is Gordon comes from. She first meets his strangely flamboyant mistress simply known as the Other Woman (Carla Harting) and then his cold and impervious mother Mrs. Gottlieb (Kathleen Chalfant.) One of the most hilarious scenes takes place at Gordon's funeral in which she shouts some epithets upon hearing cell phones ringing. We are also introduced to his jittery wife Hermia (Kelly Maurer) and his needy brother Dwight (David Aaron Baker) who always came in second to Gordon. The first act ends on an interesting note when Gordon suddenly appears before us. After a great monologue delivered by Gordon during the first scene of the second act, the play stumbles. We find out that Gordon's unsavory profession leads Jean into writing his wrongs and takes her on some wacky excursion to South Africa where she meets a deadly cohort of Gordon's who seeks to stop her in her worthwhile quest. Things get quite chaotic to say the least.
Having Parker back on the stage is always a rare pleasure, although I was a bit put off by her performance here. She is amusing, but her sing song voice as Jean becomes a bit monotonous after a while. Also, I could not quite understand the rather strange walk she had when approaching the table in the play's first scene. It was if her legs were wrapped in bandages pulled tightly together. I imagine it was for comic affect but was unnecessary. Her relationship with Dwight, a very enjoyable Baker, is sweet and affecting. The always wonderful Chalfant is perfect as the mother. I must say I had a good laugh hearing Wagner's "Ride of the Valkeries" as an introduction to her first appearing. With her blood red dress, strands of pearls and fur she is so perfectly out of place at her son's funeral that it is ridiculously funny. All the other performances are quite good.
Besides making a point about the how cell phones have undermined personal interaction she seems to be asking if we are so desperate for affection that we create stories just to find either friendship or love in the world. Much of the playwright's writing is so perfectly real and pertinent that I was disappointed when things go so off kilter in what could have been a much better play.
Anne Bogart directs the play in a most capricious way that makes the play seem even more extreme in its quirkiness.
I can assure you that you certainly will not be bored throughout the evening but what starts off so promising falls into thorny territory after the first hour or so.
Wall Street journal, Terry Teachout – Sarah Ruhl writes whimsical, ironic plays about incredibly irritating people. They make me queasy, but her many fans evidently have stronger stomachs. Ms. Ruhl is American theater's flavor-of-the-month, a playwright whose work is produced all over the country and reviewed with a hushed respect that I once found utterly inexplicable. Then I figured it out: Ms. Ruhl is an arrant sentimentalist who is embarrassed to admit it, so she covers up her old-fashioned tearjerking with a thick sauce of postmodern trickery and tweeness, thus making it palatable to would-be hipsters who are too cool to whip out their hankies.
Consider "Dead Man's Cell Phone," her latest effort, in which an uptight, unwanted woman of a certain age (Mary-Louise Parker) purloins the cellphone of the still-warm corpse of a cynical trafficker in black-market kidneys (T. Ryder Smith), starts taking his calls, meets his unhappy family and makes up lies about how he really loved them all, has a fling with his uptight, unwanted brother (David Aaron Baker) and discovers at long last that… but why am I telling you all this? The acting is fine, the production impeccable, the play silly. Some long-forgotten critic dubbed this kind of thing "whimsy-whamsy," and I can't put it any better than that.
The Epoch Times, Judd Holander – A quirky character study Now at Playwrights Horizons is Sarah Ruhl's rather enjoyable quirky comedy (with a hint of film noir) Dead Man's Cell Phone. The play, which borrows at least a bit of the premise from the movie While You Were Sleeping, could also be subtitled "geeks in love."
In a quiet café, Jean (Mary-Louise Parker) is becoming more and more annoyed by the repeated ringing of a nearby stranger's cell phone. She goes over to complain, only to find that he is dead. In a moment of good samaritanship, she answers the phone, and then answers it again and again, becoming a kind of lifeline to the dead man's (whose name we later learn is Gordon (T. Ryder Smith)) friends and family. Believing only the best in people, Jean makes up stories about Gordon's final moments in an attempt to tell his loved ones what she thinks they want to hear.
But we soon learn Gordon was not such a nice guy. He was a philandering husband and recently ended a long-term affair with his mistress (Carla Harting); he had a strained relationship with his mother (the wonderfully over-the-top Kathleen Chalfant); and was also engaged in some very unsavory business practices. In addition, there is certain information in Gordon's cell phone address book, now in Jean's possession, which someone will do anything to obtain.
This is a rather lightweight comedy, brought to life by the wonderful cast, especially with Parker as Jean. A mousy, eager to please person, this is probably the most exciting thing that's ever happened to her. However, she lets things go too far, answering the cell phone, and meeting the people who call, when she should instead be pursuing a sweet and blossoming relationship with Gordon's somewhat shy brother, Dwight (David Aaron Baker). (Who knew stationary could be so erotic?)
In the end both Jean and Gordon, who have a sort of otherworldly meeting, learn a gentle lesion about what's important in life, such as not being afraid to face your feelings and to take a chance on love before it's too late.
The pace is a bit slow moving at times, but fits the story, which combines flashes of humor and gentle bits of comedy (all played perfectly straight) with the more serious subjects of death, dying, redemption, forgiveness and lobster bisque. (There are also more than a few pointed swipes at the incessant ringing of cell phones and being slaves to technology.) The only thing that should have been cut is some of Smith's monologue at the beginning of act two, which contains information (especially about his business) that's not really needed.
From the moment she first speaks, Parker makes Jean wonderfully endearing, and you find yourself rooting for her even as she falls deeper and deeper into the morass that is Gordon's life. Chalfant is exquisite as Gordon's mom, having some of the best lines in the play with a wonderful last scene which will hopefully be remembered at awards time. Harting is nicely vampy and mysterious as the other woman; Kelly Maurer is servable as Gordon's wife, a role that unfortunately gives her little to do; while Baker's Dwight is the perfect romantic partner for Jean. Smith works well as the deceased, making the character, if not all that likable, at least rather interesting. Anne Bogart's deliberately paced direction works well. The scenic and costume design by G.W. Mercier are nice. 3.14.08