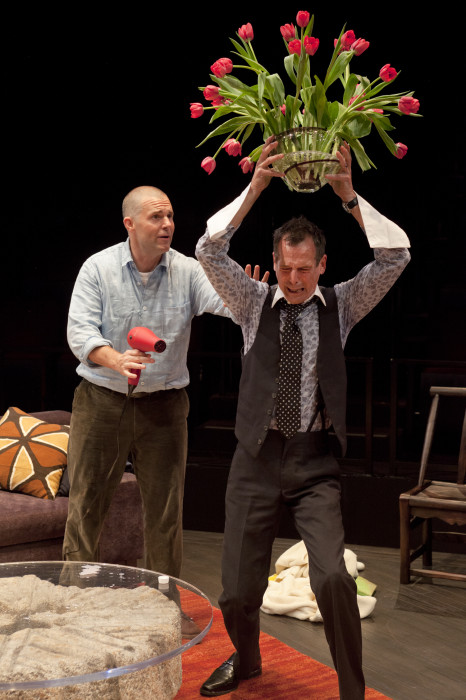 Photos by Henry DiRocco
Excerpts from the reviews
Full reviews are below
"Casual theater-goers might be wise to find some Dramamine before curtain because dizzying cannot accurately describe the actor's movements in this production but the observant will quickly pick up on the parallels between the actor's physical shift and the character's metaphorical shift. As each takes a particular, and temporary, stand in the current conversation they align themselves accordingly on stage.  . . . Rooney's and Smith's performances annoyed me at the start because they just seemed somewhat unnatural. It wasn't until after the wretched climax that I began to understand the complexity of each character and the fact that each had their tongue bitten so tightly it is surprising it wasn't bitten off. Once the gloves came off, or in this case the rum bottle opened, and each man was finally free to be himself did we see the true nature of these men, and their true nature was terrifying and tantalizing." Rodney Rodriguez, Edge San Diego
"A production that easily rivals those which have starred far bigger names. . . . First and foremost, however, God Of Carnage is a comedy, albeit a dark one, and Reza mines laughs and gasps aplenty . . . Reza not only gets us to laughing, she also gets us to thinking about male-female, male-male, and female-female relationships, as each one of her cast of four finds him-or-herself at some time or another allied with one or the other of the remaining three, whether attacking a spouse or defending his-or-her gender—or vice versa. . . .  these four gifted actors deliberately underplay their roles early on, the better to surprise us once the masks of civility have fallen . . . much of the fun and excitement of the Old Globe production is in discovering just how wrong our initial impressions of the foursome have been. . . A textbook example of just how fine a production can ensue when God Of Carnage is done just right." Steven Stanley, Stage Scene LA
"Before God of Carnage begins at the Old Globe's White Theatre, Robert Morgan's set makes a quiet suggestion. Dark objects stand on the perimeter of a circular living room. A small wet bar and sofa are dimly lit on the raised floor. Beyond them, darkness. In the center, under a shimmering cone of light, pink tulips in a glass bowl flare outward. The scene is unfussy, the details few, and the flowers really stand out from the drab surroundings — so much, in fact, that if you squint just a tad, the living room comes to resemble a solar system: the sunburst of tulips radiating into empty space. . . . The title and what happens to the precise, sun-centered set imply that humankind may not have come a long way after all, baby. Or, to reverse Hamlet, there is less to Heaven and Earth than is dreamt of in our philosophy. . . .  Each new twist becomes more Darwinian. (Reza plays an ongoing game with the audience: can I top this? In the next scene, she does.) You may find yourself becoming defensive: they're just four people trapped in a farcical vortex, surely they don't represent us. . . . In Carnage, the characters don't have traditional arcs, moving from A to B; they're more like precipitous falls from grace. Under Richard Seer's expert direction, all four actors get a workout at the White Theatre. . . . If you don't want to generalize, Carnage is just a goofy farce with low-comedy shtick . . . But, starting with the set and adding Reza's many cues . . . and the pharmaceutical scam that may include millions, it becomes more and more difficult to contain this comedy of manners to the stage. It insists on including those seated in the darkness." Jeff Smith, San Diego Reader
Rehearsal
Incidental
Before and after.
Full reviews
San Diego Reader, Jeff Smith – Before God of Carnage begins at the Old Globe's White Theatre, Robert Morgan's set makes a quiet suggestion. Dark objects stand on the perimeter of a circular living room. A small wet bar and sofa are dimly lit on the raised floor. Beyond them, darkness. In the center, under a shimmering cone of light, pink tulips in a glass bowl flare outward. The scene is unfussy, the details few, and the flowers really stand out from the drab surroundings — so much, in fact, that if you squint just a tad, the living room comes to resemble a solar system: the sunburst of tulips radiating into empty space.
Morgan doesn't press the point: he hasn't arranged the furnishings like planets, or some such. But maybe playwright Yasmina Reza does. The title and what happens to the precise, sun-centered set imply that humankind may not have come a long way after all, baby.
Or, to reverse Hamlet, there is less to Heaven and Earth than is dreamt of in our philosophy.
The cause: at 5:30 p.m., November 3, 11-year-old Benjamin Raleigh struck young Henry Novak in the face with a stick, resulting in a swelled upper lip, two broken incisors, and possibly an injured tooth nerve. The event/assault took place at Cobble Hill Park, which the Novaks were convinced was a "haven of safety."
The strategy: The Novaks — okay, Henry's mother Veronica — demand a pow-wow with Benjamin's parents. The Novaks want…what? Accountability? A written statement of guilt? It's clear (at first, at least) that Michael Novak, who sells household goods, and wife Veronica, a writer, want young Benjamin not only to understand what he's done, but to repent.
Later, Veronica will explain: "We're living in America according to the principles of Western society. What goes on in Cobble Hill Park reflects the values of Western society!"
The Novaks wear casual attire. It's their universe — er, home. Annette Raleigh, who works in "wealth management," and Alan, a lawyer with corporate clients, sport basic black suits. These two are tailored. Their time is money.
Veronica frames the encounter by saying, "Fortunately, there is still such a thing as the art of coexistence."
The effect: The center does not hold. In inevitable, hilarious stages, God of Carnage regresses from social restraint to four blithering adults either struck by Tourette's syndrome or what Bob Dylan calls a "truth attack." Things, even the tulips, fall apart.
Yasmina Reza has always cast a cold eye on civilization. In her translation of Kafka's Metamorphosis (for Roman Polanski), Gregor Samsa isn't the only bug in town; her Art — about over-the-top reactions to a blank canvas — has toured theaters around the world. She's also fascinated by what lies beneath the surface. In The Unexpected Man, she paints a brilliant portrait of the turmoil in a famous writer's mind (it may not have enough appeal for a full staging, but I wish a local company would do a reading: it's the best account I've ever read on the subject).
In Carnage, the surface itself is strange. How many parents call meetings like this? And why does it begin as formally as an affair of state? The parents even quibble about the wording of an indictment. Embedded into the surface, however, is a cross-section of attitudes and values, from progressive, both token and earnest, to conservative, to — as Michael Novak unpeels his sweater and his gregarious veneer — Cro-Magnon.
After awhile, as if playing "Survivor: The Home Game," the sides shift, then break down, then recombine. Each new twist becomes more Darwinian. (Reza plays an ongoing game with the audience: can I top this? In the next scene, she does.) You may find yourself becoming defensive: they're just four people trapped in a farcical vortex, surely they don't represent us.
Reza writes plays for actors. In Carnage, the characters don't have traditional arcs, moving from A to B; they're more like precipitous falls from grace. Under Richard Seer's expert direction, all four actors get a workout at the White Theatre.
At first, Caitlin Muelder's Annette is so repressed, she's almost bolted down. Veronica reads her correctly: Annette just wants to smooth things over and move on, neither healing nor growing from the experience. By play's end, owing to fierce encounters and ten-year-old rum, Annette leaves the stage a liberated being.
"A mouthful of rum and — bam — the real face appears," the playwright has Michael say (tipping her hand in the process).
The show has no intermission. If it did, you'd swear a different actor played the later Annette — business suit a frump, hair spiking, eyes ablaze — the two are so far apart. Same with the others. Erika Rolfsrud's Veronica shifts from a committed (and controlling) problem-solver to a loose cannon. Lucas Caleb Rooney's hamster-hating Michael salutes the "god of carnage" and devolves before our eyes. T. Ryder Smith completes the quartet — "A Fugue for Omnivores"? — as Alan. He begins as someone who doesn't belong, doesn't have time for prosaic problems.
And here's where the playwright ups the ante. Alan's biggest client, a pharmaceutical firm, is in trouble — deep, seven- or even eight-figure lawsuit trouble. We learn this because he spends much of his time on a cell phone trying to mollify the maniac on the other end. Each call escalates, as does Alan's breakdown.
The cell phone's a fifth character. As in TV commercials or time-outs at sporting events, it connects and disconnects at the same time: it brings in the outside world but interrupts the flow of life.
If you don't want to generalize, Carnage is just a goofy farce with low-comedy shtick (including the most believable stage-vomiting seen in these parts). But, starting with the set and adding Reza's many cues (as when Alan asks, "are we ever interested in anything but ourselves?") and the pharmaceutical scam that may include millions, it becomes more and more difficult to contain this comedy of manners to the stage. It insists on including those seated in the darkness.
San Diego Union Tribune, Anne-Marie Welsh – 'Gods of Carnage' strips veneer of civilization. Aristotle and Spinoza proposed that man is a social animal. Playwright Yasmina Reza thinks so too, but in her antic philosophical farce "God of Carnage," the emphasis in that statement is definitely on the "animal."
With a keen eye for physical detail, Richard Seer directed this wildly entertaining — and mildly allegorical — comedy in which two couples strip away the veneer of civilization and are left exhausted, staring baffled at one another, having wrecked a living room, eviscerated four lives and maimed two marriages during their meeting about a playground confrontation between their 11-year old sons.
Originally set in Paris and written in French, the English-language version (translated by Christopher Hampton and set in Brooklyn) was a 2009 Tony-winner with a starry cast on Broadway and has had dozens of praised regional stagings since.
"God of Carnage" may be late in coming to San Diego, but happily the Globe production is in the good hands of Seer and four crack actors, three of whom (Erka Rolfsrud, Lucas Caleb Rooney, and Caitlin Muelder) are graduates of the master's of fine arts program Seer directs for the Old Globe and USD. The fourth member of this seamless ensemble, playing cell phone-addicted, corporate lawyer Alan Raleigh, is the much-admired T. Ryder Smith.
Alan is married to Annette, and they've been called to Veronica and Michael's tastefully appointed apartment (excellent in-the-round-design by Robert Morgan). The hosts are parents of the Raleighs' son's schoolmate who, apparently, has been hit by their son with a stick.
Veronica (Rolfsrud) presents herself as the authoritative voice of civilization, a calm nurturing presence who only wants to "help" her son's young attacker understand and apologize for his "crime" so he can grown into a mature adult. As the conversation devolves from discussions of cakes and tarts to accusations of savagery and murder (of a hamster), Rolfsrud's Veronica becomes as powerful in rage as she pretended to be in compassion (for the victims of Darfur).
Alliances shift. The men bond for a time over childhood memories of bullying and fighting as mere rites of passage, while the women act shocked by such violence, until both are pushed beyond their limits and react, of course, violently.
Veronica leaps upon and chokes her husband who actually despises her bogus idealism; Annette reacts with (remarkably real) projectile vomiting all over their hosts' rare art books. From then on, fueled by potent rum and bloodlust for the psychic kill, "God of Carnage" moves into "Who's Afraid of Virginia Woolf?" terrain, though it veers closer to sitcom at times than acid George and boozy Martha ever do in Albee's dark play about marriage as an indoor blood sport.
In fact, "God of Carnage" proves a wilder, more populist exploration of the same sophisticated themes of competition and envy, ego and id that propelled Reza to international attention with her 1994 "Art."
In one of the Globe production's best moments, Rooney's Michael has had it with pretense. He strips off his sweater, revealing a rumpled shirt and proclaiming himself a Neanderthal ready for a good fight. Rooney's performance is the surprise here, a beautifully calibrated and hilariously timed portrayal of an earthy good oil' boy stuck playing upscale urban games until he cracks.
Rolfsrud's a powerhouse onstage, as she's shown before in Globe productions of Shakespeare and Chekhov. Watching her Veronica crumble and dissolve into a puddle of unmet needs brings the production as close to tragedy as this crowd-pleasing comedy dares get.
Like Rooney's Michael, Muelder's Annette is recessive at first, a well-heeled investment banker hoping the children and everyone else can just get along. But she's a frustrated harpy beneath, her relentless monologue on Michael's cruel release of his daughter's hamster is one of two big arias she handles with aplomb. The other is serious, and better, as she attacks husband Alan's proudest possession and surrogate life, his cell phone.
Smith leaps nimbly about as Alan, shouting demands into said phone, a cold, callous, possibly corrupt tool of a drug company that has a PR nightmare on its hands. His portrayal is the most farcical of the lot, and when he's stripped of his power phone, he agonizes and babbles like the baby he is.
All in all, this "God of Carnage" offers a classy evening of middlebrow theatrical fun.
La Jolla Light, Diana Saenger – Richard Seer does such a commendable job of directing the excellent cast of "God of Carnage," that they portray their absurd characters so perfectly none of them is likable — and that's just fine with the audience.
The Tony award-winning dark comedy, written in French by Yasmina Reza, is making its San Diego premiere at The Old Globe Theatre. It has opened in theaters across the nation and was adapted into the movie, "Carnage," last year.
Translated by Christopher Hampton, it has received equal amounts of high praise and derisive criticism. Because none of the action seems plausible, the thought plaguing me throughout the show was, who in their right mind would stay in a stranger's apartment taking this abuse? Only in a play!
After a playground incident between two young boys results in one of them getting two teeth knocked out, the parents of said youth need to decide their next move. These upper-crust couples agree to meet at the home of Mike (Lucas Caleb Rooney) and Veronica (Erika Rolfsrud) Novak. They greet the Raleighs – Annette (Caitlin Muelder) and Alan (T. Ryder Smith) – with a certain amount of decorum.
There's chit-chat about Mike's job as a wholesaler, Veronica's soon to be published book on Darfur and her love of art. While the Novak's scope out the apartment, Veronica brings out a dessert that Alan can't get enough of, until his cell phone rings. He's an attorney who spends the entire evening walking around the room giving lawsuit instructions over the phone. Annette is quiet and cautious in the beginning, but then the lions all emerge from their cages.
These four adults soon exhibit behavior that is far worse than their sons'.  At first they pick on and belittle each other, then it's the women bashing the men, and of course, vice versa. While there is humor from some of the antics (like grownups standing on the furniture or throwing things at each other and literally destroying this apartment), one really has to pause and validate that humor. Annette's excessive vomiting got moans from the audience long after it was over.
Edge San Diego, Rodney Rodriguez – Adapted for the American stage by Christopher Hampton from its original French, the play is set in the living room of Michael (Lucas Caleb Rooney) and Veronica Novak (Ericka Rolfsrud). After finding out that their son had his teeth knocked out with a stick by a neighbor boy, they decide to invite the parents of their son's attacker to their home for a discussion about the incident.
Alan Raleigh (T. Ryder Smith) is the accused's father, a lawyer working for a troubled pharmaceutical company, who is married to his cell phone as well as his wife, Annette (Caitlin Muelder). Annette is anxious to resolve the matter and seek a sense of peace that seems to escape her life when her husband is present. Veronica wants to see that life is equitable and safe for all those involved asking for little more than an apology. Alan has no interest in being anything but a lawyer, not even a father, and Michael is everything but the front he puts up.
After Annette has had all she can handle, everything that has been held inside is released all over the Novak's living room, literally and figuratively. As each of the character's sense of respect and decorum lapses and the rum bottle is emptied, a dizzying merry-go-round ensues as different alliances are forged and then forgotten between the fathers, the mothers, spouses and opposite couples alike. Nothing is safe, nothing is sacred and everyone is scorned in a drunken melee that could only be presided over the God of Carnage himself.
Richard Seer was masterful in his direction of "Carnage" right down to the complex blocking of this show. Casual theater-goers might be wise to find some Dramamine before curtain because dizzying cannot accurately describe the actor's movements in this production but the observant will quickly pick up on the parallels between the actor's physical shift and the character's metaphorical shift. As each takes a particular, and temporary, stand in the current conversation they align themselves accordingly on stage. This helps drive home the ever-changing circumstances and coalitions that develop throughout the one-act.
Delivering a lot of laughs, a few gasps, and one "did that just happen" kind of moment, "God of Carnage" manages to deliver a messy melee that left its audience wanting more but having had enough.
Robert Morgan's scenic and costume design drew a subtle but noticeable distinction between the Novaks who, like their son, are trying to create the image that they fit into the higher class neighborhood and the Raleighs who feel as though they could buy it.
Rooney's and Smith's performances annoyed me at the start because they just seemed somewhat unnatural. It wasn't until after the wretched climax that I began to understand the complexity of each character and the fact that each had their tongue bitten so tightly it is surprising it wasn't bitten off. Once the gloves came off, or in this case the rum bottle opened, and each man was finally free to be himself did we see the true nature of these men, and their true nature was terrifying and tantalizing.
Muelder was electric as the pacified follower turned prize fighter Annette. Her appeasement gives way as she becomes persona non grata in the Novak home. Her fight back, however, is so welcomed by a weary audience the woman sitting next to me gripped her chair as if to stand up to applaud her only to realize we were only mid-performance and the show had not ended. I waited to see her egg on the excited crowd but she never broke the fourth wall, as much as I wanted her to.
Rolfsrud as Veronica was the highlight of the show. It may be because she reminded me so much of people I know in my own life, it may be because she was the only one who genuinely cared about the welfare of the children (and the only one who kept bringing the conversation back to their well-being), or because she was the one who maintained the most civility as the conversation degraded, but as much as she wanted to wanted to lose all self-control she was the one whose toe hit the line but never really crossed it. In a show where everyone else showed two distinct faces, she had to show one in several different lights. The intricacies of her character and she were delightful to watch.
Delivering a lot of laughs, a few gasps, and one "did that just happen" kind of moment, "God of Carnage" manages to deliver a messy melee that leaves its audience wanting more but having had enough. 8.6.12
San Diego Gay & Lesbian News, Jean Lowerison – What happens when you put sophisticated and carefully emotionally calibrated people into a verbal pressure cooker and turn up the heat?
Playwright Yasmina Reza gives us one answer in her Tony-winning "God Of Carnage," in which two couples meet to discuss their 11-year-old sons' playground altercation. Directed by Richard Seer, "God Of Carnage" plays through Sept. 2 at the Old Globe's Sheryl and Harvey White Theatre.
It seems that Benjamin, son of Alan (T. Ryder Smith) and Annette Raleigh (Caitlin Muelder), picked up a stick and hit Henry, son of Michael (Lucas Caleb Rooney) and Veronica Novak (Erika Rolfsrud), causing dental problems of as-yet undetermined seriousness.
A supremely commonplace issue, to be sure, and but for the financial issues, perhaps best left to the boys to settle.
But academic Veronica and businessman Michael, parents of the victim, host the meeting in their nicely appointed home in Brooklyn's Cable Hill Park. On the glass-topped coffee table are a large vase of red tulips and several books about African civilization – Veronica's specialty.
Alan, an attorney and Annette, a money manager, are parents of the offending Benjamin.
It starts out quite a civilized conversation, Michael offering and Veronica supplying coffee and clafouti, Alan admitting that Benjamin is "a savage" and Annette agreeing that Benjamin should apologize.
But the longer they talk, the more they embroil themselves in issues like blame and parenting, and soon they begin to expose their own weaknesses. Alliances are formed and abandoned, and they find their feigned civility curdling and individual psyches being stripped down to their "neanderthal" cores as rum flows and inhibitions drop.
The self-important Veronica, with the pretentious, self-important air of someone with what Michael calls an "evolved consciousness," has the farthest to fall, and Rolfsrud's Veronica melts down spectacularly.
Rooney's Michael, a wholesaler in household goods (frying pans and bathroom fixtures), places less importance on the kids' brawl than his wife. He's a teddy bear of a guy, but it doesn't take long before he too joins in the verbal battle, eventually surrendering to his inner street thug.
Meanwhile the wiry Alan, who seems to have a cell phone permanently attached to his ear, paces the room fielding one call after another (he's trying to control the PR fallout for a pharma that has failed to advise of possibly life-threatening side effects of a drug).
Muelder's Annette starts out as the peacemaker, but loses her cool in direct proportion to the number of phone calls Alan takes, her tongue becoming more caustic, her actions increasingly desperate as the voice rises and civility crumbles.
Oddly enough, it is Smith's Alan – who seems the farthest removed from the issue at hand – who analyzes the situation correctly: "I believe in the god of carnage. He has ruled, uninterruptedly, since the dawn of time."
Three of these fine actors (Muelder, Rolfsrud and Rooney) are alumni of the Old Globe/University of San Diego Graduate Theatre Program. Seer has been director of that program since 1993
Christopher Hampton's brilliant translation makes this version distinctly American, and director Richard Seer joins in by playing up the comedy and playing down the script's inherently absurdist elements. These characters are not, like Beckett's, trapped in a hostile and meaningless universe as much as stuck in a cage of their own making and reverting to the spoiled children beneath the suave painted-on exteriors.
Seer has staged this in the round at the Old Globe's Harvey and Sheryl White Theatre. The more confined space serves the claustrophobic feel of the script well, but Seer has used it to create more movement than the plot requires. Alan, for example, is constantly walking around while on the phone. Late in the play he and even gets involved in a game of "catch me" with Annette, which seems unlikely at best.
But these are minor cavils. "God Of Carnage" is an intricately choreographed dance of incivility in which all involved give in to their baser (and perhaps more real) selves. It is wondrous fun to watch. 8.6.12
stage and cinema.com, Milo Shapiro – Playwright Yasmina Reza has said, "My plays have always been described as comedy, but I think they're tragedy.  They are funny tragedy, but they are tragedy.  Maybe it's a new genre." Reza isn't kidding herself.  Audience members can be spotted gasping, flinching, moaning, and covering their faces during God of Carnage…followed by a good belly laugh or an uncomfortable chuckle.  Whatever your reaction, you can't take your eyes off the stage.
The plot begins mid-action, as two affluent couples are attempting to cope with a conflict between their unseen eleven-year-olds:  Benjamin, son of Alan and Annette (T. Ryder Smith and Caitlin Muelder), has knocked out two teeth on Henry, son of Michael and Veronica (Lucas Caleb Rooney and Erika Rolfsrud).   The four parents endeavor to be oh-so-civilized as they try to "Dr. Phil" their way through the situation to yield the best growth experience for both boys.  The polite process unravels, though, on our 75-minute theatrical thrill ride, as the four real children in Veronica and Michael's upscale apartment are slowly exposed.
While not as twisted as Who's Afraid of Virginia Woolf?, the characters in Carnage have a similar pattern: secrets are revealed, confessions follow, and alliances shift; their repeated attempts to regain composure and civility become desperate and pointless once tears have been shed and anger unleashed, sometimes in unexpected directions.  There is also a strong reminiscence of  No Exit, as characters threaten to leave—and even tell others to depart—but somehow no one can, even if remaining will make things worse.  And with dialogue this clever, we are glad no one escapes (credit needs to be given to translator Christopher Hampton for keeping—or perhaps enhancing—the sharp wit of Reza's French script).
The stage time is evenly divided amongst the extremely strong actors in director Richard Seer's tight, fast-moving ensemble production.  While Reza's script raises a bit more sympathy for the wives than the husbands, no one escapes the afternoon unscathed. The intimate theater-in-the-round set design by Robert Morgan benefits this program, keeping attendees physically close to the anxiety Seer creates.  One sight gag is exquisitely executed, briefly stopping the show with laughter and applause; you WILL leave talking about it, but it is the ever-shifting, palpable tension and the relatable humor of human frailty which will resonate long thereafter. 8.5.12
Desert Local News, Jack Lyons – If Neil Simon was the King of Comedy from the 1960's, through the 1990's, then French-born playwright Yasmina Reza is on track to become the Queen of intelligent and sophisticated comedy for the 21st Century. Comparisons are odious at best, and in the case of Neil Simon, he is in a class by himself.
However, with a continuing output of her brand of sophisticated comedies over the next few years, and with a little bit of luck, Reza could find herself the dominant female playwright of the early 21st century. Her material, like Simon, transcends gender, nationality, and culture. Her plays, written in French and translated by English playwright Christopher Hampton, resonate with audiences of all stripes and strata. Whether her audiences are rich or poor, her characters quickly and easily become identifiable.
One of her earlier efforts was the 1998 Tony winning comedy "Art", which signaled that a new major playwright was among us and was revealing all of our foibles and shortcomings for the world to see. It was a delicious and auspicious beginning. Then in 2007, her latest comedy bombshell hit the stages of the world. "God of Carnage" became an overnight comedy blockbuster play. It's been translated into more than 30 languages, and still growing.
Which brings us to The Old Globe production of "God of Carnage" now onstage at the Sheryl and Harvey White arena stage. I've seen three previous productions (all proscenium staged) and, as I mentioned above comparisons are odious indeed, however, the current Globe production that stars: Caitlin Muelder as Annette, Erika Rolfsrud as Veronica, and Lukas Caleb Rooney as Michael (all three talented actors are graduates of Old Globe/University of San Diego Graduate Theatre Program), and T.Ryder Smith as Alan, can slug it out with the best of them when it comes to engaging in theatrical onstage mayhem. This quartette of performers doesn't have to take a back seat to any ensemble that has previously performed the play.
The story by now should be familiar to theatre going audiences everywhere. In short, it's a hilarious, ninety-minute comedy of "bad manners" on the part of two sets of upscale New York parents, who come together to discuss a schoolyard confrontation by their two eleven year-old sons. Initially, they gather in an upscale Brooklyn home to sort out what took place. At first civility is upheld, but as the libation-fueled conversations continue, the tone changes, ultimately going off track sending a warning that a street brawl is about to take place. When discussions ultimately spiral out of control, and decorum flies out the window, the audience gears up for a session of name-calling and tantrums from adults who should know better.
But their loss of control is our gain, as Reza's razor-sharp wit illuminates the situation many people often find themselves in. Her acute ear for spot-on dialogue reminds me of the late, great, playwright Paddy Chayefsky. Very few writers had his gift and ear for the dialogue of the people he wrote about. Tennessee Williams also had the gift and we are the richer for it. Reza is about to join some pretty heady company.
T. Ryder Smith's Alan (complete with his cel phone as his best friend) is a Freudian delight, and fascinating to watch. Erika Rolfrud's Veronica, is so hypocritically spot-on that I thought I heard one or two squirming seats after her outbursts. When it comes to throwing away all pretense of decorum on the part of Michael, Lukas Caleb Rooney's inner Neanderthal comes roaring out as if in relief from the game he has been forced to play. When Caitlin Muelder's Annette, the tightly wound investment banker character finally snaps, the audience react as if they've heard an explosion. It's a sublime theatrical comedy moment.
I've deliberately saved the best for last. Richard Seer, the director of this wonderfully funny and entertaining production is entitled to all the bows and kudos that come his way.
His inspired direction of this ensemble cast, in the round, gives proof that not all technically difficult plays should be staged in a proscenium theatre. One forgets that all of the wonderful magic taking place on the stage is a collaborative effort seen through the lens of the director's personal vision. Come and share the experience. You won't be disappointed. 8.6.12
Stage Scene LA, Steven Stanley – San Diego's Old Globe Theatre stages Yasmina Reza's Tony-winning Best Play of 2009 God Of Carnage with three graduates of its prestigious MFA program (and a fourth Old Globe favorite) and comes up with a production that easily rivals those which have starred far bigger names.
As its title might suggest, Reza's hilariously edgy comedy examines the carnage even the most sophisticated and socially domesticated among us can wreak when manners are forgotten and the gloves come off—helped along by copious amounts of rum.
The play's four civilized savages are Alan and Annette Raleigh (T. Ryder Smith and Caitlin Muelder) and Michael and Veronica Novak (Lucas Caleb Rooney and Erika Rolfsrud), the former of whom have come to pay the Novaks a visit, though one would hardly term it a social call. It seems that the Raleighs' eleven-year-old son Benjamin has struck the Novaks' Henry in the face, resulting in "a swelling of the upper lip, the breaking of two incisors, including injury to the right incisor."
The above comes from the statement Michael and Veronica have prepared and now want Alan and Annette to sign, the aggrieved parents' attempt at some sort of closure to the playground incident.
Though writer/book shop employee Veronica seems at first to be the most levelheaded and businesslike of the bunch, she's also the one least likely to accept a signed statement as sufficient recompense for what she considers Benjamin's unprovoked attack on her innocent child.
Mousy wealth manager Annette seems initially entirely too cowed by her husband and timid among strangers to do anything other than get sick to her stomach. We soon learn, however, that still waters run deep once Annette has had a few glasses of rum and been forced to listen to a few too many of Alan's incessant cell phone calls.
Corporate lawyer Alan seems entirely unconcerned with his son's misbehavior, viewing him as the savage he is, and seeing any attempt to change him as a waste of time that could be far better spent on the phone conducting lawyer business, place or circumstances be damned—and woe to anyone who overhears these "private conversations."
Meanwhile domestic hardware dealer Michael takes a boys-will-be-boys attitude to the incident, confessing that he himself once led his own elementary school gang just as the Raleigh's son does today, a revelation which doesn't sit well with Veronica at all.
After about ten or fifteen minutes of small talk, haggling, and splitting hairs over words—Was Benjamin "armed" with a stick, or simply "furnished?" Is Henry's lip "disfigured," or only temporarily "swollen?"—and nothing particularly resolved, the Raleighs prepare to depart, a meeting between their son and the Novaks' to take place at some as yet unspecified time in the near future.
Obviously Alan and Annette stick around, or there would be no God Of Carnage, and one of the play's many pleasures is observing Reza's expertise at finding ways to keep the Raleighs chez the Novaks for another hour or so, during which time married audience members will likely find at least one character whose attitudes and actions hit (perhaps too) close to home.
First and foremost, however, God Of Carnage is a comedy, albeit a dark one, and Reza mines laughs and gasps aplenty from a discarded hamster, some not-quite-ruined coffee table books, a grandmother's blood pressure medication, and a pair of cigars about to be smoked in the home of an asthmatic child—not to mention an onstage brawl or two.
Reza not only gets us to laughing, she also gets us to thinking about male-female, male-male, and female-female relationships, as each one of her cast of four finds him-or-herself at some time or another allied with one or the other of the remaining three, whether attacking a spouse or defending his-or-her gender—or vice versa.
Up till now, a good deal of God Of Carnage's popular success has come from star power—Isabelle Huppert in Paris, Ralph Fiennes in London, and Jeff Daniels, Hope Davis, James Gandolfini, and Marcia Gay Harden in New York and L.A.
Muelder (Old Globe/University Of San Diego Graduate Theatre Program Class Of 1999), Rolfsrud (Class of '96), Rooney (Class of '02), and Smith (winner of the Craig Noel Award for his Old Globe performance in Lincolnesque) may not be household names, but no matter. Their work here is superb.
Under the brilliant direction of Richard Seer (Director of the Old Globe/University Of San Diego Graduate Theatre Program since 1993), these four gifted actors deliberately underplay their roles early on, the better to surprise us once the masks of civility have fallen. Muelder's soft-spoken Annette, Rolfsrud's all-business Veronica, Rooney's self-controlled Michael, and Smith's soft-spoken Alan lull us into thinking that Reza's play just might be a polite comedy of manners and mores.
It isn't, and much of the fun and excitement of the Old Globe production is in discovering just how wrong our initial impressions of the foursome have been.
Adding to the impact and intimacy of Seer's staging is its venue, the 250-seat Sheryl and Harvey White Theatre, with no one sitting further back than five rows from the theater's arena stage. No nosebleed seats here, affording audience members fly-on-the-wall vantage points no matter where seated.
Scenic designer Robert Morgan replicates the tasteful elegance of the Novaks' upscale Brooklyn residence, a bowl of red tulips prominent on the glass centerstage coffee table. Morgan's costumes are the careful choices of four adults hoping to make the best impression on strangers, and one of director Seer's inspired choices is to have each character remove at least one article of clothing as the evening progresses—Annette and Alan their suit jackets and Michael and Veronica their sweaters—as the foursome begin to fight "sans gloves."
Paul Peterson's sound design features some mood-setting music and is sprinkled liberally with Alan's vibrating phone rings, proving that setting a phone to vibrate makes it no less obnoxious when someone calls. Chris Rynne's lighting design is subtle when subtlety is needed, and starkly dramatic in the play's final fadeout, which Rynne's lighting and Peterson's sound render considerably more satisfying than on paper or in a previously reviewed production.
Not surprisingly, God Of Carnage requires a fight director, a role which George Yé fills quite niftily. Hannah Ryan is assistant director, Sean Fanning assistant scenic designer, and Michelle Hunt Souza assistant costume design. Annette Yé is stage manager and Sarah Kolman production assistant.
With its small cast, simple set, and ninety-minute, intermission-free running time, Reza's God Of Carnage is likely to follow in the footsteps of her much-produced Art and become an intimate theater favorite. The Old Globe provides a textbook example of just how fine a production can ensue when God Of Carnage is done just right. 8.12.12
CultureVulture.com, Lynne Friedmann – Two sets of parents gather for civilized discourse following an altercation between their 11-year-old sons; the incident involves a stick in one boy's hand and broken teeth in the mouth of the other.
"God of Carnage" kindles the single spark of a playground squabble to light up the stage with an unflinching look at four upper-class urbanites who start out well-mannered but soon become petty children themselves. Conversations go off track and ultimately lead to a prize fight in which there are no discernible winners in this tragicomedy.
The action takes place in Brooklyn in the upscale living room of aggrieved parents Veronica (Erika Rolfsrud) and Michael Novak (Lucas Caleb Rooney). Veronica is a high-minded writer who has authored a book about violence in Darfur. Michael is a self-made wholesaler of household items but, despite his success, remains rough around the edges. The Novaks sit comfortably on a pillow-strewn sofa opposite tightly wound wealth manager Annette (Caitlin Muelder) and her corporate-attorney husband, Alan Raleigh (T. Ryder Smith), perched awkwardly on sharp-angled side chairs.
Fissures appear in the façade almost immediately as Veronica reads a prepared statement about the mishap. Alan takes exception to having his son portrayed as "armed with a stick." Veronica agrees to substitute "furnished with a stick." But rather than signaling solidarity, a line has been drawn in the sand.
Attempts at small talk and proffered refreshments divert discussion away from substantive issues of personal and parental responsibility. Not helping matters are ceaseless interruptions by Alan's cell phone. These conversations do, however, reveal Alan, and his ethics, as he advises a pharmaceutical client on ways to dodge responsibility and apply damage control when a memo about undisclosed side effects of a prescription drug is leaked to the press.
Conversely, Michael's lack of compassion becomes evident after it is revealed that he set loose his daughter's pet hamster on the streets of New York, assuming it could just fend for itself.
Secrets are revealed, confessions follow, and alliances shift back and forth with men against men, women against men, and couples against each other. Carping escalates until the action literally bursts wide open as Annette succumbs to nerves and, in an astonishing theatrical hat trick, forcefully vomits over the set and actors and scores a direct hit on irreplaceable art books on the coffee table.
Alan's cell phone summons him to yet another call.
French playwright Yasmina Reza has crafted "God of Carnage" into a compact, one-act play with a running time of 90 minutes. In the hands of a less-gifted writer, the exchanges could easily be left hanging in the air like a series of disjointed punch lines, but instead they provide the springboard for the next character insight or outburst.
Richard Seer's masterful direction keeps the action coming fast and furious from a spot-on cast: Rolfsrud's Veronica, whose outward tolerance and social consciousness is a veneer for self-righteousness and hypocrisy. Rooney's Michael, no longer able to stomach pretense, proclaims himself a Neanderthal and is spoiling for a fight. Smith's rude, indifferent Alan declares, "I believe in a god of carnage. He has ruled uninterruptedly since the dawn of time." A revelation is Muelder's performance as Annette, who at first seems a lightweight but, smoothed by Pepto Bismol and later lubricated by rum, gives as good as she gets. She also ingratiates herself to the audience when she snatches that blasted cell phone out of Alan's hands and drowns it in a flower vase.
After seeing "God of Carnage," I will never look at a bowl of tulips the same way again. 8.8.12
San Diego story. com, Welton Jones – Four WASPS and a cell phone are featured in Yasmina Reza's God of Carnage, now on the stage of the Old Globe's White Theatre.
Mom on the landline has a supporting role.
It's a pocket-sized version of Edward Albee's Who's Afraid of Virginia Woolf?: Fewer revelations, diminished booze and far less time lapsed but comparable in quantity of poisonous residue.
It's always astonishing how easily the veneer of civilization can be stripped away, even in the world of high-price strivers who can afford cute food and esthetic excess as insulation. Reza, being a dramatist of keen vision and superb technique, demonstrates with an efficiency to be envied by stage magicians.
Two couples, in upscale Brooklyn, have met to discuss a playground encounter of their sons. The Raleigh boy took a stick and whacked the Novak boy in the face. There's talk of a broken tooth. What should happen next?
The meeting has been called by Veronica Novak, who's taking time off from chronicling genocide in Darfur. The Raleighs are appropriately appalled at their son's guilt but vague about blame stuff. Especially Alan Raleigh, a lean and high-priced lawyer fidgeting to be on his way.Enter the cell phone, just as uneasy settlement looms. Alan's big pharmacy client is being hit by a surprise class-action suit and he's got to take the helm. Hustlers' hearts everywhere go out to him.
But not so much in the room, where conversation halts as he starts his damage control, then returns to earth with a "What?" It's a pattern that will become fateful. Every successive call seems to make things worse. Voices are raised, inhibitions discarded and old wounds open. Violence is in the air but…
Reza is too cool to let these people act out. Better to return them to their solitary cells of depression, nothing accomplished. The only victims are some cut flowers, a stack of coffee table books, a hamster and, most telling, that cell phone. The God of Carnage is satisfied this time with symbolic sacrifices. And the God of Chaos can wait.
Who amongst us has not been a party to some such train-wreck, no? Well, not me and you, of course, but you know what I mean. The laughter is rueful and nervous. This all really could happen. And Mom does tend to call at the worst times!
If this play is not cleansing, it is cautionary. We all have to adjust our loads for the long haul or we might start falling back down the slope.
Amazingly, God of Carnage has been translated from the French and transported from a Paris location. Of course, the translator – Christopher Hampton – is a master himself. And Reza is a proven commodity (Art, etc.) But she's French, he's British and this play seems so right at home in Brooklyn,  down to the local idioms.
The Globe production, staged by Richard Seer, is a reunion of sorts for three of the actors who studied with Seer in the USD/Globe graduate program. T. Ryder Smith, whippet lean and gimlet-eyed as the lawyer, is the outsider, yet he's also a Globe veteran who once played, I believe, Abraham Lincoln.
Caitlin Muelder plays Alan's wife, who he calls "Woof Woof" after the old pop song "Doggie in the Window." She's a poster girl for repressed neuroticism and an accomplished hand at nasty stage business. Erika Rolfsrud plays the tree-hugger mom as if she's just dying to pass around a petition while Lucas Caleb Rooney smolders but never quite ignites as the common-man of the ensemble. Although Seer allows them too much exaggeration with telling individual tics he steers the arc of the piece in smooth and inexorable style.
The, um, durable sets and costumes are by Robert Morgan and routine assignments for lighting and sound are carried out smartly by Chris Rynne and Paul Peterson.
But this isn't a play that needs tricky illusions. It could play out comfortably in many living rooms we know. Not yours or mine, of course, but…
Examiner.com, Carol Davis – If you've ever tried to play interference with your child's 'play' or playground shenanigans you will understand why Yasmina Reza's "God of Carnage" is so spot-on funny and tragic at the same time. Oh, I'm not saying that parents shouldn't be aware of what takes place on the playground or that children shouldn't respect one another's space, I'm just saying that when parents get involved this way, right or wrong, it's a lose-lose situation all around.
Tony Award winning playwright ("Art") Yasmina Reza has a gift with words. In a 1998 interview in the American Theatre magazine she is quoted as saying, "In a play, words are parentheses to the silence…I always work by cutting down". In her latest work, Reza's Tony award winning 'Best Play', God of Carnage, (translated from French to English by Christopher Hampton), four seemingly intelligent adults get into a cat scratching battle over an altercation between their children.
So without any fan fair, those of us sitting in the Sheryl and Harvey White Theatre on opening night find ourselves, along with the Raleigh's, in the expensive living room flat of Veronica and Michael Novak. They are smack dab in the middle of a conversation. Here is what we are privy to: The Raleigh's eleven-year-old son Benjamin hit their son, Henry in the face with a stick and 'broke two incisors, including injury to the nerve in the right incisor'. It all happened in the upscale Cobble Hill Park that is supposed to be a safe haven for children to play.
And why is this important to know? It seems that Veronica went to great lengths to provide Alan and Annette Raleigh with the facts of what happened to her son and to ask the Raleigh's if their son, Benjamin, might apologize. They could meet at their place. After all, says Veronica, "This is the art of co-existence". Bring the two together, say the mandatory apology and show them the ways of their errors.
When the visiting couple agrees that, of course Benjamin 'has to apologize', one would think that the matter was settled even though Alan doesn't seem to think that the children, or at least his son, has yet to master the 'art' of co-existence. But they all agree to a meeting nonetheless. Small talk follows and a funny thing happens before the couples part company.
It seems the more the couples talk, share a bit of food (clafouti with gingerbread crumbs) and coffee, and booze all niceties fly out the window. The conversation takes a sharp turn, branches off into areas beyond anything having to do with the two eleven year olds (how about hamsters?) and before we know it, an almost civilized meeting turns into street warfare with verbal bombs dropping in the most unlikely of places with the almost complete destruction of everyone's ego, not to mention the neatly appointed Novak apartment.
It is, as one reviewer put it, "brutally entertaining", and I might add, riotous. Best of all, director Richard Seer knows how to squeeze the most out of the verbal and non-verbal absurdities that characterize this hilarious play.
Erika Rolfsrud and Lucas Caleb Rooney are the Novak's whose apartment will look like WWIII by plays end. Both seem likeable enough with Veronica as the alpha female of the couple. She has a book coming out about the tragedy in Darfur and she contributed to a collection on the 'civilization of Sheba. So one might assume that she knows about civility. Well! Michael owns a Domestic hardwood store and is deep into plungers, doorknobs and fondue pots (especially around Christmas). He's a burley, huggable guy who, for a time goes along with his wife.
T. Ryder Smith is Allan Raleigh a corporate lawyer who is addicted to his phone. All throughout the evening he struggles to put out fires for a big pharmaceutical company in doo doo with the press. He represents them. Caitlin Muelder is Annette, his wife. She deals in money matters and at times tries to hold things together but literally looses it, as she gets sick to her stomach and throws the entire group into mayhem as they stare at her in awe and bump into each other trying to clean up the mess she's left behind. That includes the ruination of one of Veronica's out of publication, books.
Four more talented and well-equipped actors could not have been chosen to represent these couples who manage to go between the lines and get it just right. I must admit that I did see the Broadway cast in Los Angeles last year and, of course, they were excellent. But this particular cast, well balanced as it is, has some standout moments that will resonate long after you leave the theatre. Watching Lucas Caleb Rooney's Michael turn slowly from the nice soft-spoken agreeable husband who, after all the infighting decides to turn ape and 'show his true colors' is an amazing fete. He is a hoot to watch.
Erika Rolfsrud is perfect as his in control freak wife, Veronica, who looses her veneer and falls apart in front of our eyes. Watching her subtle transformation is like watching someone disappear into herself. Her performance is hard to beat. Muelder's Annette, always trying to sooth things over finally breaks out of her Miss Nice role and takes down both men without blinking an eyelash. First she disposes of Alan's cell phone and then she makes mince meat of Michael for what he did to his daughter's hamster.
Smith is wonderful as the disengaged and almost absent participant, whose business dealings take him away from the fray most of the time but does manage a few zingers before he is stripped of his phone. Once that prop is gone, he too goes gooey. His tippy toeing like a praying mantis around the stage however, when he is on the phone, is a distraction.
Robert Morgan's upscale New York living room set (he also designed the costumes) is perfect for the in the round stage. One problem with in the round stages:When the actors are facing away from you, you can't see their facial expressions nor hear what they are saying, especially if they drop their voices. And while they do move around to minimize the situation, dialogue is lost and it is frustrating to strain to pick up the conversation. (This reviewer's beef)
Chris Rynne's lighting and Paul Peterson's sound design complete the picture rounding out an evening of laugh out loud fun watching adults in the company of other adults behaving very badly while trying to sort out their children's behaving very badly on the playground.
See you at the theatre.
WKDS, Pat Launer – Welcome to the Human Zoo. If you'd like to see the breakdown of civility and civilization embodied in four New York suburbanites, step right up to "God of Carnage," Yazmina Reza's 2006 Tony and Olivier Award-winning comedy of mangled manners.
In its English language translation (the play was originally written in French), it all starts on a Brooklyn playground. One pugnacious 11 year-old whacked another with a stick, causing some bruises, a couple of broken teeth – and a wounded pre-adolescent ego –played out by the parents who come together to resolve the conflict.
The hosts in this high-end aerie are a writer who sees herself as a level-headed arbiter of art, taste and behavior. And her businessman husband, who later reveals that he's a redneck, blue-collar guy whose wife "is passing [him] off as a liberal" for the evening.
Their guests are a prissy wealth manager and her cellphone-addicted lawyer spouse, who shows himself to be a shady-dealing shyster when it comes to covering up the toxic side effects of his client's patented medication.
What begins as a pleasant façade of niceties exchanged among urbane strangers devolves into a brutal, animalistic four-way free-for-all, replete with attempted spousal strangulation and projectile vomiting.
We snicker and giggle and gasp and guffaw – but is it because we think we'd never stoop to these base, bestial levels – or because we know that, given the right provocation, we might?
I saw the original Broadway all-star cast of the show, which included Jeff Daniels, James Gandolfini, Hope Davis and Marcia Gay Harden – all Tony nominated. And I have to say, in the close quarters of the Globe's White Theatre, with the action practically in our laps, I liked this production better. It's more allegorical, less farcical and over the top. And funnier, thanks to Richard Seer's superb direction, where tiny bits of stage business and subtle moves or expressions make the lightweight work soar.
The cast is terrific, three of whom are impressive alumni of the Old Globe/USD MFA program, of which Seer is the Director. We're treated to the wonderful superciliousness of Erika Rolfsrud, the barely concealed rage of Caitlin Muelder, and the spectacular devolution of Lucas Caleb Rooney from pseudo-sophisticate to self-professed Neanderthal. They're joined in this massive breakdown of urbanity by the marvelous T. Ryder Smith, a live-wire of neurotic, kinetic energy as the unsavory attorney.
There's no one to latch onto as an even vaguely likable character. No one gets off the (meat) hook. And that's pretty much the point. We get it early on but still, in 75 intermissionless minutes, it's kind of delicious, schadenfreude fun watching the stripping down and dressing down of human(un)kind. And what, exactly, does that say about us? 8.10.12
San Diego CityBeat, David L. Coddon – The busiest person in The Old Globe's production of Yasmina Reza's black comedy God of Carnage has to be whoever cleans up afterward. As the French would say, for this play was originally La Dieu du Carnage, "Quelle disaster!"
The premise is innocent enough: After one 11-year-old boy whacks the other with a stick, doing dental damage, the parents of the kids get together to politely hash out the reparations. Soon the conversation degenerates into chaos. Discussing becomes arguing. Talk becomes tantrum. We get it: The parents are the real children.
In spite of this obvious revelation, God of Carnage, directed with abandon by Richard Seer, is outrageously funny once it finds its momentum. As the story calls for the two couples to start out wary but cooperative, the play's first 15 minutes or so have little more than Alan's (T. Ryder Smith) annoyingly intrusive cell-phone calls for tension. But once his wife, Annette (Caitlin Muelder), whom he calls "Woof-Woof," vomits what has to be a world-record vomit, all civility goes out the window. Hosts Michael (Lucas Caleb Rooney) and Veronica (Erika Rolfsrud) are not only cleaning up; they're trying to clean each other's clock—that is, when they're not going at it with Alan and Annette. Throw in some potent rum, a "murdered" hamster and enough self-righteousness for a tent revival and you've got what Michael calls with exasperation a "psychodrama."
The vomiting scene is a minor marvel of special effects. No one and nothing are spared, including Veronica's prized art books on the coffee table and the until-then cheery glass bowl of tulips atop it. (Those tulips, it turns out, are also destined for carnage.) The post-puking cleanup duty, complete with hair dryer, is more hilarious than what preceded it, though just as queasy.
Three of the combatants are portrayed by graduates of The Old Globe / University of San Diego masters program: Muelder, Rolfsrud and Rooney, whose throwaway lines and vacillating self-control make Michael the most entertaining of the foursome.
This local premiere of a play that was a hit on Broadway (in 2009) and later a film directed by Roman Polanski is a crash course in adult misbehavior. Accent on "crash."