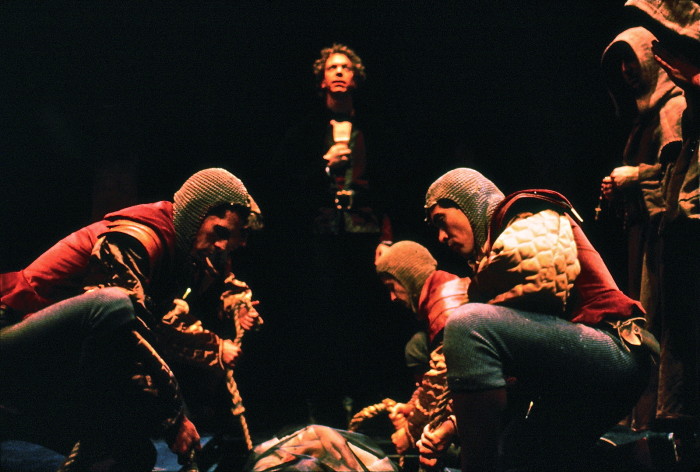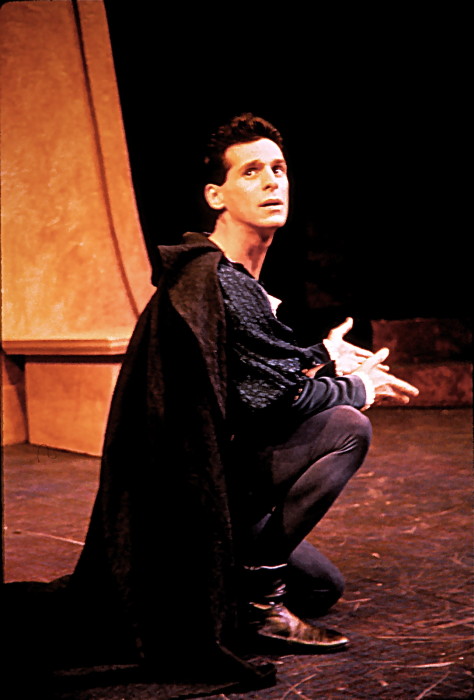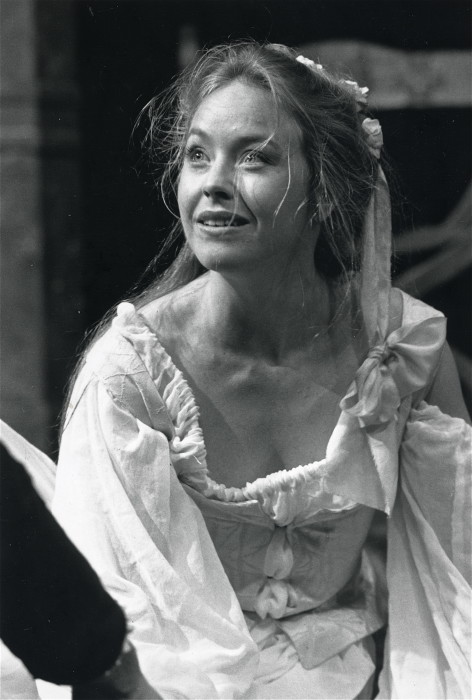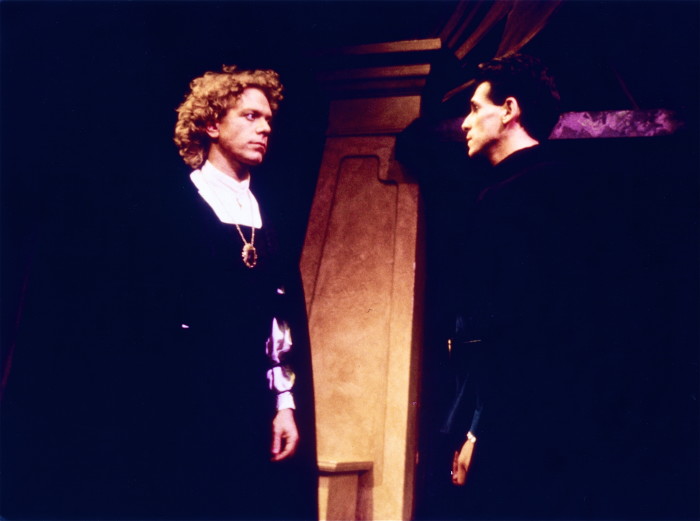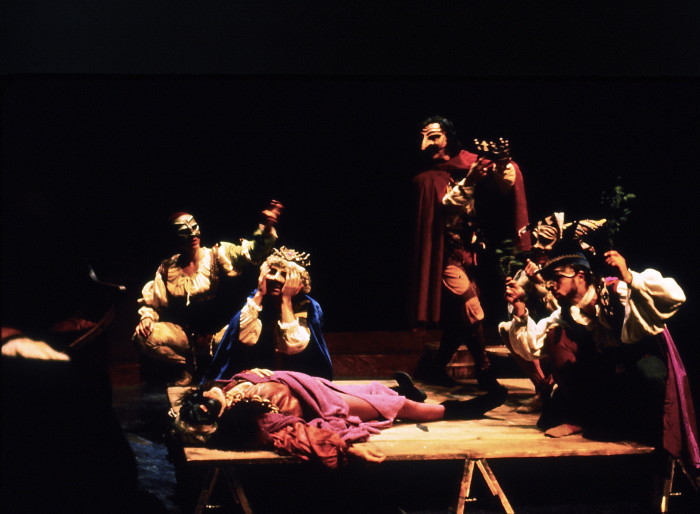 Above, top to bottom: Sheridan Crist, center, as Hamlet, with ensemble; T. Ryder Smith as Laertes; Adrienne Thompson as Ophelia; Hamlet and Laertes at the challenge; the Players perform 'The Mousetrap'.
Excerpts from the reviews
"Sheridan Crist transcends his dull surroundings with an enlivening display of fire, intensity, and chameleon-like shifts. Deranged he's not; only wildly impulsive, mischievously playful, explosive and just a bit spaced out . . . Note that T. Ryder Smith is a good replacement as Laertes . . . " – Alvin Klein, The New York Times
"This uncut version runs almost 4 hours. Prepare for a long – but as it turns out swift-moving – evening. The rewards are compelling performances and the rare chance to see the entire play." – Jean Ogden, Courier News
"A speedy but often unstable production . . . but we are swept along by the cumulative tide of events. You don't have to be a Bardolator to enjoy 'Hamlet'. You don't even have to wait for the perfect production. You can be content, as I am, with a ghost of a 'Hamlet' ." – Simon Salzman, Bergen Daily Record
The Show Must Go On
I received my Equity card with this production, and in the classic "Quick! You're going on!" way.
Actor's Equity Association is the professional actor's union – called "Equity" for short – and to "earn one's card" is to achieve full union status. On rare occasions an actor is simply given their Equity card by a producer, but usually one earns it by accumulating "points": performing as a non-Equity member of a professional company, earning one point for each week of work, up to the qualifying 40 points.  In some thriving acting communities – Chicago's, for instance – membership in Equity is not essential, but in NY it is generally necessary, and coveted. And so, as a late-blooming actor, I was very happy to have been cast in the non-Equity company of the New Jersey Shakespeare Festival's 1988 season. I had small roles in each of the rep's 4 shows, and a few good understudy parts, including Laertes in "Hamlet". I knew I would go on in the role at least once – in a scheduled special matinee performed entirely by the understudies – and set about making sure I was ready.
Our director Paul Barry ran and had helped found the Festival, which was exceptional for several reasons: the length of it's season – 5 months – the fact that it performed true repertory – 4 shows in nightly rotation – and that it presented the shows uncut. Pretty much everyone put Shakespeare's texts on a bit of a diet, but Paul said the man knew what he was doing, and that the plays were exactly as long as they were supposed to be. Which meant we wound up with a 4 hour "Hamlet", all of it's usually-jettisoned subplots intact. It was deeply rewarding to get to analyze and rehearse the true epic breadth of the show, and a bracing challenge to put it up, but it placed enormous demands on the lead actor. Alan Jordan was our Hamlet, and had light assignments in the other shows in the rep to compensate for his heavy load as the Prince. His understudy was Sheridan Crist, the actor in the Equity company who played Laertes.
While we were putting "Hamlet" up, Sheridan was in rehearsal with the next show in the rep, "Two Gentleman of Verona", playing the lead role of Valentine. And it was around this same time that the understudy matinee of "Hamlet" occurred. Which meant that Sheridan had to not only hold in his memory the roles of Laertes and Valentine, but also the full text of "Hamlet". How he managed all that without his brain bursting into flame is anyone's guess, but Sheridan was a trouper. The "Hamlet" matinee went well, and we all turned our focus to the opening of "Two Gentleman".
Alan Jordan was performing superbly as Hamlet, and taking good care of himself for the long season ahead, and yet one night his distress in the climactic swordfight seemed a little too realistic. "It's nothing", he mumbled as he hobbled through the curtain call, favoring one leg – "Just a twinge in the calf", he said, as he hop-walked to the dressing room – "No problem!" he called back as he limped to his nearby apartment after the show. And after a couple of days rest, he bravely showed up and got through the next performance, but was clearly in pain with what seemed a torn muscle in one leg. In the show following that one, he had occasional need of a cane, and in the one after that, judicious use of a literal crutch. Director Paul was pleading with him to see a specialist, but Alan knew we were putting "Two Gentleman" into the rep – as well as starting rehearsals for the season's 4th show – and he wanted to try to hold out until all the shows were up.
It sometimes seems odd to people outside the theatre, but there is a fierce drive in actors to push through even alarming injury and illness rather than miss a performance. "The show must go on" is a cliche because we mean it.
So "Two Gents" opened, and the full company was called for a meeting the next day prior to the matinee performance of "Hamlet" – to be chastised for the opening night party getting a bit rambunctious, we thought – but Paul announced that he had just been told that Alan's doctor had forbidden him to go on, and so the understudies were in today. It was 12 noon. The show was at 2.
Consternation.
Any shift like that in a large company radiates out, since the understudies of the understudies then need to take over their roles, as do the understudies to the understudies of the understudies, etc. Hence the theatre was buzzing with activity in that hour before the show – another cliche come to life – with scenes being rehearsed, blocking reviewed, costumes altered, etc. People found space wherever they could – in hallways, dressing-rooms, staircases. Actors kept trying to get into the theatre to rehearse, but Paul was working alone there with Sheridan.
I ran through my scenes with Ophelia and Polonius out on the theatre lawn, got the Laertes costume quickly pinned and tucked to fit me in the costume shop, and ran through the swordfight choreography with the fight captain in the dressing-room hallway. I then stuck my head in the back door of the theatre, to see if Sheridan might have a moment to touch base, and saw him sitting despondently on the stage, with Paul pacing grimly nearby. Paul saw me in the doorway. "You ready?" he barked. I blurted "Yes", hoping it was true. "Break a leg", he said, trying not to wince at the irony. I left them to their business.
The performance went fine all around, albeit with a new prop for Hamlet – a small leather notebook, which the Prince jotted in and read from incessantly. It turned out to be – secretly – a copy of the actual play. Sheridan, after his remarkable feat of memorization a few weeks prior, had concentrated on "Two Gentleman" and on his role in the upcoming "All's Well That Ends Well" to the extent that – he feared – he'd let the uncut "Hamlet" slip a bit from his memory. When I had peeked in at him and Paul, they were despairingly discussing options. There was no question of canceling the show, no time to rehearse, and neither of them wanted to have to keep calling to a prompter for line. Paul looked at the worn paperback copy of the play Sheridan was holding in his lap, and suddenly called the prop-master to the stage. "Bind that in leather", he said, "and find him an Elizabethan pencil". So for the next couple of shows, Hamlet "took notes" during his scenes, while actually sneaking a glance at the text when his memory failed. It actually worked quite well, but Sheridan tossed the notebook mid-show his third time out, and didn't use it again.
Brave Alan's injury turned out to be bad enough to force him to leave the company, and Sheridan and I stayed in the roles until the finish of the season. Which got me just 2 points shy of qualifying for my Equity card. But Paul, whose crusty exterior masked great generosity, plucked at my sleeve one day and asked if I had plans immediately following the rep season. I said no, and he said "Then you're cast", meaning in the first show of the fall season, Eugene O'Neill's "A Moon for the Misbegotten". Which meant that by the time we opened, I would "get my card", and be a full member of the union.
My deep gratitude to him.