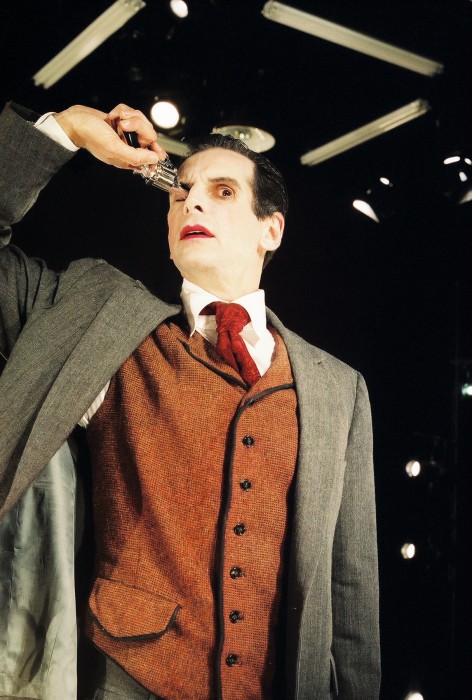 Excerpts from the reviews
Full reviews are below
"A fast and furious staging . . . a hilarious and unexpectedly haunting compression of the cult tome by Griel Marcus . . . A cacophonous, gloriously deranged Cabaret Voltaire appearance (with Urbaniak as Hugo Ball, Sheehy as Tzara and the extraordinary T. Ryder Smith as Huelsenbeck) establishes a precedent . . . The comedy, like the proscenium, often fades to black; the play defies time, and yet it's clouded over by a sense of impending doom. . . . And if [Johnny] Rotten's larynx-scraping redefines sound-poetry, then Smith seems to channel it (this is actually happening) with his Huelsenback interpretation: a tour de force of howling gibberish that articulates a panic and despair beyond speech, a noise alternately subhuman and supernatural. . . ." Jessica Winter, The Village Voice
"A smart, spirited examination of punk rock . . . meticulously organized mayhem . . . 'Lipstick Traces' has a surprisingly high success rate in finding theatrical equivalents for Mr. Marcus' fervent brand of scholarship. . . . there are many moments that pulse with verve and ingenuity, in which resonantly simple solutions are found for presenting the seemingly unstageable. . . . We are treated to an absolutely blissful interpretation of . . . an evening at the Cabaret Voltaire . . . the scene has a real visceral charge of liberating anarchy that makes it the evening's cornerstone. . . . Mr. Smith's renderings of speeches by Huelsenbeck, in which words slowly shed their meanings, are pitch-perfect. " Ben Brantley, The New York Times
"'Lipstick Traces' by Greil Marcus is  an amazing book of cultural criticism, and the Rude Mech's adaptation of Marcus's messy and marvelous analysis is a wonder to behold. It is  intelligent, fun and wonderfully staged, making it a must-see for lovers  of punk and the historical avant-garde alike. . . . The cast does a stellar job, with enough piss and vinegar to pull the whole thing off, and there are some  fabulous dead-on impersonations to boot. . . . The script itself, however, could use some further thought, as it repeats some of  the problems found in Marcus's argument. Where the hell did any  discussion of class go? . . . Your ears ring  and your mind is spinning when you leave the Ohio Theatre. The Rude  Mechs take a near-impossible book to adapt and transform it into a  theatrical spectacle of the highest-order." Ken Urban, nytheatre.com
Publicity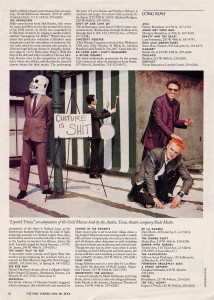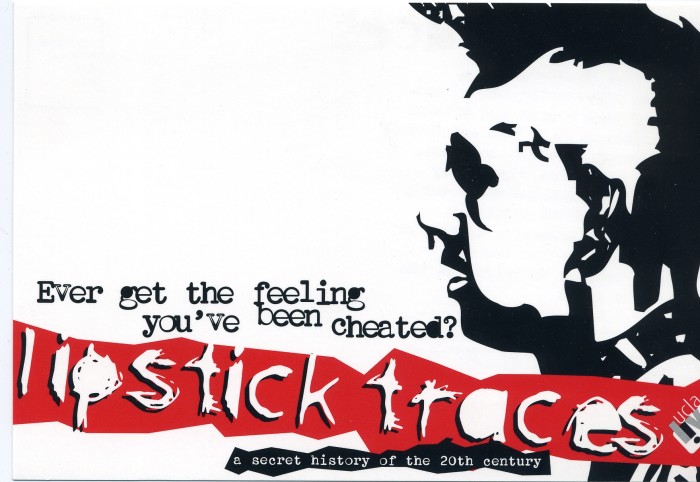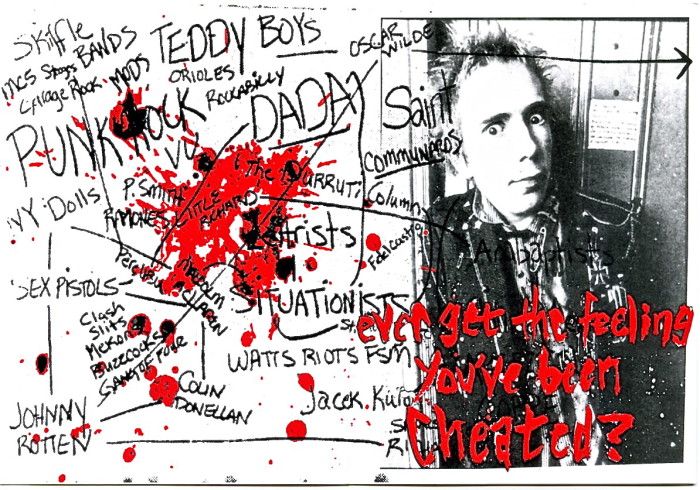 Full reviews
New York Times, Ben Brantley – A Lecture on Punk May Not Be What You Thunk. "Eek!" goes the narrator. The squeals erupt like hiccups, involuntary and alarmed, as this learned young woman talks about things like ideological constructs in "Lipstick Traces," the smart, spirited examination of punk rock and its antecedents that opened last night.
The narrator, who obviously has nerves of hamburger, doesn't interrupt her carefully memorized discourse. But her abstract words slide into screeches whenever the noisy guy in the ripped clothes dances too close to her. This is understandable, since the dancing — performed by one Johnny Rotten, who is auditioning to be the lead singer of the Sex Pistols — easily qualifies as assault and battery.
So much for academic distance. The scene described above is a re-enactment of the day in 1975 that Johnny Rotten (played by Jason Liebrecht) hooked up with Malcolm McLaren (David Greenspan), the London boutique owner and self-styled cultural con artist. But as flamboyant as these two may be, the narrator (officially named Dr. Narrator) doesn't fade into the wallpaper, although she's trying to.
As portrayed by Lana Lesley, Dr. Narrator is anxious, uncertain, engaged, a tad frenzied. You can't rely on what she says, and she knows it. But the eeks make you trust her, in a strange way. Because how could anyone get so close to flame and stay cool?
The equivalent of Ms. Lesley's squeals are heard throughout the book of the same title that inspired these 75 minutes of meticulously organized mayhem now at the Ohio Theater, created by a company from Austin, Tex., called the Rude Mechs, and presented in New York by the Foundry Theater.
"Lipstick Traces: A Secret History of the 20th Century," written by the rock journalist Greil Marcus and published in 1989, time-travels on the wings of philosophy, history, conjecture and copious research to visit parallel movements of cultural rebellion. All stemming from what Mr. Marcus calls the impulse of negation, they range dizzyingly from punk to Dadism, from French Situationism to Anabaptism.
The book has the energy of its obsessions, and it snares you in the manner of those intense, questing and often stoned sessions of intellectual debate you may have experienced in your college years. It was destined, in other words, to achieve cult status.
Among the cultists were a group of artists foolhardy enough to try to translate the book to the stage. The results are inevitably uneven. But as conceived and directed by Shawn Sides and adapted by Kirk Lynn, "Lipstick Traces" has a surprisingly high success rate in finding theatrical equivalents for Mr. Marcus's fervid brand of scholarship. The eeks are just the beginning.
The production is a series of melting set pieces interspersed with commentary from the studiedly uneasy Dr. Narrator, who explains, "I'm nonfiction, but I'm not real." Calculated self-consciousness is clearly the order of the day.
Performers repeatedly break character to thank one another using their real names. And the daunting scope of their undertaking is winkingly acknowledged by complex scrawled cultural genealogy charts and a climactic four-and-a-half-minute summary of the entire 20th century.
This may sound precious, and some of it is. But there are many moments that pulse with verve and ingenuity, in which resonantly simple solutions are found for presenting the seemingly unstageable.
The intersection of different time periods, for example, registers neatly in a Sex Pistols television interview in which Johnny Rotten's fellow band members are in the costumes of his historical ancestors, all of whom we have met earlier: John of Leyden (Ean Sheehy), the 16th-century heretic; Guy Debord (James Urbaniak), the French Situationist leader of the mid-20th century; and the Dadaist psychiatrist Richard Huelsenbeck (T. Ryder Smith).
The play wisely avoids trying to recreate the Sex Pistols in performance, and the only punk music we hear is in shards of recorded sound. We do get to see Mr. Liebrecht's inspired, aggressively spastic version of Johnny Rotten doing Alice Cooper's "18."
And we are treated to an absolutely blissful interpretation of a high point in Dada lore: an evening at the Cabaret Voltaire in 1916 when Tristan Tzara (Mr. Sheehy), Hugo Ball (Mr. Urbaniak) and Huelsenbeck perform in a counterpoint of nonsense sounds and movements. Of course what actually happened was probably nothing like that, but the scene has a real visceral charge of liberating anarchy that makes it the evening's cornerstone.
The ensemble, which mixes New York actors with original members, aspires to the rarefied dissociative style of the Wooster Group, apparently a significant influence on the company. It doesn't quite achieve that, although Ms. Lesley comes close in the early part of the show. And Mr. Smith's renderings of speeches by Huelsenbeck, in which words slowly shed their meanings, are pitch-perfect.
Mr. Greenspan, a favorite of downtown audiences, brings his trademark archness and a slipping, soon discarded British accent to the role of Mr. McLaren, which underscores the idea of the entrepreneur as a capitalist Mephistopheles. This is too easy a characterization, an example of how the stage version of "Lipstick Traces" can't avoid boiling down and oversimplifying the shifting arguments of the book.
Nonetheless, for a production that has more words per minute than "The Invention of Love," "Lipstick Traces" is remarkable for seldom coming across as a talking abridged book. The technical team of Heather Carson (lights), Darron L. West (sound) and Jim Larkin (sets) milks shivery subliminal effects from minimal resources.
The evening's single most potent moment involves no words at all. It comes after a calm, contemptuous monologue from Johnny Rotten that interprets the past, like all the other individual analyses offered here, in highly suspect ways.
Mr. Liebrecht's Johnny drops the microphone on the floor, where it rolls gently in a narrowing spotlight. It seems to be waiting for the next disaffected voice that wants to be amplified. If Ms. Lesley's eeks suggest Mr. Marcus's passionate engagement with his subject, that lingering microphone captures his respect for the mystery behind the art that so fascinates him. 5-11-01
Village Voice, Jessica Winter – Seventeen Liar Bodies. Devout popular-music scholar and anything-goes sociologist, Greil Marcus only connects—and when that fails, only projects. For him, one throwaway couplet in a radio hit can hopelessly tangle the threads of rock genealogy; one squall of feedback can summon ancestral specters from far-flung mediums, cultures, and vernaculars. The idea of pop song as secret sharer glints off the titles of his books: Mystery Train; Invisible Republic; and perhaps his quintessential work, Lipstick Traces, in which the Sex Pistols' brief, riotous holiday in the sun marks the starting line for stream-of-consciousness yo-yo anthropology. Johnny Rotten, et al., become collaborative players in Marcus's totalizing, mutable history play; the Rude Mechs company literalize the conceit with a fast and furious staging of Lipstick Traces, a hilarious, unexpectedly haunted compression of the cult tome.
In this case, acting about rock criticism doesn't amount to dancing about architecture. Hosted by nervous hipster Dr. Narrator (Lana Lesley) and smug fop Malcolm McLaren (David Greenspan), Lipstick Traces isn't plotless so much as simply omnidirectional. Chronology dissolves; prophecies happen in reverse. McLaren, the latter-day Situationist, rubs shoulders with real-deal Guy Debord (James Urbaniak). German heretic John of Leyden (Ean Sheehy)—who decided that he was king of the New Jerusalem, Münster, four centuries before John Lydon (Jason Liebrecht) proclaimed himself the Antichrist—sits alongside his coincidental namesake during the infamous Bill Grundy interview. A cacophonous, gloriously deranged Cabaret Voltaire performance (with Urbaniak as Hugo Ball, Sheehy as Tristan Tzara, and the extraordinary T. Ryder Smith as Richard Huelsenbeck) establishes a precedent for Rotten's storied Pistols audition, where he stalks, barks, gargles, and peacocks his way through a song he barely knows (Alice Cooper's "I'm Eighteen"). But somehow, the Dada trio, directed for maximum Keystone Kop kinesis by Shawn Sides, seems retroactively influenced by the Ministry of Silly Walks. (Marcus dedicated Lipstick Traces in part to Monty Python.)
The comedy, like the proscenium, often fades to black; the play defies time, and yet it's clouded over by a sense of impending doom. Matching the macabre photograph of Rotten that takes up a page of the book, the actors are harshly illuminated from below, shadows hollowing their eyes to sockets. They often break character or switch roles; when they exit the stage, Dr. Narrator not only thanks them but addresses them by their real names. The rueful Brechtian maneuvering (admittedly strained at times) negates Pete Townshend's encomium, "When you listen to the Sex Pistols . . . what immediately strikes you is that "this is actually happening"—and so does putting Townshend's words in the mouth of their flamboyantly cynical manager. (McLaren/Greenspan poses his cigarette at such an ostentatiously awkward angle that it's a distancing gesture in itself.) When some mute bloke dressed as Dada Death first arrives, he's just another cheeky freak blowing raspberries at the Silver Jubilee. The longer he sticks around, though, the more he takes on the menacing air of a silent inquisitor. No future for you.
The Sex Pistols, at least as far as McLaren was concerned, were an eight-legged readymade. He claimed it didn't matter who you got to be in your band, so long as they hated each other and they couldn't play. Julien Temple took this posture to its logical extreme in his pseudo-documentary The Great Rock 'n' Roll Swindle, where a parade of Johnnys-on-the-spot grab the mic in place of the departed lead singer. All the same, Liebrecht faces a tough task as the inimitable destroyer of passersby, but he nails Rotten's wet-cat vulnerability and smirking rage. And if Rotten/Liebrecht's larynx-scraping redefines sound poetry, then Smith seems to channel it (this is actually happening) with his Huelsenbeck interpretation: a tour de force of howling gibberish that articulates a panic and despair beyond speech, a noise alternately subhuman and supernatural.
If you listen closely, you can hear that same noise on Never Mind the Bollocks. When Rotten auditions in Lipstick Traces, Dr. Narrator leaps up to analyze the performance: "The desire this voice embodies is patent and simple! It begins with the demand to live not as an object but as a subject of history!" The absurdist juxtaposition wittily points up pop music as the raw material for the listener's own invisible republic of personal obsessions and reference points—a liberating form of autobiography. Toward the evening's end, Dr. Narrator barrels through what she calls "the 20th century in four minutes and 30 seconds." As the actors throw off flash cards like Dylan in Don't Look Back, she auction-calls a hundred years, fitting her mom's birth in with World War II and linking her split with her first boyfriend to the breakup of the Dadaists after Zurich. As much as Lipstick Traces is the thrilling, bottomless story of how a Situation became a band (and vice versa), it's also the story of how a fan becomes a disciple. Plus it name-checks Hüsker Dü's "Never Talking to You Again" and the Lettrists International in nearly the same breath. A little no and a big Yes. 5-16-01
CurtainUp, Les  Gutman – Mr. McLaren's views on history notwithstanding, rock critic  Greil Marcus, on whose cult opus this Texas-originated  stage adaptation is based, found a way to make history  intriguing. It is in fact an odd but interesting  coincidence that serves as the thread that connects the two  bookends of his thesis.
He goes back to the 16th Century to discover the roots of the  punk rock movement of the 1970's. There he uncovers a  Dutch heretic, John of Leyden (Ean Sheehy), who in 1534  headed a group of Anabaptists in Munster, Germany. Leyden disavowed the Protestant work ethic, and found  redemption in the negation of society's sense of order.  Jumping forward to the Dadaists of the second decade of the  20th Century, and then on to the Lettrists and Situationists  of the 1950's and 60's (among other intermediate  stops), Marcus arrives at his destination in the 1970's:  " the Dickensian figure with the green teeth," punk  rocker Johnny Rotten (Jason Liebrecht) of the Sex Pistols.  Given name: John Lydon.
Like most all of the efforts to realize a book on stage, fans  of this one will no doubt feel cheated. ("Ever get the  feeling you've been cheated?" asked Rotten as he  walked out on the Pistol's last concert.) But there is  much to commend in this effort, and some of its pieces are  potently memorable.
In order to tie the loose ends of those pieces together, the  production introduces not one but two narrators. The first,  called Dr. Narrator (Lana Lesley), serves as both host and  interlocutor. The other, Malcolm McLaren (David Greenspan),  the shopkeeper turned putative punk rock impresario, is more  of a commentator. Essential as they are, neither is  especially effective.
Lesley's character is intrusive, often misappropriating  the audience's prerogatives — usually just for comic  effect — and subverting the material in the process. The  most egregious display occurs when she kibitzes with Guy  Debord (James Urbaniak) as he shows his Lettrist film  "masterpiece" — a "situation" with the  death of cinema as its goal, asking him repeatedly how he can  expect the audience to sit through a film in which no images  are projected on the screen. Elsewhere, she is given her own shtick to perform, most notably an impressive but unwarranted  4.5 minute condensation of the 20th Century, delivered at  machine-gun pace. Finely and engagingly performed, but …
The show is at  its best when it finds a means to dramatize the critical events on  which Marcus focuses: a free-form contortion of a "dance,"  performed by Dadaists Tristan Tzara (Sheehy), Hugo Ball (Urbaniak) and Richard Huelsenbeck (T. Ryder Smith)  at Cabaret Voltaire; the Sex Pistols' famous 1976 "fuck"  interview, hosted on television by Bill  Grundy (Greenspan); Rotten's mind-boggling audition for McLaren,  at which he sang Alice Cooper's "18"; and a  surprisingly sedate — as erudite as it  is rude — monologue, in which Rotten invokes Oscar  Wilde and allows that his greatest influence was  Olivier's portrayal of Richard III.
Lipstick Traces (the play) would have been  immeasurably more successful had it fleshed out more of these  moments, and spent less time on its many tangents. One might  wish that its two narrators had been exploited to flesh out  more of the flavor of the Marcus book instead.
Two members of  this cast, Lesley and Liebrecht, reprise their roles in the  original Texas production. It was a wise choice. Lesley has a  sureness in her difficult role (I may not have liked the hand  she was dealt but I can certainly appreciate the way she  played it) that suggests a long-term engagement with the  character; similarly, Liebrecht inhabits Rotten as if he knew  him — most brilliantly in the aforementioned audition. The  remainder of the cast is comprised of New York regulars.  Each, and most notably Urbaniak as the keenly droll Debord,  brings plenty to the table.
If nothing else, this production might spur renewed interest in Greil Marcus's book, still available in paperback even though it'll be hard to speed-read its 500-odd pages in the brisk 75 minutes the play is on stage.
nytheatre.com, Ken Urban – Lipstick Traces by Greil Marcus is  an amazing book of cultural criticism, and the Rude Mech's adaptation of  Marcus's messy and marvelous analysis is a wonder to behold. It is  intelligent, fun and wonderfully staged, making it a must-see for lovers  of punk and the historical avant-garde alike.  Director Shawn Sides and writer Kirk Lynn hone in on the central concern  of the unwieldy tome. Punk's penchant for negation, Marcus discerns, has  far-reaching roots: the cabarets of the Dadaists during the '10s and  '20s, the spectacles of Guy Debord during the Paris riots of '68, and perhaps even as far back as the ramblings of an aptly named 16th-century  heretic John of Leyden who saw work as "unnatural." But rather  than stage the argument, Sides and Lynn make it live by turning the book  into a burlesque of events, all held together by a manic narrator clad  in leather pants. It is a theatrical treat to see a staging of a Dadaist  evening complete with a performance of a Hugo Ball sound poem. And the recreation of a Debord film, where a majority of the film is taken up by  nothing more than a black screen, is amazingly funny.  The cast does a stellar job, with enough  piss and vinegar to pull the whole thing off, and there are some  fabulous dead-on impersonations to boot. David Greenspan does a great  David Greenspan-as-Malcolm McLauren, the Sex Pistol's  "pervert" of a manager. And James Urbaniak gives his Debord  the right amount of French ironic earnestness. T. Ryder Smith is  suitably creepy and compelling as Dada headmaster Richard Huelsenbeck.  Jason Liebrecht, to his credit, has the hardest job: the near-impossible  feat of playing Johnny Rotten. But Liebrecht pulls off Rotten's audition  for the Sex Pistols with great aplomb. Alice Cooper was never this scary  when he sang "I'm Eighteen."  There is so much to admire about this  production, and much of the credit needs to go to Sides's flawless  direction: tight and economical, yet far-reaching in scope. The script  itself, however, could use some further thought, as it repeats some of  the problems found in Marcus's argument. Where the hell did any  discussion of class go? The Dadaists and Debord were hardly the working  class kids that made up the British punk scene, and such a distinction  is important to recognize. And in a book dominated by men, it seems a  strange choice to add a sole female character, Dr. Narrator, only to  make her a hysterical sexpot in tight pants, Ph.D. or no Ph.D.  But such thoughts are, in the final  analysis, only a testament to this smart and fun show. Your ears ring  and your mind is spinning when you leave the Ohio Theatre. The Rude  Mechs take a near-impossible book to adapt and transform it into a  theatrical spectacle of the highest-order.
Offoffoff.com, Caraid O'Brien– Tex Pistols. A dramatization of the cult classic by Greil Marcus, the script chronicles the rise of punk music and its influences throughout the centuries, which include the Christian reactionary John of Leydon in the 16th century, the Dadaists of 1916 and the French Lettrist and Situationist movements of the 1950s.
Directed by Shawn Sides of the Rude Mechs for New York's Obie-award-winning Foundry Theatre, the 75-minute show moves with lightning speed throughout the centuries. John of Leydon = Johnny Rotten aka Johnny Lydon — get it? Kirk Lynn's author-sanctioned (and praised) dramatization of the book is clever — it works.
You won't take your eyes off James Urbaniak, in a fetching bowl haircut, as he leads the cast through the famous Dada performance at the Cafe Voltaire. David Greenspan is superflash as the shiny-suited Malcolm McLaren, the self-proclaimed motor behind the Sex Pistols. Jason Leibrecht as Johnny Rotten (did you know he was half Irish?) will make the bellies of even mild punk fans flutter (oh, his tattered clothes!). In fact, the entire cast goes fabulously rockstar when acting out the naughty Sex Pistols interview on British television.
Less interesting are the scenes regarding the French Lettrists and Situationists who manufactured events and operated under the slogan "Don't Work," although the history-lesson aspect of this section is informative. The piece is framed, explained and annotated by Dr. Narrator, a generic, earnest, American doctoral candidate played by Lana Lesley. This role is not as defined or compelling as the historical portraits and lends an annoying stridency to an otherwise fascinating and entertaining evening. 5-24-01
Newsday, Gordon Cox – 'Lipstick Traces' is about Johnny Rotten and the aftershocks of the Sex Pistols, the punk band Rotten fronted. It's about the 1968 uprisings in Paris, and the small group of intellectuals who influenced those riots. It's about Dada, and it's about a 16th century heretic named John of Leyden. It's also about 75 minutes long.
The show, which opened last night at the Ohio Theater in SoHo, is as fast and loud and anarchic as a Sex Pistols song. With unpredictable, lightning-bolt energy, "Lipstick Traces" gallops wildly into a decidedly academic investigation – "the genealogy of an impulse" that rekindles and resurfaces throughout history. It seems as if this disquisition couldn't possibly be very funny, very energizing or very cohesive, but it's all these things thanks to the speed, skill and unpretentious intellect of director Shawn Sides and her collaborators in this unruly assault of an adaptation.
A staggeringly unlikely inspiration for a theater event, the 1989 cult book "Lipstick Traces," by rock critic Greil Marcus, is a hefty tome that examines the confrontational destabilization that characterized punk, and follows the urge's antecedents back through the ages. The production takes its echoing, haphazard structure from the web of interconnections that Marcus maps out with delirious erudition over the course of his treatise's nearly 500 fervent pages.
The scholarly nature of the endeavor is embodied in the character Dr. Narrator, an easily flustered PhD filled with anxiety about historical accuracy and played with a cracked veneer of probity by Lana Lesley. The irrepressible, mischievous side of the project comes to life in Malcolm McLaren (David Greenspan, cigarette held aloft and voice dripping with amused self-satisfaction), the real-life shopkeeper who created and marketed the Sex Pistols.
These two serve as our tour guides through the varied terrain of "Traces." We witness a screening of a 1952 film by the cultural theorist Guy Debord (a hilariously deadpan James Urbaniak). We hear an invented speech by the Dadaist, poet and medical student Richard Huelsenbeck (T. Ryder Smith, whose furtive smile and hushed tones make us think he's revealing secrets of the utmost importance). Oh, and of course we meet Johnny Rotten (Jason Liebrecht), who gives us a glimpse of his bull-in-a-china-shop version of being a rock star.
In the show's neatest distillation of Marcus' text, the performers enact a 1976 TV interview that shocked Britain when Rotten audibly cursed, but here the actors playing the other Sex Pistols remain dressed as the historical philosophers they've portrayed throughout the show. It's as if all these radical thinkers have come together with an ultimate aim that's nothing more-and nothing less-than swearing on live television. That's the argument of the book summed up in one succinct stage picture, and that's the profane impulse traced by "Lipstick Traces" with such raucous glee. 5.11.2001