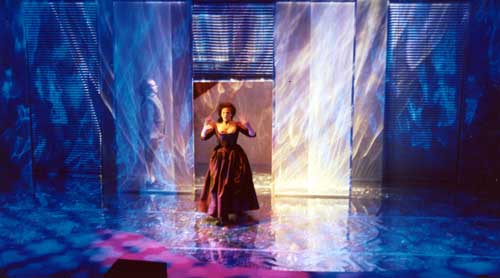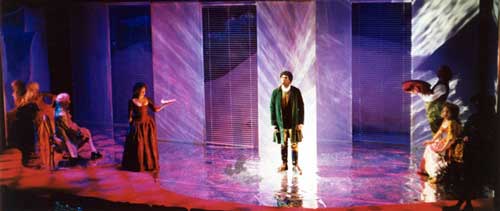 Excerpts from the reviews
Full reviews appear below
"Director Jacobs stylizes the life out of the tale . . . campy and arch . . . overall rigid, shrill, posturing . . . Particularly excrutiating and overblown are . . . and T. Ryder Smith as the Count . . . A ghastly production . . . Two of the three acts were enough for me." Donald Lyons, The New York Post
"Utterly bland . . . Goldoni would want to put his head through a wall. . . . Horridly unfunny . . .  the subscriber beside me had herself an awfully good two-and-a-half-hour nap." Stephen Nunns, The Village Voice
"Original and fun . . . a lucid new translation . . . Director Jacobs has managed a remarkable feat . . . Robin Leslie Brown plays Mirandolina with Mediterranean flair . . . T. Ryder Smith . . . gives a drolly over-the-top performance . . . " Elyse Sommer, CurtainUp
Publicity
Full reviews
Village Voice, Stephen Nunns – (Nuyorican Stories: Culture Clash in the City, Intar 53; Mirandolina, The Pearl Theatre Company) – Tales from the Lower East Side. "There's a French bistro on Avenue B," says Richard Montoya in the guise of Nuyorican elder statesman Miguel Algarín. "Fucking French bistro! The food is out of this world." In Culture Clash's Nuyorican Stories: Culture Clash in the City, the 15-year-old Latino comedy troupe continues its foray into Anna Deavere Smith–style reportorial theater, delving into the soul of a city and its culture. This time around they're taking on the Lower East Side's Puerto Rican contingent, and while there are glimpses of ironic insight— like Algarín's culinary criticism— the piece offers little of the careful social analysis Culture Clash is known for. That's not to say that this fiercely frenetic piece doesn't show off the guys' incredible performance chops. Each actor (Montoya, Herbert Siguenza, and Ric Salinas) plays a myriad of characters and their talents as physical comedians may be unparalleled. However, unlike the group's previous, more edgy material, Nuyorican Stories is both a love letter (mostly to Montoya's father, the poet José Montoya) and a eulogy (mostly for Nuyorican playwright Miguel Piñero). In their celebration of the community, the troupe focuses on the past: there's a long archival film segment on the Puerto Rican nationalists who wounded five members of Congress as they fired from a spectators' gallery in 1954, and more than half the piece deals with the year 1974 ("Before AIDS, before condoms, before Dominicans," as one character puts it), a date touted as a turning point for both Nuyorican art— it marked the premiere of Piñero's landmark drama Short Eyes— and the Puerto Rican independence movement. As a result, there's a curiously sincere (for these guys, anyway) and almost melancholic tone to the production, which suggests, inadvertently, I suspect, that the most significant moments for Puerto Rican culture have passed. That's a pretty bizarre proposition, especially considering recent events involving the FALN, a senator-maybe-to-be, and her husband (there is one reference to the recent prisoner release, but it's a relatively fleeting one). Also, because Nuyorican Stories focuses on a single group, it leaves Siguenza, Montoya, and Salinas stranded both as cultural critics and performers. There are some dead-on portrayals— Montoya in particular creates some very complex characterizations, especially his portrayal of Algarín and a single mother who frets about her 16-year-old son's future— and nobody can beat Salinas's graceful physicality, but the group is unable, or unwilling, to dig deeply into the underside of the Puerto Rican culture. With this myopic approach, Culture Clash can't live up to their name in quite the same way they did with their dizzyingly wonderful and nasty 1996 piece, Radio Mambo: Culture Clash Invades Miami. In that show, Cubans, Haitians, African Americans, Jews, and air-headed whites were simultaneously skewered and thrown together to create a multiculti stew that presented a vivid portrait of a city in upheaval. Nuyorican Stories, the result of a year-long residency at INTAR, was originally supposed to be called Radio Manhattan, and it's hard not to wish that the troupe had been up for taking a far more sweeping view of the city during their stay. Because, for all its talk about mofungo and other savory Puerto Rican dishes, Nuyorican Stories's flavor is curiously flat. But at least there's a little spice, unlike the Pearl Theatre's utterly bland production of Carlo Goldoni's 1751 play Mirandolina (La locandiera). While it's true that Goldoni's modus operandi was to try and enliven the then moribund commedia dell'arte form with three-dimensional characters, if the playwright saw the kind of Beth Henley–ish naturalistic acting that Robin Leslie Brown indulges in the title role, it would make him want to put his Venetian head through a wall. It's not totally Brown's fault— most of the blame lies with director Lou Jacob, who seems more interested in throwing in the occasional Robert Wilson– esque slo-mo movement or goofy Esquivel-style incidental music than helping his actors find a consistent tone for their performances. The only saving grace is Bernard K. Addison as the woman-hating Colonel Ripafratta. As he slowly finds himself falling for Brown's conniving landlady, Addison stalks the stage, tosses furniture around, and venomously spits orders at his put-upon valet (Matthew Gray), managing to truly embody the playwright's description (via Michael Feingold's new translation) of this character as a "cartoon." But it's too little too late. By the third act, when Pearl company member John Wylie begins performing a horridly unfunny lazzi involving cleaning a spot on his ass— don't ask— the intrepid viewer is left wondering why New York City seems unable to have a single good company that specializes in the classics. But I suppose there's one silver lining: the subscriber beside me had herself an awfully good two-and-a-half-hour nap.
Time Out NY, Robert Simonson – Carlo Goldoni, the 18th-century Italian dramatist, is not often revived in America except by companies like the Pearl—which exist to make sure that audiences don't forget the past masters of the theater, but which don't exactly deliver productions that convince them why they should be remembered. Mirandolina (originally titled La Locandiera, or The Landlady) is one of Goldoni's best-known works, a comedy about a Florentine boardinghouse landlady named, you guessed it, Mirandolina (Robin Leslie Brown). She is a woman of beauty, spirit, sense and devices, a charmer whom every man under her roof falls in love with, including a penniless, doddering old marquis (John Wylie) and a young, boorish, spendthrift count (T. Ryder Smith). She does not encourage these lovers, though she doesn't exactly mind the attention and most certainly uses it to her benefit. But when a proud professed woman-hater, Colonel  Ripafratta (Bernard K. Addison), comes to the door and treats her with scorn, Mirandolina decides to teach him a lesson and conquer him for sport. There is, as you can imagine, much romantic intrigue and comings and goings of suitors. All this takes place on Klara Zieglerova's magical yet economical set, composed of a silvery, reflective floor backed by a wall of tall white scrims and floor-to-ceiling venetian blinds, the latter continually opening and closing to reveal various characters and scenes. Zieglerova's creativity is both a blessing and a curse: a blessing because the set (combined with Brian Nash's adroit lighting) is the best thing in Mirandolina; a curse because it gives the show an elegant, shimmering vitality that the flesh-and-blood action onstage simply cannot match. Director Lou Jacobs's best work by far is when he takes full advantage of the set, sending actors this way and that, and blinds wildly flipping. Take Ms. Z.'s trappings away, and you're left with a rather dull, flat-footed production. The actors handle Jacobs's occasionally intricate choreography nimbly, but unfortunately mold their characters with rougher hands. A shade better than his merely adequate colleagues is Wylie, who, though playing the stereotypical pantaloon to the hilt, gives a well-oiled and jolly performance. But in the final tally, only the scenic design is as good as Goldoni.
NYTheatre, Martin Denton – The first thing you'll probably notice about the Pearl Theatre Company's stylish season opener Mirandolina (The Mistress of the Inn) is Klara Zieglerova's elegantly minimalist set. A vision of metal and glass, it's a wall of mirrored doors framing an eclectic array of vaguely rococo antique furniture that flies in from the wings as needed. Behind it, an enormous mural depicting a nude woman gradually comes into focus, a striking painting that looks, to this untrained eye, like a cross between Rubens and Picasso, traversing the entire length of the Pearl's rear wall. In, out, and all around the doors dash the cast members, costumed grandly by Ilona Somogyi in period dress (mid 1700s, Italy), the men in rich shades of green, the women in warmer golds and oranges, and the title character in deep, bright red. We're not used to such eye-filling extravagance at the Pearl; and the style of the piece is clearly different from the reliably naturalistic productions that this company is known for. There's an overture, for example, consisting of the characters racing around the set like so many Keystone Kops at a game of musical chairs, tracing the arc of the farce that's about to unfold. It's funny but already we can feel the sense of detachment: a very '90ish sort of irony underlies this Mirandolina. It's Italian renaissance comedy, but it almost feels Brechtian. Mirandolina, written by Carlo Goldoni in the mid-18th century and newly translated here by Michael Feingold, tells the story of the proprietress of a provinicial Italian inn and how she tricks a shrewd and hard-hearted colonel into falling in love with her. She does this while juggling the overwrought overtures of two other would-be suitors: the Marquis of Forlipopoli, an aging fop possessed of a grand title and a grander self-image but little else; and the Count of Albafiorota, a vain young upstart who has bought his title and, with seemingly endless supplies of cash, seems bent on acquiring everything else. Also vying for Mirandolina's affections is her faithful servant, the plain but honest Fabrizio. When the bombastic Colonel Ripafratta proclaims his invulnerability to the charms of all women, Mirandolina leaps into action. He turns out to be fairly easy prey for this clever but devious woman, but complications ensue that threaten to get our heroine into trouble before she can complete her mission of turning the colonel into a cuckold. All ends happily, however, with the Colonel smartly put in his place, the Marquis and Count intact but alone, and Mirandolina, perhaps just a shade wiser than when she started, resolved to marry Fabrizio. As things are pretty much the same at the end as they were at the beginning, the fun here is in the journey. Director Lou Jacob and his excellent company do not disappoint: Mirandolina is all glittery delight, a charming and entertaining diversion brimming with quips and tricks that charm the eye and ear. Robin Leslie Brown is a deliciously wry, clever Mirandolina, and she's well matched by her four suitors, each played to the hilt in outsized turns by Bernard K. Addison (the Colonel), T. Ryder Smith (the Count), John Wylie (the Marquis) and Dan Daily (Fabrizio). Matthew Gray has a memorable cameo as the Colonel's servant, himself as lovesick over his hostess as the other men. Helen Mutch and Carol Schwartz do well as two traveling actresses who happen into the inn at a slightly inconvenient time. It is, as I've said, a good deal of fun. Yet I couldn't help feeling a notch or two removed from the proceedings: chic and brittle and blazingly theatrical, Mirandolina amuses and impresses but it never quite wins us over.
CurtainUp, Elyse Sommer – Last year the Pearl Theatre Company successfully breathed new life into the musty old thriller Angel Street. The Pearl's 1999-2000 season gets under way by resuscitating an even older play — Carlo Goldoni's eighteenth century comedy Mirandolina about one woman's way of dealing with four suitors representing various male attitudes towards her sex. With the help of a very lucid new translation by Michael Feingold and some of the Pearl's best actors and designers, director Lou Jacob has managed a remarkable feat. He has given the production the look and feel it must have had when it premiered in 1753. The characters are handsomely and accurately costumed and bewigged in the style of the period, yet the staging is ultra-contemporary. Klara Zieglerova's stunningly original expressionistic set is dominated by scrim panels interspersed with venetian blinds which lighting designer Brian Nason bathes in soft mauves. This see-through backdrop provides the requisite doors for many entrances and exits for the players in this satire. It also frequently frames the off-stage actors in riveting human tableaus to accompany the stage front action. It all makes for a production that is original and fun to watch, without the sort of drastic updating of acting and costume styles typical of reworkings, notably of Shakespeare. Mr. Jacob has directed the actors to move through the bare, expressionistic set with much shameless and, for the most part, apt, playing to the audience via constant confidential asides. The bell commonly used to summon servants cleverly invokes the sense of another round in a boxing match, albeit a verbal one. There are many other such touches to keep this from playing like either a creaky old chestnut or a modernization that submerges the original play. At the heart of the story is the feisty Mirandolina, played with Mediterranean flair by Robin Leslie Brown (though, as the program notes indicate, her roots are in Scotland). The death of Mirandolina's father left her the sole proprietor of a successful boarding house. Her prosperity, earthiness, unpredictability and independent spirit, have every man she meets wanting her as his exclusive hostess. Each thinks he has something to offer her, but whether that something will meet her need to be "stirred, cherished, adored" (as well as retaining the freedom to be true to herself) is another matter and the arc around which the plot revolves. The chief competitors for Mirandolina's affections are the Marquis of Forlipopoli and the Count of Albafiorota (John Wylie as the former and T. Ryder Smith as the latter both giving drolly over the top performances). The first trades on his aristocratic background to compensate for his lost youth and wealth, the second tries to buy her love with gifts (as he's apparently also bought his title). A third boarder, Colonel Ripafratta (Bernard K. Addison) is an avowed woman-hater and thus would seem to be no suitor at all. A letter from someone offering to find him a wife has him declaring ". . .a wife! I'd sooner they found me malaria!" He disdains the love smitten Marquis and Count as "cartoons of lovers."  Not surprisingly, the Colonel's misogynist attitude is a challenge to Mirandolina. She's an eighteenth century woman, not a twentieth century feminist, so she's not above a bit of game playing to win the tricky game of subterfuge between the sexes, and between the aristocracy and the increasingly more competent working class she represents. And so, as she has put off the Marquise and the Count's advances, she is determined to add the Colonel to her string of admirers. "If he's not in love with me by tomorrow may my nose fall off." Unlike Molière who inspired Goldoni to replace conventional commedia dell'arte with its masked harlequins with character comedies about ordinary people, Goldoni was not soured on women but saw them as a miraculous force, the very heart of Italy. Mirandolina is very much a heroine. She may be a bit of a schemer, but her creator viewed her with affection (her very name translates into "The Little Miracle" — which is the reason it was translator Feingold's choice as a title instead of the alternatively used The Mistress of the Inn and La Locandiera. Of course, we all know that Mirandolina's nose is in no danger of falling off. Not only the Colonel but his valet (Matthew Gray) fall under her spell — the latter sending the audience in an uproar when he states "men would do tricks like a puppy for a woman like her" as he puckers up his face as if he were a canine. Addison's Colonel, does not tap as deeply as it should into the nuances of a man changing from hating all women to madly loving one. As if there weren't enough Mirandolina-mad men, there's also her servant Fabrizio (Dan Daily — the deliciously funny policeman in Angel Street again endearing enough to be part of these romantic antics). Without title or money, but deeply devoted, he is like Mirandolina a pragmatist who knows that "sometimes you have to keep one eye shut while some things slip by. Also on board is Daily's Angel Street co-star Carol Schultz who plays one of two actresses (Helen Mutch playing the other). The two actresses are handsome and colorful to look at and do add some fun to the proceedings. However, they also drag matters out to two-and-a-half hours. When the legendary Eleanora Duse starred in the play, these ladies were eliminated altogether — short of similar character assassination, I think the able and inventive director, might have found some way to cut a half an hour and possibly one of those intermissions to keep restlessness with some of the play's repetitiveness at bay. Despite the last quibble, most members of the audience stayed the course until all the loose ends were tied up. The isolated few who defected at the second intermission because the outcome was as I heard one woman say "so inevitable" missed a bit of a surprise. Mirandolina is after all an unpredictable, changeable character and her choice is not all that inevitable!
New York Post, Donald Lyons – Pearl Breaks String. Goldoni's 1753 comedy "Mirandolina," now at the Pearl Theater, tells of an efficient, clever woman outwitting some specimens of male foolishness. Mirandolina runs a boarding house in Florence – indeed, this play is often called "The Mistress of the Inn" in English – at which are staying three representatives of the blustery gender. There is a stingy, vain old marquis who trusts in the glory of his title to seduce his hostess; there is a rich, vulgar count who is relying on his gold to turn the trick; and there is a fierce, fee-fi-fo-fum colonel who hates women and doesn't want to bed his hostess. The first two are mere buffoons and fops, but the virile military man is a challenge for Mirandolina – a challenge she meets by pretending to agree with his misogynistic views until he is won over by this seeming exception to the weaknesses of her sex. Before the happy ending, Mirandolina exacts a public penance from the variously silly males. It's a story marked by classic simplicity and symmetry, as well as by the revolutionary energy and resourcefulness of its heroine. Disdaining the formulas of commedia dell'arte, Goldoni revels in richness of character. Unfortunately, the Pearl staging, directed by Lou Jacob, stylizes the life out of the tale. The set, by Klara Zieglerova, resembles a playfully postmodern hotel with shiny floors, walls trisected by great blocks of Venetian blinds and reflections from a pool dancing on the wells. When not involved in the action, characters stay on stage visibly frozen behind the blinds. The playing is, with a few exceptions, exaggeratedly campy and arch. Result: no laughs from the audience, since the production has done all our laughing for us. Particularly excruciating and overblown are John Wylie as the marquis, T. Ryder Smith as the count, and Helen Munch and Carol Schultz as two traveling actresses on hand to pick up the hostess' leftovers. Robin Leslie Brown as the innkeeper and Bernard K. Addison as the woman-scorning colonel manage to escape (from time to time) the overall rigid, shrill posturing and get some sexual dynamics going.They're a sort of reverse Petruchio and Kate in this "Taming of a Boor." Michael Feingold's translation is sprightly and sayable, although occasionally indulging in awful puns like the one involving "ladyship" and "mail boat." Two of three acts were enough for me. Let's hope this ghastly production is a momentary aberration for the Pearl, which generally and laudably lets the classics speak simply and without chic adornment for themselves.