The Winter's Tale by William Shakespeare
Directed by Eve Adamson
Jean Cocteau Rep, NYC
April – May, 1988
Stage Manager: Matt Quinn, Heidi Reich
Scenic Design: Robert Joel Schwartz
Lighting Design: Craig Smith
Costume Design: David Kay Mickelson
Music by Joseph Blunt
With: Alice Bergman (Paulina); Harris Berlinsky (Shepherd); Craig Cook (Polixenes); Jeanne Demers (Perdita); Ariel Heitler (Mamillius); Robert Ireardi (Antigonus); Joseph Menino (Clown); Christopher Oden (Florizel); Coral S. Potter (Camillo); Mark Schulte (Autolycus); Craig Smith (Leontes); T. Ryder Smith (Dion/Ensemble); Kelly Salvadore (Cleomenes/Ensemble); Elise Stone (Hermione).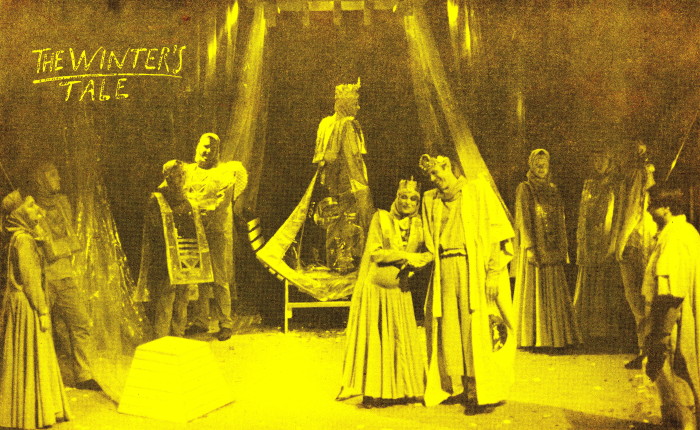 *
Conversation with a Cupboard Man by Val Hendrickson
From the story by Ian McEwan
Directed by Val Hendrickson
TWEED Theatre Festival
Ohio Theatre, NYC
May, 1988
Stage Manager: Melissa Marloth
Scenic Design: Paul Cook
Lighting Design: Richard Schaefer
Sound Design: Paul Taylor Robertson
With: Philip Ashby (Social Worker); Bronwyn Ryan (Girl); T. Ryder Smith (Cupboard Man)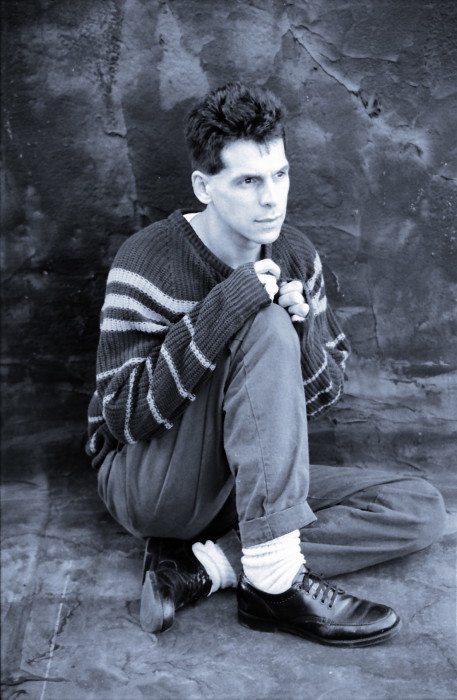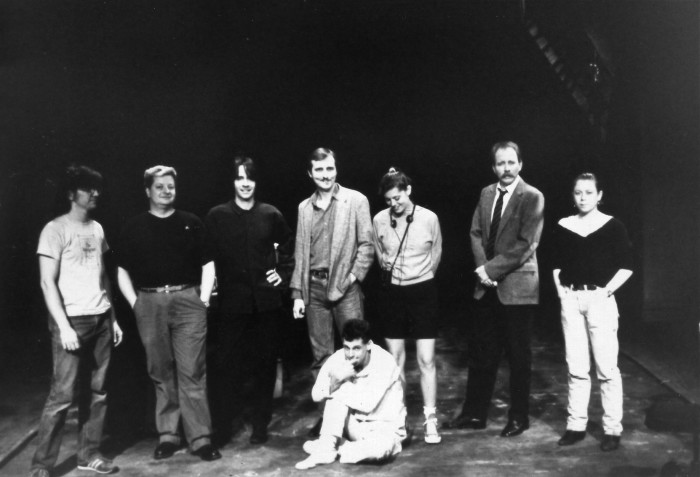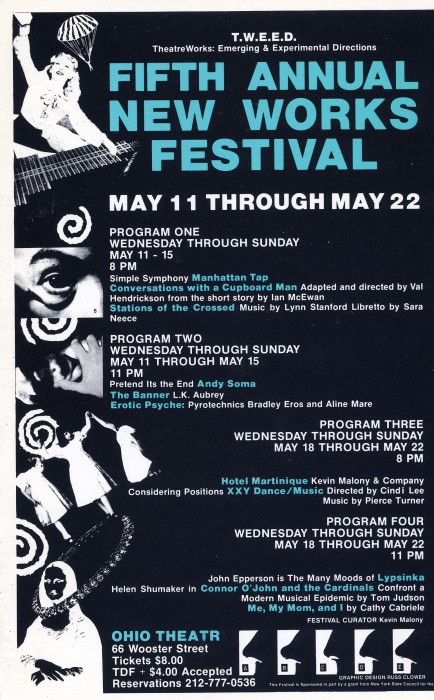 *
Wild Oats by James McClure
Directed by Joe Brancato
Penguin Repertory Theatre
Stony Point, NY
August – September, 1987
Stage Manager: Kathi Guy
Scenic Design: Alex Polner
Lighting Design: Dennis Moyes
Costume Design: Maryann D. Smith
With: Riley Austin (Ephraim/Kiegle/Liberty); John Aaron Beall (Sim/Leko/Angel Eyes); Kurt Goldschmidt (Colonel Croftus); Norman Howard (Crow/Morales); Eden-Lee Jellinek (Kate); William Perley (Muz/Ike); Eileen Shea (Daughter/Jane); T. Ryder Smith (Harry Thunder/Sheriff/Wilson/Bear); Judy Stadt (Bartender/Amelia); Jake Turner (Jack Rover)
*
Rosencrantz and Guildenstern Are Dead by Tom Stoppard
Directed by Joel Bishoff
Columbia University, Oscar Hammestein II Center for Theatre Studies, Horace Mann Theatre, NYC
February – March, 1986
Stage Manager: Ann Eakland
Scenic Design: Mary Louise Geiger
Lighting Design: Mary Louise Geiger
Costume Design: Claire Walworth
Music by John W. Lowell
With: Hank Azaria (Hamlet); John Aaron Beall (Tragedian); David Warren Burke, Jr. (Tragedian); Patricia Cleary (Gertrude); Royce Dunbar (Tragedian); Dan Jacoby (Alfred); Mary Kane (Ophelia); Timothy Lea (Horatio); Byron Loyd (Polonius); Phil Rosenthal (Rosencrantz); T. Ryder Smith (The Player); Michael Stacy (Claudius); Alan Walworth (Guildenstern); Rob Weiner (Ambassador)
Above, left, l to r: Aaron Beall, Roycae Dunbar, Alan Walworth (front), David Warren Burke, Dan Jacoby, T. Ryder Smith, Phil Rosenthal. Right, front: Phil Rosenthal, Alan Walworth; back: T. Ryder Smith, Hank Azaria.
*
The Enchanted by Jean Giradoux (adapted by Maurice Valency)
Directed by Val Hendrickson
Floating Repertory Company
Palisades Nature Consevatory and the Nyack Methodist Church, Nyack, NY
September, 1985
Lighting Design: Keith Hutchings
Costume Design: Margaret Shyer Benson
Music by John Newcott
With: Gary Benson (The Mayor); Heather Ann Brennan (Gilberte); Natasha Erin Copson (Daisy); Yara Bergad (Denise); Sheridan Crist (The Ghost); Marissa Brooks (Viola); Shelley Delaney (Lemide); Christopher Doane (Executioner); Kathy Ford (Isabel); Rosey Giameos (Irene) ; Robert Greene (Street Singer); Darel Haney (Executioner); Leile Kuenzle (Armande); Ken McLaughlin (The Mayor); Mary Faith O'Hara (Antoinette); Paul Taylor Robertson (The Inspector); T. Ryder Smith (The Supervisor)
Note: This was a fascinating production, put together by an inspired director, Val Hendrickson. The event began with an audience of 30 spectators boarding a private bus in NYC in the late afternoon and being driven to an isolated turn-off some 20 miles outside the city. They were met there by a group of 12-year-old girls, dressed in 1920's French school uniforms, who led them into the adjoining woods. After a long walk deep into the tall trees, the characters of Anouilh's play – which was set in a small wood in 1920's France – started to appear, up ahead, in clearings, or high up along the hills. The first two acts of the play took place with the audience following the characters ever deeper in the forest, witnessing their various encounters; eventually they walked up a vast staircase of rough stones to a cliff above the Hudson River to watch a scene set against the sunset sky, and then back down into the twilit woods to see the climatic scene of Act 2, the appearance of a ghost, the area lit only by a single spotlight. The audience was then led out of the woods by the schoolgirls carrying flashlights, put back on the bus, and driven to a small town 10 miles away, and into the upstairs area of a church, where they watched Act 3, which took place in the bedroom of a small house at the edge of the wood. The bus then drove the audience back to NYC.
I am sorry that few photos of the production exist. The shot above was taken at the curtain call, and shows myself, Kathy Ford and Sheridan Crist.
This production was a remarkable experience.
*
Endgame by Samuel Beckett
Directed by Val Hendrickson
Floating Repertory Company
Nyack Cultural Center, Nyack, NY
November, 1977
With: Richard Berner (Nell); Val Hendrickson (Hamm); Sandy Rosoff (Nagg); T. Ryder Smith (Clove)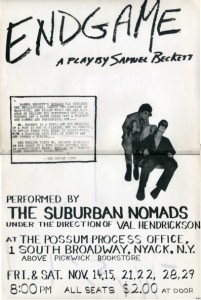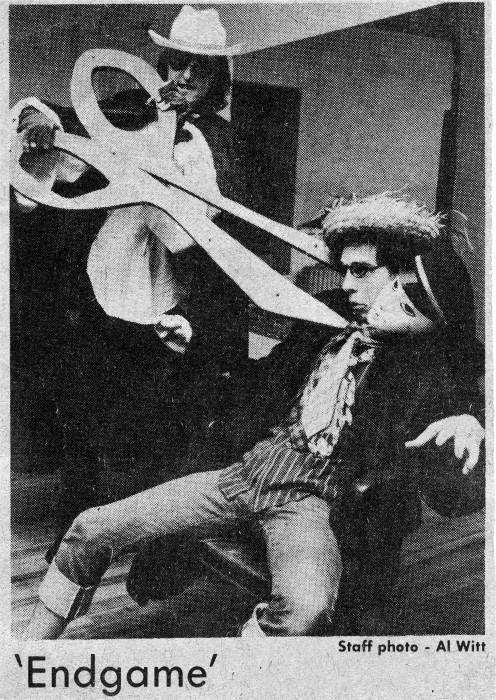 The photo above was a practical joke on the newspaper. Val Hendrickson and I grabbed a random collection of props and costumes, and staged a scene which had nothing to do with the show, to see if the newspaper would run it. They did.