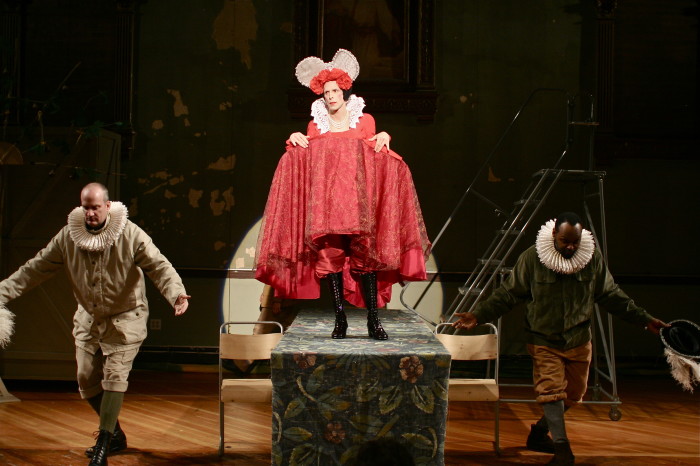 Photos by Carol Rosegg, Sara Krulwich and Antonia Ford-Roberts.
Excerpts from the reviews
Full reviews are below
"An epic-length but light-spirited romp through several centuries of religious pageantry, individual morality and global politics. . . . Ambitious and frisky if sometimes unruly . . . A more ideal auditorium, and a more genially funky production, is hard to imagine. . . . Smith proves an impish impersonator as the three historical figures who stroll through the story – delightful . . ." Charles Isherwood, The New York Times
"A seriously comedic, sprawling triptych that examines aspects of lust, envy, religion, abuse of power and the acting profession during three important historical eras. . . . An intrepid cast navigates the three centuries with outstanding performances, ably switching between realism and surrealistic dreamscapes. . . . T. Ryder Smith is unforgettable as figures of repression: an alarming Hitler, a balmy Reagan and, scariest of all, as a falsely pleasant Queen Elizabeth I." Jennifer Farrar, The Associated Press
"Ruhl's unwieldy three-and-a-half hour contraption never takes flight. Instead, it comes across as a thematic laundry list parceled out in episodic scenes, with expressionistic garnish and thin characters. . . . The hard-working cast of 11 juggles multiple roles in a spare and at times disarmingly earnest production, but the standout moments are when actor T. Ryder Smith takes the stage as the rather creepy world leaders: Good Queen Bess, Der Fuhrer and the Gipper. Personally, I'd be happy with 90 minutes of monologues from these three charismatic performers who had the world for their stage." David Cote, NY1
"By the end of the show I felt like had been clobbered over the head with obvious symbolism and not-so-subtle politics. . . . I think when you get used to the aesthetics of downtown it is very hard to go back to the overly-emotional and demonstrative style of Acting that defines so much of mainstream theater in the regional vein.  . . . Passion Play is good regional theater and there is an audience for that. If you expect much more, though, you'll be disappointed." Andy Horwitz, Culturebot
"Stirringly ambitious . . . a stylistic yet shrewdly intimate meeting of the boldly theatrical with the textually suggestive. Ruhl's works always allow designers and technicians to run imaginatively wild, and this no exception, though the minimalist touches are just as exciting as the bolder strokes (human-sized fish puppets, elaborate lighting effects, smoke machines). But the whole evening would just be fancy pageantry if not embodied by such a first-rate cast, with Fumusa a believably masculine force of nature and Appleman's soulful, specific Jesus figures deserving special mention. But anytime Smith turns up in his three iconic roles is when the already-excellent acting reaches nirvana here; he's one of those supremely gifted pros who manages to hold an audience in thrall inside a single speech, and the representations are never caricatured or overstated, which would have been so tempting to do here by a lesser actor." Jason Clark, Slant magazine
Rehearsals and Offstage
Above: the room at the Irondale church; tablework; staging scenes; Hale on the cross, from above; Dominic Fumusa works at fish-gutting; Brendan Averett builds a beak for his Act 2 bird character, made from material he found in nearby Fort Greene Park; it worked; Josh Yocum was ingenious with props – and good with guns; halos arrive from Yale (where else?); Jesus studies his part; we set the fire alarm off with stage smoke in rehearsal; Jesus with firefighters; trying on Elizabeth's gown and boots; a curious meeting backstage: Queen Elizabeth and Jesus Christ; cast on break; Hale Appleman, Nigel DiFriez and Arianna Funk outside the church; the church; Kate Turnbull, opening night; T. Ryder opening night; T. Ryder, Nicole Weisner, and Hale Appleman, opening night; cast, opening night.
Publicity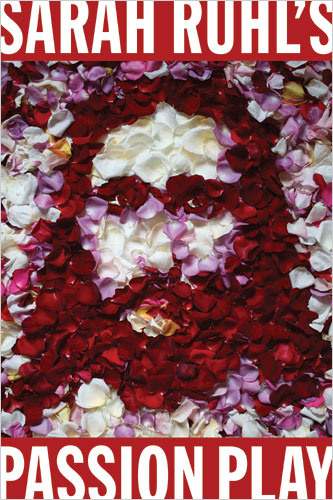 Full reviews
The New York Times, Charles Isherwood – Some roles can really get under an actor's skin. Playing Hamlet would surely put you in an existential mood. Macbeth could bring out a guy's paranoid streak, even without that fabled curse said to attend productions. But playing the son of God has got to be the trickiest assignment of all. Hanging up there on the cross every night — twice on matinee days! — could give a guy a serious persecution complex, no?
The travails of performing in the ancient Christian drama of the title are a recurring theme in Sarajh Ruhl's "Passion Play," an epic-length but light-spirited romp through several centuries of religious pageantry, individual morality and global politics. Ms. Ruhl, whose latest work, "In the Next Room, or the vibrator play," is nominated for a best play Tony Award this year, has been one of the brightest new talents to emerge in the theater in the last half-decade or so. Her unmistakable voice — poetic and quirky, underpinned with serious feeling and even more serious intelligence — trumpets forth in brash, impressive form in this ambitious and frisky if sometimes unruly (sorry) play, which was mostly written before Ms. Ruhl's breakthrough comedy, "The Clean House."
Although it has been produced at some of the country's major regional theaters — the Arena Stage in Washington (where I saw it in 2005), the Goodman Theater in Chicago and the Yale Repertory Theatre in New Haven — the New York premiere of "Passion Play" comes courtesy of the small Epic Theater Ensemble, a Brooklyn troupe, at the Irondale Center, formerly a Sunday school inside the Lafayette Avenue Presbyterian Church in Fort Greene. Given that Ms. Ruhl's plays have been presented in New York under the auspices of major institutions like Lincoln Center Theatre and Playwrights Horizons, that might seem surprising. But a more ideal auditorium, and a more genially funky production, is hard to imagine.
Watching Ms. Ruhl's playful triptych about the intersection of belief and make-believe in a slightly down-at-the-heels, formerly ecclesiastical setting is sweetly apposite. You sit on reasonably comfy folding chairs in a large gymnasium-style room, and the play is staged on and around a ramshackle pile of wooden prop and costume boxes. (The pseudoshoestring set designs, by Allen Moyer and Warren Karp, are witty and charming.)
The improvisational air dovetails neatly with Ms. Ruhl's expansive play, which follows three sets of amateur performers in three different eras as they grapple with the unsettling ways in which the story of Jesus' death and resurrection becomes a living presence in their own lives. And under the sympathetic direction of the ensemble expert Mark Wing-Davey, who previously staged the work at both the Goodman and Yale Rep, this youthful play blooms with fragrant grace in the hands of a bright, engaging cast.
A few familiar names are aboard, like T. Ryder Smith, proving an impish impersonator as the three historical figures who stroll through the story, and the excellent Dominic Fumusa (of Showtime's "Nurse Jackie"), who gives a standout performance of brooding intensity, particularly in the last section of the play, as a Vietnam War veteran struggling with post-traumatic stress disorder. Keith Reddin, the noted playwright and actor, plays a director in all three parts. ("We have to tech the Ascension," he huffs with exasperation when a rehearsal descends into chaos.)
The three Passion plays under examination take place in disparate milieus, although Ms. Ruhl's language freely mixes period syntax with contemporary slang and her own timeless lyricism. The simple costumes (by Gabriel Berry and Antonia Ford-Roberts) are a jumbled mixture of now and then. The first section is set in an English village in 1575, during one of Queen Elizabeth's attempts to stamp out Roman Catholicism; the second at Oberammergau in Germany in 1934, three centuries after the first performance of the Passion play there, as National Socialism is on the rise; the third in Spearfish, S.D., beginning in 1969 and continuing to the present day, with a detour through the Reagan '80s.
All three sections are, fundamentally, backstage soap operas accented with comedy and a little bit of mysticism, as biblical imagery bleeds from the stage into life and vice versa. For the actors who play key roles in the pageant in all three time periods — Jesus (Hale Appleman), Pontius Pilate (Mr. Fumusa), the Virgin Mary (Kate Turnbull) and Mary Magdalene (Nicole Wiesner) — impersonating these symbols of human suffering and purity and sin is an honor and a burden. And maybe something of an aphrodisiac.
In old England the Virgin Mary finds herself peculiarly bewitched by the slender, sinuous form of Mr. Appleman's John the fisherman as he languishes on the cross in his role in the pageant. "Oh! His loincloth's slipping!" she cries out with obvious relish. "It's sinful to covet your own son, Mary," replies the other Mary. The grouchy response: "I didn't ask to play his mother."
But John seems to take his role more seriously, and the Virgin Mother ends up turning to his cousin, Mr. Fumusa's hungry-eyed fish gutter, for consolation. The unfortunate results have the unmarried Mary claiming another miracle has taken place, to much village suspicion. Enter Queen Elizabeth, played with chilly imperiousness by Mr. Smith (looking strikingly like Diana Vreeland, but never mind), who puts an end to the play, which she sees as inculcating Catholic subversion.
Mr. Smith returns as a black-booted Hitler in the second part, in which the rise of anti-Semitism has wrought unsubtle changes in the Passion play's emphasis on the role of the Jews in Jesus' persecution. But Ms. Ruhl also suggests that even in more anodyne presentations of the story the possibility of inciting bigotry exists. A visiting Englishman asks the actress, whose father played Jesus for many years, what it was like to see him in the role. "I wanted with all my heart to run onstage and fight the Jews," she recalls. "I could not understand why all the people watching did nothing."
Those words will, of course, resonate in a different, more ominous way as the encroaching rise of Nazism takes over the small town, culminating in the cornering of the town's lone Jew, a girl named Violet who is ridiculed as the village idiot. (Polly Noonan is touchingly authentic in this potentially cloying role in all three parts.) Ms. Ruhl takes a sharp, satiric jab at the intellectual evasions of bigoted belief when the poor girl, facing the worst, reminds her persecutor — formerly the kindly actor who portrayed Jesus in the pageant — that Jesus was a Jew. The answer: "Kind of. But not really."
At about three and a half hours, performed with two intermissions, "Passion Play" is a bit sprawling, occasionally spending too much time on unprofitable tangents, like the rambling mystic-girlish musings of Ms. Noonan's characters. Ms. Ruhl's complicated layering of imagery from the Bible — snakes and fishes and intimations of apocalypse — is colorful but mostly fancy window dressing. And delightful though Mr. Smith is as Elizabeth and Hitler and a rosy-cheeked, smarmy Ronald Reagan, exuding platitudes, these historical walk-ons are more flashy jokes than substantial additions to the narrative. (Although I love the aphorism spoken by Mr. Fumusa's Vietnam vet: "In a democracy, likability is tantamount to tyranny!")
It is not always easy to extrapolate much larger meaning from Ms. Ruhl's pixilated pageant mixing the biblical and the theatrical, but the production culminates in a powerful third act dominated by Mr. Fumusa's wounding performance as a Vietnam War veteran who tries desperately to keep his life together after returning home as a scarred man. Taking up the role of Pontius Pilate again, he makes trouble by insisting on rewriting the dialogue to emphasize the man's role as an agent of the state.
In the final part that exasperated director, annoyed at the clashing egos and agendas that have brought things to a halt, puts it plainly. "If we can't get along in a theater when the world is falling apart, then how can you expect anyone to get along in this world?" he complains. "There's a war on. Why don't you do it again. And think about that." – 5.13.10
The Associated Press,  Jennifer Farrar – Lust, envy, religion examined in Sarah Ruhl play. There is emotion and symbolism aplenty in "Sarah Ruhl's Passion Play," a seriously comedic, sprawling triptych that examines aspects of lust, envy, religion, abuse of power and the acting profession during three important historical eras.
It's definitely worth seeing the Epic Theatre Ensemble's New York premiere of Ruhl's ambitious play, currently performing at the Irondale Center in Brooklyn.
Ruhl focuses on the actors who performed their town's annual Passion plays, important religious productions of scenes from the life of Jesus. An intrepid cast navigates separate, tumultuous times: Elizabethan England, when Catholic priests were hunted down and killed; Hitler's rising repressive influence in pre-World War II Germany; and Ronald Reagan's 1980s in Spearfish, S.D.
Mark Wing-Davey's direction skillfully encompasses both serious and lighthearted moments that infuse Ruhl's narratives about families and human relationships, integrated with larger political overtones and biblical references.
An intrepid cast navigates the three centuries with outstanding performances, ably switching between realism and surrealistic dreamscapes.
Dominic Fumusa, in the Pontius Pilate roles, is especially intense and compelling, first as a jealous, lovelorn fisherman in the 16th century, and later as a troubled Vietnam War veteran in South Dakota. Hale Appleman radiates charm as the actor fortunate enough to play Christ, giving affecting portrayals of each actor as a man of his time. Kate Turnbull is ethereally lovely as the actress playing Mary, coping in all centuries with complicated relationships.
The ensemble cast artfully handles all roles, along with some large props that create often facetious Passion play tableaus. Nicole Wiesner and Keith Reddin give affecting nuances to each of their characters, Reddin as a harried director and Wiesner as a sanguine Mary Magdalene. Daniel Pearce provides historical relevance as an endangered medieval priest and as a naive Englishman visiting 1934 Bavaria.
Polly Noonan has an uncanny ability to simultaneously project childlike thinking and wisdom, both as a whimsical village idiot and as a young child. And T. Ryder Smith is unforgettable as figures of repression: an alarming Hitler, a balmy Reagan and, scariest of all, as a falsely pleasant Queen Elizabeth I.
Detailed costumes enrich each period, while a deceptively simple set design enables a myriad of quick scene changes. Memorable imagery includes a magical bevy of large, translucent fish, beautifully employed in elegiac parades.
Total running time is close to three and a half hours, but "Sarah Ruhl's Passion Play" is a rich experience that all lovers of theatre should rush to see before the limited run ends May 30. 5.13.10
NY1/TimeOut New York, David Cote – "Passion Play" is a new site-specific work that takes on the final days of Christ. Sarah Ruhl began "Passion Play" while still in college, and it shows the mark of an excited student bursting with ideas. The ambitious three-act epic spans four centuries, three countries and explores themes of power, theatricality and religious faith. Like an over-caffeinated all-nighter pulled by a promising student, it earns an "A" for effort.
Set in Elizabethan England, Nazi Germany and Reagan-era South Dakota, Passion Play's common thread consists of historic religious pageants in which untrained villagers acted out stories from the Bible, most importantly the crucifixion of Christ. This actual folk tradition has its roots in medieval Europe and continues today. Ruhl dramatizes three such passion plays and shows how the actors' roles become inseparable from their personal and moral conflicts, the implication being that social identity is partly about acting a part.
To push her point further, Ruhl introduces three authority figures at crucial points in each setting, to underscore the notion that authority is also, as theoreticians would say, "performative." So there are plenty of big ideas and opportunities for director Mark Wing-Davey to construct evocative stage pictures, but Ruhl's unwieldy three-and-a-half hour contraption never takes flight. Instead, it comes across as a thematic laundry list parceled out in episodic scenes, with expressionistic garnish and thin characters.
The hard-working cast of 11 juggles multiple roles in a spare and at times disarmingly earnest production, but the standout moments are when actor T. Ryder Smith takes the stage as the rather creepy world leaders: Good Queen Bess, Der Fuhrer and the Gipper.
Personally, I'd be happy with 90 minutes of monologues from these three charismatic performers who had the world for their stage.
The producers of "Passion Play" want to open up a dialogue with their community about faith and ritual. But any priest or Pope well knows: you have to entertain before you can slip your congregation the good word. – 5.14.10
Culturebot, Andy Horwitz – Saturday night took us to see Sarah Ruhl's Passion Play presented by The Epic Theatre Ensemble at the Irondale Center. The show got a rave in the NY Times, and we had several friends who were similarly enthusiastic, so while I wasn't sure what to expect, I went in with very high hopes. So I was more than a little disappointed to find out that Passion Play is, in fact, just a serviceable work of regional theater with good intentions and high aspirations. I mean, it wasn't that the show was bad – it wasn't – but it felt perfunctory.
By now you don't need me to tell you that the show is actually three separate but intertwined plays examining communities presenting Passion Plays. The first is set in England in 1575, the second in Oberammergau, Germany in 1934 and the final one is set in Spearfish, South Dakota in 1969. Each play has some kind of melodramatic plot which is then used as a platform for exploring the "bigger" issues. And it tackles all the big ones – war, love, religious persecution, unjust conflations of war and religion, prejudice, etc. Ruhl sets out to explore pretty much every "important" issue under the sun and everything is represented in this sprawling three-tiered narrative. By the end of the show I felt like had been clobbered over the head with obvious symbolism and not-so-subtle politics.
I don't think it really needed to be as big and sprawling as it was. It's not epic like Angels in America – it doesn't really wrestle with Big Ideas in the same way or with the same rigor. And its not epic like Mnouchkine's work, which unfolds with the density and complexity of a Russian novel.
Passion Play is actually three slight plays bound together loosely, not one coherent, multilayered, textured tapestry. But I am not going to write at length about it because ultimately it is an issue of taste and I know that for a lot of audiencesPassion Play is a moving and notable experience. But I much preferred Ruhl's In The Next Room which struck me as having a lighter touch with great impact.
As to taste…..Earlier in the week I had the opportunity to sit in on a rehearsal of ERS' version of The Sun Also Rises which will play at Edinburgh this year. It, too, takes on big issues and is highly literate. But with ERS the work is much more subtle and understated as is the acting style.
I think when you get used to the aesthetics of downtown it is very hard to go back to the overly-emotional and demonstrative style of Acting that defines so much of mainstream theater in the regional vein. It just feels phoney and obvious. From Young Jean Lee to ERS to the Wooster Group and more, I've grown accustomed to a more laconic and distanced style, one in which less emphasis is placed on Method-style acting and more on blatant performativity. It is increasingly difficult for me to suspend disbelief when I watch actors parade around yelling and shouting and getting all intense.
But I digress. The point is that Passion Play is good regional theater and there is an audience for that. If you expect much more, though, you'll be disappointed. It has extended through June 5 so there will be time to see it before it closes. 5.16.10
NY Press, Mark Peikert – Sarah Ruhl almost exceeds her own ambitions with her epic new work. Trilogies are almost impossible to pull off. Most playwrights simply give up after two (Tony Kushner, Lillian Hellman), but even when all three are done, the results are rarely consistent: The Godfather films, anyone? Playwright Sarah Ruhl deserves credit for actually writing the final third of her Passion Play, but the outcome is so comparatively poor to what came before, that having a full trilogy seems negligible. Far better to have stopped at two; the lack of a finale hasn't hurt Angels in America, after all.
Still, for more than half of the nearly four-hour running time of Passion Play, Ruhl and director Mark Wing-Davey are marvelously inventive. Taking three vastly different communities, all of which have a long history of producing a yearly Passion play (the productions that have portrayed the life and death of Jesus Christ since the year 925), Ruhl turns her usual meta-theatrical gaze onto the power—and danger—of theater.
The first act is set in Elizabethean England, as a village defies Queen Elizabeth's ban on Passion plays and commences with its rehearsals, even as the actors begin to fall apart under the strain. The second is set in 1934 in the Bavaraian town Oberammergau, whose Passion play was so renowned that Adolf Hitler himself attended. The fi nal act is set in South Dakota over the course of several decades, a device that robs the act of the power of the previous two.
Until that third act, however, Ruhl's play is as smart, playful and serious about the idea of theater as we've come to expect from her. Juggling the concept of how communities and governments use religion as a ways to further their own means, Passion Play is both an endearing comedy about the power of community theater and a deadly serious look at the dangers of ardent religious belief. The actress playing Mary in 1575 (Kate Turnbull in one of her three juicy roles) commits suicide when she finds herself unwed and pregnant; there's an unleashed fury when the village idiot (Polly Noonan, who gives the kind of stunning performance throughout that billboards were made to advertise) tricks the befuddled actor playing Jesus into repeating after her that Jesus was a Jew in 1934 Germany.
Still, there is that pesky third act, leaving audiences with a sour taste in their mouths. Trying to pick up the threads of her two previous acts a decade after writing them (the final third was commissioned by D.C.'s Arena Stage, which may be partly to blame), Ruhl goes overboard, crafting a windy story about a Vietnam vet returning to Spearfish, S.D., where his family is embroiled in a Lifetime TV movie and he begins to lose his mind as he takes up his old role of Pontius Pilate. As in the previous two acts, a world leader arrives on the scene, but T. Ryder Smith, so exquisite as Queen Elizabeth and Hitler, seems at a loss as Ronald Reagan. Partly it's because Ruhl is clearly having too much fun at Reagan's expense, peppering his dialogue with plenty of "Wow, can you believe people bought into that?" quotations; partly it's because Reagan just pales in comparison to Elizabeth and Hitler.
But the third act also simply loses the momentum of the previous two. Coming on the heels of a memorably chilling second-act curtain, there's no way the denizens of Spearfish can compete for our attention the way proto-Nazis did. And Ruhl shoehorns in too many references to the previous plays, hitting us over the head with them when they should be subtler. In no way are the performers to blame, all of whom prove themselves adaptable, imaginative and idiosyncratic—and all of whom are clearly having a ball. Ruhl herself has ended her play with a whimper, proving yet again that she's a strong starter, but weak at the finish. 5-18-10
NY Dailey News, Joe Dziemianowicz – Sarah Ruhl's epic 'Passion Play' gets passionate about life and death of Jesus Christ. Conventional advice discourages discussing politics and religion. Sarah Ruhl deals nonstop with both hot topics in her ambitious but uneven triptych,  "Passion Play, " running at the Irondale Center in the historic Lafayette Avenue Presbyterian Church in Fort Greene, Brooklyn.
The sprawling trilogy, performed by the Epic Theatre Ensemble, spans 400 years and nearly four hours. It follows three theater troupes performing the life and death of Jesus Christ – in 1575 England, 1934 Bavaria, and Vietnam-era, Reagan-era and present-day America.
Each story line focuses on characters playing Jesus (Hale Appleman), Mary (Kate Turnbull) and Pontius Pilate (an outstanding Dominic Fumusa) and how their various personal dramas reflect the era's political and religious tensions. That includes Queen Elizabeth's clampdown on Catholicism, Hitler's anti-Semitism and U.S. wartime hysteria.
Ruhl, who's up for a Tony for "In the Next Room, or the vibrator play," fills  "Passion Play " with her typical mix of poetry, humor and bite. It doesn't pack the cumulative punch you'd want after such a long ride, that's because the final chapter, written years after the first two and expressly anti-war in its theme, doesn't fit squarely with the former two. And at times the symbolism becomes heavy-handed, as in the middle chapter when a Village Idiot (Polly Noonan) obsesses about Hansel and Gretel in the witch's oven.
Beyond the impressive ensemble – including a multitasking T. Ryder Smith, who's spot-on as Queen Elizabeth, Der Fuhrer and a grinning Ronald Reagan – the most compelling reason to recommend  "Passion Play " is the production itself, with its stirring and sometimes inscrutable imagery. Doves fly, enormous fish swim and boats float, which, weirdly, recalls the Nina, Pinta and Santa Maria.
Director Mark Wing-Davey uses low-tech stage craft and scenery to wondrous effect, enhanced by being set in a church<NO>the church setting. It's not a religious experience, but it's still thought-provoking, and at times sit-up-and-lean-in-closer lovely. 5.16.10
Time Out New York, Helen Shaw – Sarah Ruhl erects a sprawling cathedral to religious pageantry. Theologian Dietrich Bonhoeffer once wrote, "The God who is with us is the God who forsakes us." Absence, in other words, is the Big Guy's greatest gift. Christian scholars have been wrestling over that one ever since, but in the superb, subtly withholding Passion Play, it seems like playwright Sarah Ruhl, at least, has gotten the message. Ruhl's storytelling takes a leap forward as her tripartite pageant—we see the Passion performed by Elizabethans, pre–World War II Germans and modern-day South Dakotans—trumps her tendency for hyperlyricism. Yes, it's almost four hours of theatrical in-jokes ("I've got to tech the Ascension!"), painted tyrants, small-town betrayals and a village idiot with (of course!) the direct line to heaven. But in this gentle production, Ruhl's voice seems to retreat beyond the sphere of the play, performing that special vanishment that good writers—and good gods—know best how to do.
In a peeling, setless hall, Hale Appleman and Dominic Fumusa orbit each other like a demented binary system. Whatever the era, Appleman plays Christ; Fumusa's characters struggle with Pontius Pilate. As cousins or lovers or brothers, one must betray the other, often over Kate Turnbull's hungrily sexual Mary. But these little dramas also give way to the longer arcs of history. Mark Wing-Davey's masterful direction limits spectacle to some puppetry and the showstopping T. Ryder Smith, thus drawing our attention to the effortless interdependence of the whole. The creators' delicacy will make you think of those medieval "authorless" cathedrals that seemed to have no single maker, gigantic undertakings that provided an entire community with an impossible challenge. And lo! Ruhl and Wing-Davey have risen to one indeed.
Village Voice, Alexis Soloski – Toward the end of Sarah Ruhl's Passion Play—a three-part, 220-minute marathon, produced, appropriately enough, by Epic Theatre Ensemble—a character remarks, "I don't know if this country needs more religion or less of it. Seems to me everyone needs a good night's sleep." Then, acknowledging the lateness of the hour, he turns to the audience and adds, "The more I talk, the less you sleep," and concludes his sermon.
Happily, Passion Play, directed by Mark Wing-Davey, rewards wakefulness. As anyone who has seen Ruhl's previous New York outings (The Clean House, Eurydice, In the Next Room, et al.) will testify, she's a playwright of ambition, daring, and linguistic ability. These aspirations can sometimes lead her astray, and that playfulness easily shades into preciousness. But Passion Play, for all its scope, remains tightly focused, and twee bits are few.
Though they sound salacious, passion plays are theatrical performances that recount the suffering and death of Jesus Christ. (Not sexy at all, unless you have a very particular fetish.) Ruhl's script encompasses three of them: The first occurs in an English village in 1575, the second in Bavaria in 1934, the third in the Reagan-era Badlands. Unlike classic passion plays, Ruhl's skimps on the Greatest Story Ever Told, looking instead at what happens backstage. The audience catches some glimpses of the play proper— Hale Appleman, who plays Jesus and can really rock a loincloth, dangles often from the cross. But Ruhl's concerns are secular: How well-suited are we for the parts we play in life? How do personal desires and disinclinations fit and unfit us for our roles?
In each section, the actors perform the same parts onstage, but different ones off it. Appleman (always Jesus in the passion plays) and Dominic Fumusa (always Pontius Pilate) in their offstage roles first portray cousins, then lovers, then brothers. T. Ryder Smith plays, gloriously, the presiding politicos: Elzabeth 1, Hitler, Reagan. Ryder Smith aside, the acting Wing-Davey elicits is variable, as is his staging—intimate moments are affecting, attempts to depict the Holocaust and the Vietnam War embarrassing. And yet the totality of Epic's event, which includes two intermission breaks to partake of wine and bagels (well, Jesus was a Jew), transcends these shortcomings. As an angel prepares for flight, as giant fish glide across the stage, as a woman in a tollbooth sings a mournful song, quibbling ceases. If Passion Play does not provide a religious experience, it does offer a wonderfully theatrical one. 5-18-10
The L Magazine, Benjamin Sutton – The First Great American Play of the 21st Century? To say that Sarah Ruhl's Passion Play contains, within its historical triptych, elements of every type of play ever written, would be both a bit of an exaggeration and do immense disservice to the striking originality of her work. Particularly in its New York premiere by Brooklyn's Epic Theatre Ensemble at the Irondale Center (through June 5 after a recent extension), her allusions to, interpolations of and cribbed borrowings from tragic courtships, war stories, Pinter-esque domestic dramas, romantic farces, backstage comedies, Dickensian ensemble narratives and, of course, the Passion Play, coalesce exquisitely into a very funny, affecting and often surreally beautiful show.
Over its three and a half hours (with two intermissions) Passion Play focuses on three productions of the life, death and resurrection of Jesus: a clandestine staging in Elizabethan England (where it was, in theory, banned), another in Nazi Germany, and finally mid-80s South Dakota. The meta-theatric subject of community productions of a religious play in small towns seems all the more appropriate given the performance space, a wing of the Lafayette Avenue Presbyterian Church with no stage and very simple seating. Seeing Passion Play feels a lot like going to a community theater's Passion Play. The show's carefully crafted amateur look works to its advantage because it is in fact so completely professional and flawless in every respect. From the excellent ensemble cast, who generally play similar characters in each act, to the spectacular set (by Allen Moyer) assembled from an apparently endless number of big wooden boxes on wheels that serve as walls, closets, solitary confinement cells, landscapes and streets, everything moves like clockwork. Wheeled around by an army of stagehands, the modular set props might have been cumbersome or distracting, but as they form various Tetris-like configurations of blocks their multi-functionality echoes that of the text.
Despite its international, postmodern period-skipping, Ruhl's play (like all her others) uses one subject—here, religion—as a lens through which to analyze the various elements that make up American identity. In this case, those include sexuality, faith, morality, community, politics and theater. As she writes in her director's note: "There's nothing more American than the nexus of religion, politics and theater." Or, as John (Hale Appleman) says to a visiting friar in disguise in act one: "We have no public house of worship left. The stage is our house of worship." At 36, not ten years into her professional play-writing career, but already a two-time Pulitzer for Drama finalist, currently a Best Play Tony nominee for her Vibrator Play and one of the five most produced playwrights in the country, Ruhl has quickly become one of the American theater's most original and powerful voices. Though not her break-out work (that was her next one, 2004's The Clean House) it's certainly her most ambitious, an early masterwork in a career that seems to promise many more.
Throughout, the conflicts and themes from the Passion Play inside Passion Play find analogues in the lives of the townspeople. Charged with the double-edged task of playing a slightly pompous dreamer playing Jesus in each act, Appleman manifests a mix of pride, wariness and nervousness. (He's also sinfully attractive hanging from the cross in his loincloth, a running joke in the first segment.) Always taking over the coveted role from his unseen father, the young actor slouches under the symbolic weight of paternal legacy, a charge not unlike that borne by Christ himself. As his brother in the book-ending segments, lover in the middle chapter, and Pontius Pilate throughout, Dominic Fumusa gives a gently stylized performance as the darker, brooding companion, always tormented by the burden of a more sensitive, wounded conscience. As the third point in their love triangle, Kate Turnbull is spectacular, shifting registers more dramatically than her co-stars, whose temperaments remain more stable throughout. To isolate each excellent performance in the company might take longer than the play itself, but brilliantly caricatured performances by Polly Noonan—first as an oracular village idiot then as a precocious child—and T. Ryder Smith as the historical figure in each act (Queen Elizabeth in fabulous drag; Hitler a la Mel Brooks; and Ronald Reagan with a hint of Bush Jr., who was re-elected while Ruhl was writing) deserve special mention.
Wisely, director Mark Wing-Davey hangs his show on the universally excellent actors, and uses special effects and elaborate visual compositions sparingly, so that when these do occur their impact is all the more transportive. Wine and bread (well, bagels) during intermissions keep the audience in the play's enveloping drama even when it pauses. From a magical water effect at the end of act one and a Julie Taymor-ish school of giant fish that passes through repeatedly, to the thunderous rattling of a train as act two closes and the most creative deployments of the rolling boxes, Epic Theatre accentuates the magic of Ruhl's magical realism. Passion Play's pan-historical grandeur and perceptive, razor sharp contemporaneity invite so much list-making: of superb performances, of wondrous effects, of resonant themes, of perceptive observations, of hilarious moments, of tearful confrontations, of clever configurations of rolling boxes, etc. All of these, compiled and assembled, still wouldn't convey how essential Passion Play is to an understanding of American theater and, ultimately, America itself. 5.14.10
The New Yorker – Three small-town Passion plays put on by devoted amateur actors—one in 1595, when Queen Elizabeth was shutting down all Passion plays; one with Hitler's blessing in Oberammergau, Bavaria, in 1934; one in a small South Dakota town during the Vietnam War and then again, in 1984, when Reagan was in office—make up Sarah Ruhl's highly imaginative and well-written three-and-a-half-hour drama. At the center of each of the plays, the young man playing Pontius Pilate (the particularly talented Dominic Fumusa) has strong feelings of some kind for the young man playing Christ (Hale Appleman), who has strong feelings for the young woman playing the Virgin Mary (Kate Turnbull). The cumulative karma of all those centuries of devotion and triangulated passion explodes in the twentieth century, when nothing means anything to anyone. Ruhl's play—which tries to cram centuries of trouble into one evening—could be a confusing and overlong spectacle, but it's not. From the fabulous set design to the wonderful acting by eleven members of the Epic Theatre Ensemble, under the direction of Mark Wing-Davey, it's easy to forgive Ruhl for biting off more than you can chew, and just let her vision wash over you. May 2010
Bloomberg News, Jeremy Gerard – Late in "Sarah Ruhl's Passion Play," Jesus peers down from the cross and asks his director, "So how do you want me to play this scene?"
With walk-ons by Adolph Hitler and Ronald Reagan, and free wine and bagels at each of the two intermissions, the 3 1/2-hour show offers an unorthodox yet weirdly nourishing take on the rite of communion.
Ruhl, who recently focused her passion on vibrators in "In the Next Room," has written an engrossing triptych of plays that recalls Greek iconography and Hollywood sitcoms, as a motley mix of villagers from three centuries struggles to perform the Passion of Christ.
Part 1 is set in 16th-century England, when Queen Elizabeth is about to shut down all religious performances.
Part 2 is set in 1934 in the Bavarian town of Oberammergau, whose Passion Play has become the ne plus ultra of such performances, heavy on the malign characterizations of beady- eyed, blood-thirsty, horned Jews. It's a special day because that rising politician with the push-broom mustache is in the audience.
Part 3 is set in Spearfish, South Dakota, which has started up its own Passion Play to attract tourists. This section begins during the Vietnam War era, carries through to Reagan's "Morning in America" campaign and ends in the present.
As one might expect, the Passion onstage is little match for the passions off, as various Marys (both Jesus's mother and Magdalene) get impregnated by various Jesuses; a politically correct Pontius Pilate insists on removing Jews from the picture altogether, and village idiots spout universal truths.
Ruhl deftly explores the changing (or unchanging) role of women, the insidiousness of anti-Semitism and the power of story-telling. Only in the third part does the work derail, veering into anti-Republican, antiwar screed with a familiar, if no less heart-breaking, local hero who returns, shattered, from Vietnam.
Director Mark Wing-Davey gets committed performances from his time-traveling leads: Hale Appleman, the compassionate, buff Jesus; Kate Turnbull, the compelling, available Mary; and Dominic Fumusa, charismatic as the evolving Pontius.
The show is presented, aptly, at the Irondale Center, a cathedral space in a church in Fort Greene, Brooklyn, converted to use by various groups, in this case the Epic Theatre Ensemble. (It's near the Brooklyn Academy of Music and easy to get to from Manhattan.)
The ingenious sets by Allen Moyer and Warren Karp consist mostly of big lockers on wheels that move and open to suggest homes, churches, stages and other locations. The bridge-chair seating will test your patience, but there's an everything bagel and a cup of wine waiting for you at the next break. 5.13.10
Nytheatre.com, Martin Freeman – Full disclosure: I once wrote and performed a play in which I assumed the posture of a playwright who was intensely jealous of Sarah Ruhl's success.
Full disclosure #2: I could rightly be called a fan of director Mark Wing-Davey's portrayal of Zaphod Beeblebrox in the 1980s BBC version of The Hitchhiker's Guide To the Galaxy. If that colors my review, so be it.
Epic Theatre Ensemble's production of Sarah Ruhl's Passion Play is expertly staged. There are giant fish puppets, sailing ships on sticks; crates that transform into family homes, confessionals, trees. Director Mark Wing-Davey and his team of designers have fully integrated this existing production (which has already been staged at Yale and in Chicago) into the unique space of the Irondale Center at Lafayette Avenue Church in Fort Greene, Brooklyn. They put on what amounts to a special effects display for theatre geeks.
Wing-Davey is fully supported by a game cast of terrific actors, putting on their own impressive display. Standout performers like Hale Appleman and Dominic Fumusa, who variously play the Jesus and Pontius Pilate roles throughout the three parts of the play, both do brilliant work in particular. T. Ryder Smith hits home runs from low, slow pitches across the center, stealing the show in roles designed for exactly the purpose (Queen Elizabeth I, Hitler, and Ronald Reagan).
The play itself, though, is less successful. In three acts, Passion Play moves from 16th century England to 1940s Germany and then finally settles in 1960s/80s South Dakota. In each setting, a Passion Play (the story of Jesus's crucifixion, essentially) is being performed, amidst trying political times, occasionally foreboding theatrical images, and interpersonal dramas. Its three-and-a-half hours are packed with subject matter, held together by a studied structure that seems designed to amuse as opposed to illuminate.
Ruhl deftly weaves her various threads. Phrases and scenes reappear in ways that offer an almost Pavlovian reward for the audience member who pays attention. Enviable command of the form is on display everywhere: skillful doubling, smart juxtapositions of dialogue, creative imagery. I can happily say that throughout the length of the play, I never felt as it was dragging or boring me. There's always something going on, and that something is always fun to see.
The charms, though, are almost entirely on the surface. The subjects that Ruhl hits on are a history of 20th century theatrical cliches: Holocaust dramas, gay themes, Vietnam dramas. The second and third parts are especially weak on this point. The Nazi characters are from an almost comedic tradition; and the Vietnam vet in Part Three seems lifted wholesale from an Oliver Stone picture. Her use of the wise-fool character in the guise of the Village Idiot/Violent (played well by Polly Noonan) embraces only the most well-worn aspects of this archetype.
Passion Play occasionally tries to be about Theatre with a capital "T" and that works intermittently for a few one-liners, but it's never particularly profound on that point. Ruhl implies that the actors' lives are informed by the characters they are playing, but never makes that case convincingly.
There are also fanciful moments that never really add up. Why, for example, does the sky turn red throughout half of the action? I'm not entirely sure. The fish parade seemed supported by the text, and there's plenty of fishing imagery in the Bible (Jesus as a fisher of men; the loaves and fishes, etc.); but the actual Bread and Puppet-ish fish in the play aren't clearly defined symbols. Are they harbingers of something? Stand-ins for God? Or are they (which I rather suspect) an untethered imaginative notion, that's simply dropped in whenever a poetic image seems called for? This same feeling washed over me as I listened to monologues about controlling the wind, or moments where characters "catch the night air" in mason jars. Ruhl's writing is intuitive on these points, certainly, and there's an argument for leaving symbols like this open to interpretation, but I couldn't shake the feeling that there was less to them than met the eye or ear.
Above all, though, what's missing from Passion Play is a passion for the subject of religion. There's little interest in theology. Instead, the play is full of pat social commentary, a contemporary read on the politics (Ruhl's hindsight being just as 20/20 as anyone else's), and unrelated character stories. The script is preoccupied with how Jewish people were presented in the story historically; less so interested in the suffering and redemption inherent in the tale itself. Certainly, the treatment of the Jewish people in The Passion Play is a subject that's worthy of some interest: but there's far more in the story of Jesus's cruxification than that.
Furthermore, there's cursory attention paid to variations in religious interpretation. A Catholic read on The Passion Play would be entirely different from, let's say, the read of what are likely largely Lutheran South Dakotans. Christians aren't only separated by politics: they read the Bible differently. When a reporter in Part Two professes that the Oberammergau Passion Play nearly made him Catholic but that he's "still Anglican," you'd barely know how close Anglicans and Catholics are formally. An "Anglican" Passion Play might not look all that different from one that is Catholic, depending on the church and the region.
In the end, there's quite a bit to recommend about Sarah Ruhl's Passion Play. The performances are delicious, and the production itself is a pleasurably whirring contraption. Sarah Ruhl is heralded for good reason, as her play is as well-crafted as the production. Beneath it all, though, Passion Play doesn't dig deeply enough into its many and intriguing subjects. It's a beautiful, but empty, epic. 5.13.10
Travalanche blog, travSD – No two ways about it: Sarah Ruhl's Passion Play is a brilliant feat of playwriting, satisfying possibly all of my unreasonable demands for what a theatrework ought to be.  The work is a triptych of 3 separate plays, each set in a different historical period (Elizabethan England, Nazi Germany, Reagan's America), each concerning a company of amateur actors mounting a traditional Passion Play, and each containing a story that is in its own way a sort of Passion Play, a ritual of martyrdom. Formally, the work is dazzling, not only in Ruhl's handling of the complex structure I just described, but in the very fabric of the details – three dimensional human portraits, rich symbolism, intoxicating poetry, and a wide variety of highly disparate character voices. This is the work of a formal master. Passion Play or no, you sure wouldn't want to see a group of amateurs putting on this production.
Fortunately, the Epic Theatre Ensemble is more than up to the task. Director Mark Wing-Davey (who's directed the play twice before) milks the atmospherics of the former Sunday school space at Brooklyn's Lafayette Avenue Presbyterian Church for all it's worth, so much so that we're a little uncertain whether the portrait of Mary at the back of the room and the signs bearing Biblical quotes are just scenery or part of the hall's usual décor. There are moments of amazing medieval pageantry – solemn parades of fish, for example, a traditional Christian symbol. (The play manages to respect and explore the faith of its characters without itself being a "religious play", yet another of Ruhl's amazing feats). And the universe of confused humans entrusted with an impossible holy task is populated by some amazingly sharp, professional actors, each of whom gets a chance to shine. Stand-outs include T. Ryder Smith, who makes humorous entrances as Queen Elizabeth, Adolph Hitler, and Ronald Reagan (all rulers of Empires – an interesting parallel with the Rome that colonized Palestine and persecuted Jesus), and Polly Noonan, as various children and Village idiots (or Holy Fools, another analog for Jesus. Damn, Sarah Ruhl, you're good!) Along the way, we get our full portion of mini-Christs: fallen and wronged women, closeted gays, persecuted Jews, untreated mental patients, etc. The fact that Ruhl is able to express the irony of their plights against the big backdrop of a rather indifferent Christian apparatus without making this specifically an "anti-religious" play is Ruhl's umpteenth masterstroke. The motivating spirit of the play seems to be  Humanist, in all the best senses of the term.
Backstage, David Sheward – Let's just get the superlatives out of the way. "Sarah Ruhl's Passion Play" is the most exciting, stimulating, and thrilling piece of theater to hit New York since "Angels in America." Epic in scale, this three-hour-and-45-minute panorama is appropriately being presented by Epic Theatre Ensemble at the Irondale Center, a converted Sunday school in the Lafayette Avenue Presbyterian Church in the Fort Greene section of Brooklyn. Ruhl, who previously explored how cultural phenomena influence everyday lives in her "In the Next Room, or the vibrator play," here examines the ways faith and art interact with politics and personalities, as re-enactments of Christ's Passion change the destinies of the performers.
Each of the three acts takes place in a different period. We begin in 16th-century England, when Queen Elizabeth I interrupts a village's Passion play with a decree that all such spectacles are sacrilegious. The second act transports us to Oberammergau, Germany, in 1934, where the story of the Messiah has been done since the Middle Ages. A visit from the Führer and the anti-Semitic depiction of the Jewish hierarchy indicate the country's monstrous future. The last act takes place from 1969 to the present in South Dakota, where the annual local pageant was started by a German immigrant. At the 1984 presentation, Ronald Reagan—the ultimate actor-as-leader—makes a campaign appearance to praise the family values depicted.
In each setting, the amateur actors participating in the re-enactment struggle to find their true identities both within and outside their roles. Ruhl subtly draws parallels among the three eras, demonstrating that an undisciplined search for meaning can lead to tragedy. The pretty girl playing the Virgin Mary in Elizabethan England gets pregnant and pretends her condition is of divine origin. She later kills herself because she cannot deal with the truth. The boy enacting Christ in Nazi Germany joins the army to become part of a glorious ideal and becomes a murderer instead. The Vietnam veteran cast as Pilate in South Dakota finds he cannot wash his hands of the guilt he feels for his part in the deaths of innocent children. The playwright also makes pointed observations on the role of plays in society, the impact of religion on history, the similarities between performers and politicians, and a dozen other topics.
Following his acclaimed full-scale productions of the play at the Goodman Theatre and Yale Repertory Theatre, director Mark Wing-Davey has inventively reimagined his staging to accommodate the site-specific nature of this engagement. Employing about a dozen mobile prop cabinets as scenery (the subtle set design is by Allen Moyer and Warren Karp), Wing-Davey creates a found-object world reflecting the nonprofessional status of the characters. David Weiner's lighting and Gabriel Berry and Antonia Ford-Roberts' costumes imaginatively place us in each era.
The 11-member company paints humanity in its myriad fascinating shades as a galaxy of characters searching for the word of God through acting. Particularly brilliant are Dominic Fumusa, Polly Noonan, and T. Ryder Smith. Fumusa expertly depicts the inner conflicts of the men playing Pontius without veering into melodrama. Noonan is heartbreaking and funny as the savantlike village idiot in England and Germany and a bird-loving little girl in contemporary America. Smith gives a tour de force performance as the imperious Elizabeth, the quietly menacing Hitler, and the folksy Reagan.
I'm assuming the playwright's name is part of the title to avoid confusion with Peter Nichols' "Passion Play" or perhaps the actual Passion play itself, but there's no danger of mistaking this unique work for any other. It's a rich, textured tapestry of a play that all followers of serious theater and thought should trek to Brooklyn to see. 5.13.10
NY Post, Frank Scheck – It seems unfair to criticize a theatrical work for being too ambitious, but "Sarah Ruhl's Passion Play" fairly begs for it. This triptych of one-acts is stuffed with so many ideas and themes that it falls apart under its own weight.
It's also 3½ hours long. At least they're giving away wine and bread — actually, bagels or muffins — at intermission.
Ruhl, a MacArthur "Genius" winner and a Tony nominee this season for "In the Next Room, or The Vibrator Play," has been working on this drama for more than half a decade. Previously seen in Washington, DC, Chicago and New Haven, the Epic Theatre Ensemble opened it last night in — aptly enough — a former Sunday school.
For her modern-day variation of the oft-performed religious work, Ruhl's triptych depicts three different attempts at staging it: in 16th-century England, 1934 Germany and, finally, in South Dakota, during and just after the Vietnam War.
In each segment, we watch as a band of amateur players rehearses their version under the watchful eye of a harried director (all played by Keith Reddin) amid a swirl of emotional, romantic and political entanglements.
In the Elizabethan segment, the young woman playing the Virgin Mary develops a crush on the hunky actor playing Jesus ("I didn't ask to play his mother," she whines). Meanwhile, the company is pressured by the monarchy's clampdown on religious dramas.
The second act, not surprisingly, deals with anti-Semitism, as well as the homosexual attraction that develops between two of the male players. And the third, which begins in 1969, concerns a soldier back from Vietnam, suffering from post-traumatic stress.
Along the way, we're treated to periodic parades of giant fish and cameo appearances by Queen Elizabeth, Adolf Hitler and Ronald Reagan (all entertainingly played by T. Ryder Smith).
While Ruhl has many important things on her mind, she fails to provide enough depth or coherence to the proceedings to justify their punishing running time. Equally unsuccessful is the blending of portentous elements — the German segment ends with the loud rumble of train tracks — with puerile humor (a terrified "angel" being hoisted skyward by a rickety pulley).
Mark Wing-Davey's directed a remarkably well-organized production, and the ensemble performs it ably. But for all the passion evident in this clearly thoughtful effort, Ruhl has bitten off more than she or the audience can comfortably chew.5.13.10
Theatremania.com, Don Bacalzo – Sarah Ruhl's excellent Passion Play, presented by Epic Theatre Ensemble at the Irondale Center, is nothing if not ambitious. Set in three different eras and locales, Mark Wing-Davey's beautifully realized production uses stagings of passion plays — dramatic presentations of the story of Jesus Christ's trial, suffering, and death — to explore not only issues of spirituality, but also politics and more physical passions, as well.
The first act is set in 1575 England, during the reign of Queen Elizabeth, who banned the performance of religious plays as part of her efforts to rid England of traces of Catholicism. The action centers around the players of a passion play in a small village, who have been performing their roles for years. For some of them, the act of playing their Biblical counterparts has affected the way they live their lives. John (Hale Appleman), who portrays Jesus, is almost saintly, while Mary (Kate Turnbull), who portrays the Virgin Mary, tries to pass off an unexpected pregnancy as an immaculate conception.
In the second act, set in Oberammergau, Bavaria in 1934, the role of Jesus is played by neophyte Eric (Appleman again), who is a much more conflicted character. His clandestine love affair with a foot soldier in the German army (Dominic Fumusa) is just one of the stories that play out as World War II encroaches upon the lives of the townspeople. The third act centers around a passion play in 20th-century South Dakota, and tells the tale of two brothers (Appleman and Fumusa), one of whom becomes a soap opera star and the other an addled Vietnam vet.
Each of the three parts could conceivably stand on its own, but viewed as a whole adds up to much more than the sum of its parts. The shifting dynamics between the roles played by Appleman and Fumusa provides a through-line for the piece, as their characters always take on the parts of Jesus and Pontius Pilate, respectively. Both actors rise to the challenge of playing multiple variations on a theme, with Appleman particularly convincing in Act 2 and Fumusa downright heartwrenching in Act 3.
T. Ryder Smith presents three scene-stealing turns as Queen Elizabeth, Adolf Hitler, and Ronald Reagan — all of whom figure into the plot in strangely delightful ways. Polly Noonan is somewhat annoying in the first act as the Village Idiot, but is harrowingly effective in Act 2 as Violet, a Jewish orphan shunned by the other villagers. Turnbull and Nicole Wiesner, as the actresses usually playing the Virgin Mary and Mary Magdalene, are also quite good. Rounding out the cast in multiple but related parts are Brendan Averett, Daniel Pearce, Alex Podulke, Keith Reddin, and Godfrey L. Simmons Jr.
Irondale's theatrical playing area is a large room on the second floor of Lafayette Avenue Presbyterian Church, which makes for an ideal site-specific staging of Ruhl's work. Set designers Allen Moyer and Warren Karp work with the existing architecture of the space, and large rolling storage units sometimes double as doors from which characters enter or exit. The overall effect is a non-illusionist, almost presentational aesthetic, reinforced by Gabriel Berry and Antonia Ford-Roberts' costume pieces, which are mostly contemporary with some very specific exceptions, such as the outfits Smith wears as the three leaders he portrays.
The production clearly demonstrates the political contexts in which passion plays were performed — including a move towards skepticism in the third act, as many of the South Dakota actors are now Equity and don't even pretend to believe in the story they're depicting. And yet, remarkably, Ruhl's play doesn't come across as anti-religious. On the contrary, a yearning for spirituality permeates the proceedings, with surreal imagery (often involving fish) dynamically used to create a sense of wonder that signals that there's something beyond the human dramas that we've seen played out before us. 5.13.10
Entertainment Weekly, Melissa Rose Bernardo – With the New York City premiere of Passion Play, Sarah Ruhl continues her streak as one of the most surprising, enigmatic, and curiously fascinating playwrights working today. After the beautifully quirky The Clean House (punctuated with periodic Portuguese punchlines), she took us into the underworld — well, why not? — with her surreal Eurydice, then satirized the electronic age in Dead Man's Cell Phone. She made her Broadway debut last fall with the cheeky 19th-century-set drawing-room comedy In the Next Room or the vibrator play, which just earned her a Best Play Tony nomination. Now she returns to her Passion Play, a three-and-a-half-hour, three-part work she began as a graduate student at Brown University.
On the basis of the Epic Theatre Ensemble's gorgeous production at — how perfect is this? — Brooklyn's Lafayette Avenue Presbyterian Church, it's easy to see why Ruhl has held on to this play for so long. (Washington, D.C.'s Arena Stage commissioned part 3, then premiered the triptych in 2005; it subsequently played at the Yale Rep and Chicago's Goodman Theatre.) Spanning roughly 400 years, the ambitious, moving epic travels to three very different locales where people are producing plays about Jesus' Passion in a politically rancorous time: Elizabethan England (Act 1), Nazi Germany (Act 2), and Reagan-era South Dakota (Act 3). Ruhl designed the piece for an ensemble, and the doubling/tripling of roles provides great continuity: Hale Appleman is always the guy who's playing Jesus; Kate Turnbull is always the woman who stars as the Virgin Mary; T. Ryder Smith plays Queen Elizabeth, then Hitler, then Ronald Reagan. (This is a Sarah Ruhl play. Something completely oddball had to happen. Smith, incidentally, couldn't be funnier.) Ruhl also shades the characters beautifully — for example, in Act 1, Appleman's character is a humble fisherman; but in act 3, he's a completely narcissistic soap star.
But connecting all those dots and crossing all the t's in a play of this magnitude is an enormous challenge, and after the first act — an achingly beautiful, tautly written rhapsody with idiosyncratic nods to everything from Shakespeare to The Sopranos — the effort shows. The pace slackens. And the heavily political third act — in which one character, played by Nurse Jackie's Dominic Fumusa, is pretty much destroyed after he returns from Vietnam — doesn't quite mesh with its predecessors. Still, one suspects we haven't seen the final version of Ruhl's Passion Play. I'll happily sacrifice another three and a half hours to watch a future incarnation. Besides, how many other shows serve bread and wine at intermission? 5.12.10
Slant magazine, Jason Clark – You can walk out of Sarah Ruhl's Passion Play with the feeling of having been fed at a play that isn't, like Tony 'n Tina's Wedding, also a test of one's endurance. A stirringly ambitious triptych of plays centering on three different decades' stagings of The Passion amid their respective cultural climates, this one richly feeds your mind as well—and the bread (well, bagels) and wine (and even pizza on Sunday performances) being passed around are no match for what you'll take home with you.
Ruhl, a Pulitzer finalist this year for her sensitive period drama In the Next Room, or the Vibrator Play, sometimes twists a viewer's brain into a vice to illustrate her writing, something her detractors seem to loathe. But for those on her wavelength, which to my mind recalls playwrights such as Tony Kushner and Tom Stoppard who share her frisky observational style wrapped in playful historical context, her works have a delirious rhythm all their own, and there's no playwright around who takes the kind of risks she does. They may not always pay off in conventional ways, but the execution is never less than thorough.
Spanning three-and-a-half hours and three acts, Passion Play takes shape in a community center in Brooklyn (which appears to have its own religious doctrine on its walls), and this New York incarnation, reportedly much less flashy than its previous ones, benefits greatly from Mark Wing-Davey's community-based approach. After all, the three playlets embody the notion of community theater, and how art not only transforms its audiences, but those creating it most immediately.
We begin in Northern England in 1575, as Queen Elizabeth (T. Ryder Smith), with her mind on religious control, attempts to shut down the Passion plays. Ruhl's melding of realism and dreamlike states begins its focus here, as we first witness the events that will course through all three acts in repetitious yet surprising ways. In the play-within-a-play structure of the piece, John the Fisherman (Hale Appleman) plays Jesus in this act, and his brother, a fish-gutter (Nurse Jackie's Dominic Fumusa), assumes the role of Pontius Pilate, and the beginnings of the tale mark their place, including a rather bawdy trip to the Garden of Eden.
The second and most striking of Ruhl's three acts is set in 1934 Bavaria as a troupe stages The Passion as the Third Reich is just around the corner, with Polly Noonan's Village Idiot seemingly attuned to the real-life carnage on its way ("People like the bloody parts better," she intones about their impending production). A British journalist (Daniel Pearce) is chronicling theater in the region, while the play's Jesus and Pilate characters (Fumusa and Appleman again) become clandestine male lovers eventually separated by WWII. And Hitler himself (Ryder again) descends on the production only to give it his blessing, as the Jews-killing-Christ motif strikes his fancy.
The third act is the most problematic, mainly because it seems the most familiar. Beginning in South Dakota in the free-love era, the Jesus and Pilate figures (Appleman, Fumusa) are now actors/brothers again in a love triangle with a fellow player (Kate Turnbull) who assumes relationships with both after one enlists in Vietnam and returns shell-shocked and questioning the representation of God, while the other parlays his rock-star looks and persona into a TV career. Eventually, in 1984, the troupe performs for President Ronald Reagan (Ryder) in an amphitheater, with the Gipper revealing surprising depths about his own rise to power. This portion was created a while after the first two, and it shows. While never uninteresting and as superbly acted as the rest, the melodramatic arc that weaves through it is nevertheless one we've seen before.
But Wing-Davey's visually resplendent mounting is one we haven't really seen before—a stylistic yet shrewdly intimate meeting of the boldly theatrical with the textually suggestive. Ruhl's works always allow designers and technicians to run imaginatively wild, and this no exception, though the minimalist touches are just as exciting as the bolder strokes (human-sized fish puppets, elaborate lighting effects, smoke machines). But the whole evening would just be fancy pageantry if not embodied by such a first-rate cast, with Fumusa a believably masculine force of nature and Appleman's soulful, specific Jesus figures deserving special mention. But anytime Smith turns up in his three iconic roles is when the already-excellent acting reaches nirvana here; he's one of those supremely gifted pros who manages to hold an audience in thrall inside a single speech, and the representations are never caricatured or overstated, which would have been so tempting to do here by a lesser actor.
The design team all deserve mention—from Allen Moyer and Warren Kapp's portable, crafty crate-based scenery, to Gabriel Berry and Antonia Ford-Roberts's pitch-perfect costumes, to David Weiner's dazzling use of mood lighting—and also to the relatively small Epic Theatre Ensemble for taking on this mammoth, undeniably challenging piece. Faith or no faith, whatever denomination you wish to call yourself, Passion Play more than lives up to its title. 5.12.10