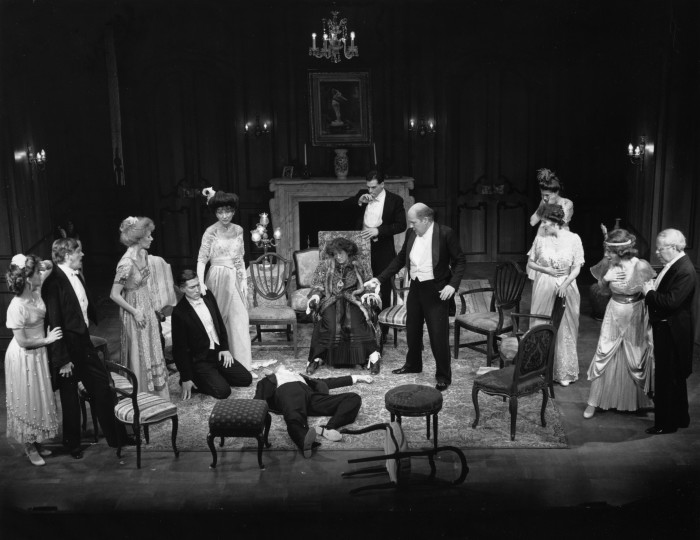 Note:
I was happy to be a tiny part of the history of the Equity Library Theatre. It closed the season following this one.
http://en.wikipedia.org/wiki/Equity_Library_Theatre
Full review
The New York Times, Richard F. Shepard – The Nostalgia of Murder When the Lights Go Out. Years ago, when movies were in their infancy and television was not even a gleam in an inventor's eye, theater had a stranglehold on what is now called light entertainment. But as the new Equity Library Theater production of a 1916 mystery, "The Thirteenth Chair," indicates, stylish drama like other fashion goes out of style. "The Thirteenth Chair" is as rusty a vehicle as has creaked across a stage in current seasons, but there is no mystery about why this whodunit by Bayard Veiller was attractive to the company, which is commendably dedicated to serving as a showcase for professional talent: it has 18 roles. It is a period piece, the kind that came to a full stop years ago, a wordy drawing-room murder in which almost nothing you see gives you a clue until the guilty party collapses at the finale. The son of a wealthy family intends to marry a pretty but poor young woman whose mother is declasse Irish in that old New York of the setting. A friend of the family asks that the announcement be delayed one day and has arranged for Rosalie LaGrange, a raffish, outspoken and distinctly un-Gallic Irish medium, to conduct a seance. She's a character who reveals tricks of her trade but promises to play things straight on this evening. She and the 12 guests sit in the usual hand-holding circle; lights dim; voices discuss the recent murder of a man known to all present; a gasp is heard; the lights go on, and the meddlesome family friend is dead of a stab in the back. Whodunit? That is what Inspector Tim Donohue, dapper, talkative and deductive as all get-out, intends to learn. That is the play. Maggie Jackson's direction of this cast of attractive performers provides occasional light moments and an overall patina of good-natured forbearance, humor and affection. Babs Hooyman, as the medium, gives a robust performance that creates fun out of the essential hamminess of the part. Malia Ondrejka, as the romantic lead, is beauteous and also may be the one who comes closest to fashioning a real person out of her role. Hewitt Brooks makes an urbane inspector and, considering the tonnage of verbiage he has to deliver, injects a welcome undertone of playfulness to the part. "The Thirteenth Chair" is a museum piece and only the mood in which you approach it will determine whether it comes across as hopeless melodrama or as light mellow drama.