Measure Back, a rehearsal for the end of war by T. Ryder Smith
Workshop production
Directed by T. Ryder Smith
Dixon Place, NYC
With: Angel Uwamahoro, T. Ryder Smith
Design by Rafael Tasca
Stage Managers: Mark Carmouze, Derek Spaldo
January 27, 2015
March 24, 2015
see www.measurebacktheplay.org for more info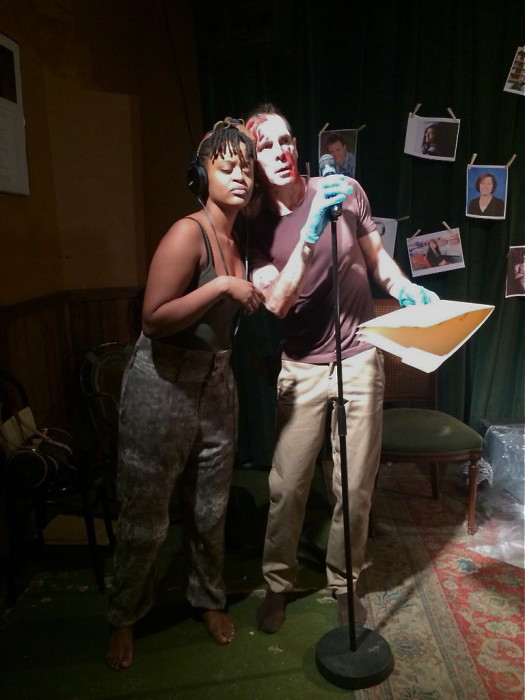 Above and below: Angel Uwamahoro and T. Ryder Smith
Photos by Delphine Kaza, Dieuodone Kageruka, Irungu Mutu, Mark Carmouze and other audience members.
*
We Are Pussy Riot, a new play by Barbara Hammond
Developmental workshop
Directed by Barbara Hammond
New Dramatists, NYC
With: Sofiya Akilova, Nadja Bowers, Stan Demidorff, Natia Dune, Stephanie Hayes,
Pete Simpson, T. Ryder Smith
Stage Managers: Julien Hawthorne, Scarlett McCarthy
February 19-20, 2015
*
The Lady Revealed, a play by Andrew B. Harris
Staged reading
Directed by Illana Stein
Produced by Steffi Wallis / ABH Productions
New Dramatists, NYC
With: Bianca Amato, David Hywel Baynes, Geoffrey Beevers, Patricia Conolly, Merritt Janson, Robert Langdon Lloyd, Eddie Lopez, T. Ryder Smith
Stage Directions read by Jake McCready
Stage Managers: Bloo Rodriguez, Abagail Barr
March 16, 2015
project website here
*
The Chosen Ones and The Tavern Wench, two plays by Cheri Magid
Staged readings
Directed by Cheri Magid
In honor of Cheri's appointment as the 2015 Tennessee Williams Playwright-in-Residence
University of the South, Sewanee, Tennessee
Megan Roberts and Wyatt Prunty, hosts
With: Sarah Baskin, Chase Brantley, Ron Rifkin, T. Ryder Smith
March 31, 2015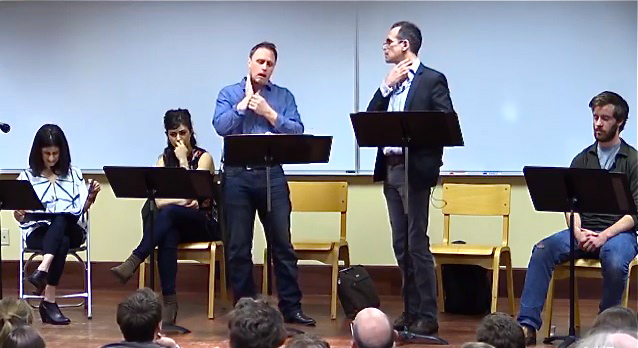 above: Cheri Magid, Sarah Baskin, Ron Riley, T. Ryder Smith, Chase Brantley

link to video of reading here
a review:
Mature audiences only. On March 30, Sewanee's new visiting playwright, Cheri Magid presented scenes from two of her drama pieces in a live reading held in Gailor Auditorium. Current Tennessee Williams playwright, Elizabeth Wylder, formally introduced the audience to Magid before the reading commenced. Magid spends her time teaching at the creative writing department at NYU Tisch; workshopping storytelling with her students and leading TV writing "bootcamps" in addition more particularly erotica-themed plays.
Once the event began, a number of actors graced the platform to read, including: New York professionals, Magid's husband, and Sewanee theater major Chase Brantley (C'15).
Magid prefaced the readings with some notes about her journey into the world of theater; and fictional blog Magid published through the voice frequent Sewanee Writers Conference presenter's audio production aired on NPR (titled, Lydia or the Girl and the Wheel: a story about the 1868 transfer of burlesque shows from English to American stages) she began to be offered an array of erotica gigs. Out of them came a about it, sparked her interest. After being commissioned to write erotica of a New York escort, going on to gain as many as 20,000 readers per post. Magid explained she never intended to grow into writing in the erotica genre, but that a certain fascination for the concept of "desire" and the stories that can be told pieces and plays, she later decided to marry the two art forms. The result, as the Tuesday audience witnessed were the highly entertaining The Tavern Wench and The Chosen Ones. The first, covers the seduction of storytelling itself. In The Tavern Wench, a sailor at a bar breaks audience walls to tell the story of his past and his love affair with an erotica writer. The Chosen Ones is a dark comedy that explores the unnatural love that can occur between unlikely people, and love out of seeing other people in love. The two leads in The Chosen Ones are Felix Kersten a Finnish massage therapist who has mastered Chinese Medicine and Heinrich Himmler, the very architect of the Holocaust. In both of the readings, the taboo is delved into and the result was almost always laughter or emotional resonance in her risk-taking as a writer.
Magid has a gift for layered storytelling. Layers within the characters (audience members react strongly to seeing Himmler depicted as an actual emotional, complex human), layers within both emotional and physical intimacy and layers regarding many ways of usurping audience expectation. The featured excerpts were thrillers in essence. They made the audience excited and anxious without a single car chase or explosion in the script. Her dialogue is poetic and illuminating and the "love scenes" are earned because of it. When the sailor from The Tavern Wench delivers a line such as, "her sex in my hand", while describing an act of intimacy, it doesn't come off as gratuitous, but rather a natural extension of the fictional universe and the characters who dwell in it. Magid says she finds freedom in the current drama she is experimenting in, finding freedom in telling tales about, "the ashamed, the embarrassed with truth."
Professor Cheri Magid will be offering an introductory playwriting class in the Advent semester of 2015. She encourages any student interested in the craft, or to find out the endings of either The Chosen Ones or The Tavern Wench to register.
-David Provost, The Sewanee Purple, 4.11.15
*
We Are Pussy Riot, a new play by Barbara Hammond
Developmental workshop and staged reading
Directed by Tea Alagic
Ripley-Grier Studios, NYC
With: Jessie Barr, Tina Benko, Masha Dakic, Stan Demidorff, Rachel Joyce, Randolph Curtis Rand, T. Ryder Smith
Stage Manager: Lindsay Eberly
April 20, 2015
*
Salome, a new play by Yael Farber
Workshop
Directed by Yael Farber
Movement Director: Ami Shulman
Shakespeare Theatre Co, Washington, DC
With: Lubana Al Quntar, Yuval Boim, Ramzi Choukair, Olwen Fouere, Jeffrey Hayenga, Shahar Isaac, Ismael Kanater, Nadine Malouf, Richard Saudek, T. Ryder Smith, Elan Zafir
And with: Lilian Barnes (Translator), Pat Cochran (Stage Manager), Sean Carleton (SM Fellow), Susan Hilferty (Designer), Rob Jansen (Assistant Director), Jennifer Kamal (Translator), Drew Lichtenberg (Dramaturg), Rebecca Shipman (SM Fellow)
May 4-10, 2015
*
Rechnitz (The Exterminating Angel), a play by Elfriede Jelinek
Workshop production
Directed by Tea Alagic
Performed by T. Ryder Smith
Polonsky Shakespeare Center, Brooklyn, NY
Translated by Gitta Honegger
Sound design by Jane Shaw
Assistant director: Celine Rosenthal
Stage Manager: Richard A. Hodge
Produced by Theatre for a New Audience
Special thanks to Jonathan Kalb and Kazunori Ishizuka
May 18 – June 1, 2015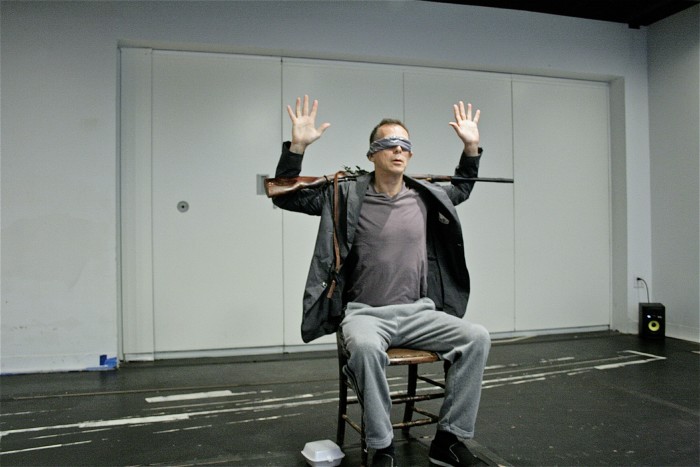 above: T. Ryder Smith, photo by Celine Rosenthal
Synopsis: A text for theatre. A character identified only as "the messenger" repeatedly tries and fails to deliver an account of an event he seems to have been witness to in the final days of WW2: 180 Hungarian Jews were held captive in the barn of a castle belonging to a family of Austrian aristocrats collaborating with the Nazis. As the Russian army approached to liberate the territory, the aristocrats arranged a orgiastic "party" where they shot and buried the prisoners in a mass grave. The grave goes undiscovered for decades, while the murderers live comfortably in exile.
The very long and complex text is written without theatrical conventions, as a series of paragraphs to be assigned to actors or arranged into dialogue as the director sees fit. This was a presentation of 1 hour of the full (5-hour) text, with a single actor playing The Messenger and several other devised characters.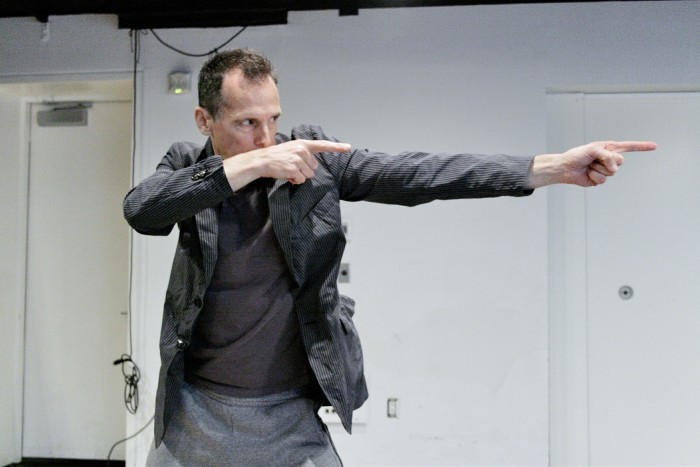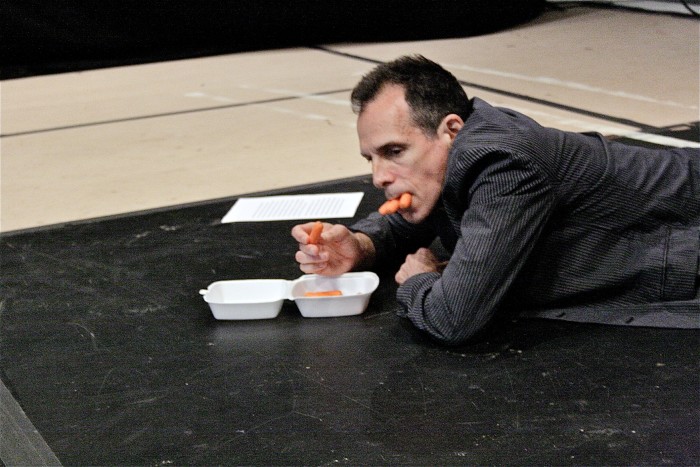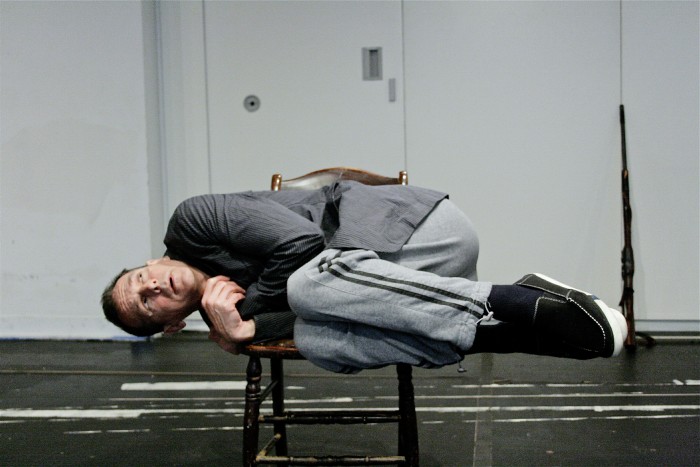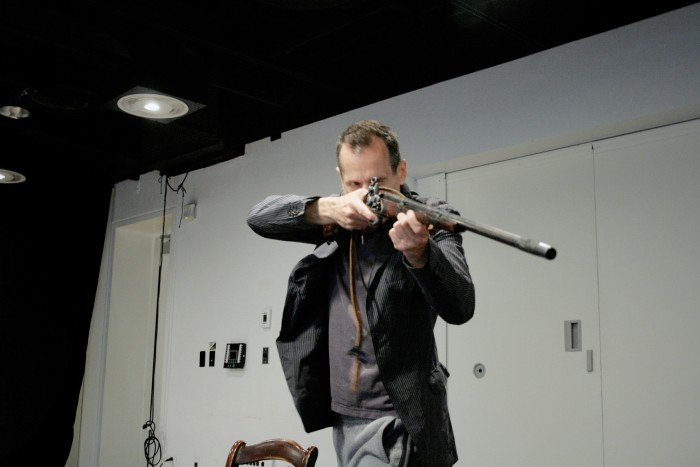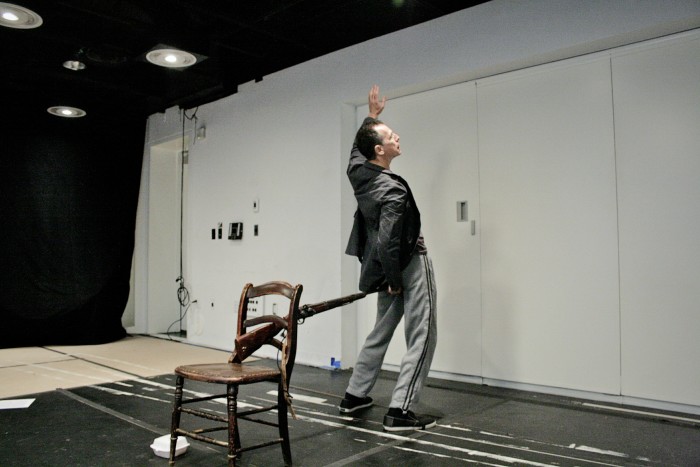 above: photos by Celine Rosenthal and Kazunori Ishizuka
below: in rehearsal; Gitta Honegger, Kazunori Ishizuka, Tea Alagic;
bottom photo: Celine Rosenthal, Tea Alagic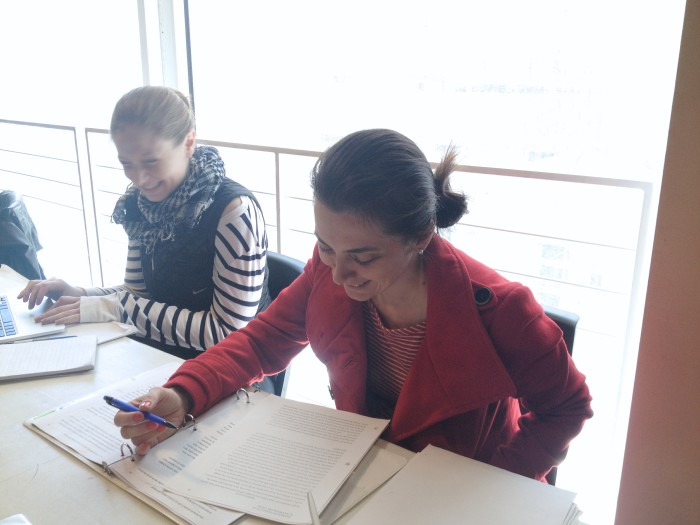 *
Bingo, a play by Edward Bond
Staged reading
Directed by Craig Baldwin
The ReDiscovery Reading Series
Shakespeare Theatre, Washington, DC
With: Catherine Flye, Michael Glenn, Alyssa Wilmouth Keegan, Thomas Keegan, Nadine Malouf, Ron Menzel, Hugh Nees, Richard Saudek, Lee Sellars, T. Ryder Smith, Emily Townley
Stage Directions read by Ross Destiche
Stage Manager: Micaela Cirimeli
October 19, 2015
*
The Chosen Ones, a new play by Cheri Magid
Workshop and staged reading
Directed by Leah C. Gardiner
Primary Stages, NYC
With: Norman Dillon, Daniel Gerroll, T. Ryder Smith, Katya Stepanov
November 16 – 20, 2015
Synopsis: The (mostly) true story of Dr. Felix Kersten, a Tibetan-trained healer grown wealthy from treating various members of the European aristocracy in the 1930s. A relentless womanizer who proclaimed himself apolitical, he treated the Nazi commander Heinrich Himmler as Germany began it's conquest of Europe. Unable to leave Germany, or to eventually deny the genocide taking place around him, and his part in helping perpetuate it, Kersten used his influence to get people released from the Nazi camps. The play deals with the relationship between Himmler, Kersten, and a young woman with whom Kersten has an affair, who he discovers is being groomed to help breed the new German race.
*
Who Left This Fork Here, a new play by Daniel Fish
Directed by Daniel Fish
world premiere
Baryshnikov Arts Center, NYC
Video/Music/Sound: Jim Findlay – Light: Christopher Kuhl – Costumes: Terese Wadden – Assistant Directors: Ben Hoover and Ashley Tata
Performers: Tina Benko, Judith Roberts, Auden Thornton
Synopsis: The piece is a consideration/excavation of Chekov's Three Sisters. I appeared on video, speaking a few lines of Chekov's text, as did a range of other performers, including Lola Pashalinski, Rob Cambell, Jay Smith, Veanne Cox, Danaya Esperanza, Randy Danson, Jenny Seastone, Angel Uwamahoro, Nick Westrate, Liba Vaynberg, and Michael Emerson.
more info about the production on the daniel fish website here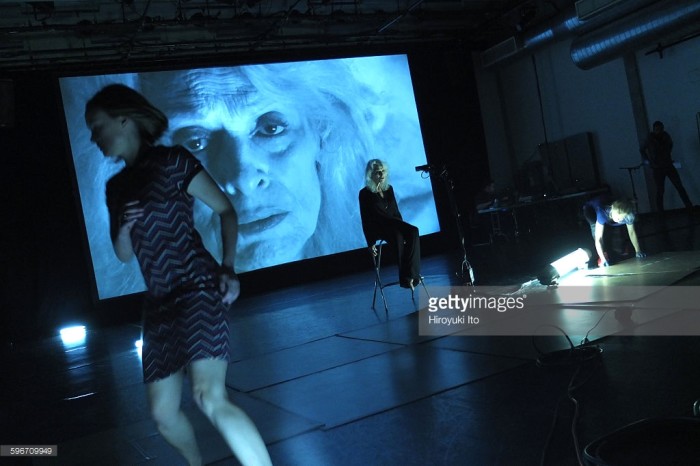 Photos by Getty Images
*
City of Glass, a new play by Edward Einhorn
Adapted from the novel by Paul Auster
Developmental workshop
Directed by Edward Einhorn
South Oxford Space, Brooklyn
With: Dina Gray, Mateo Moreno, T. Ryder Smith
Video: Gil Spreling
Choreography: Patrice Miller
Stage Manager: Berit Johnson
Production Assistants: Lauren Winnenberg, Rebecca Kane
December 12-13, 2015
Note: Scheduling conflicts forced me to withdraw from this production after the workshop stage.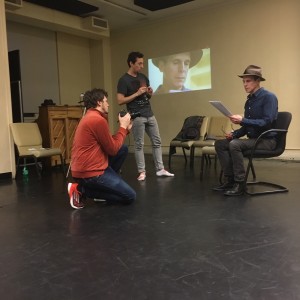 Photos by Gil Sperling
*