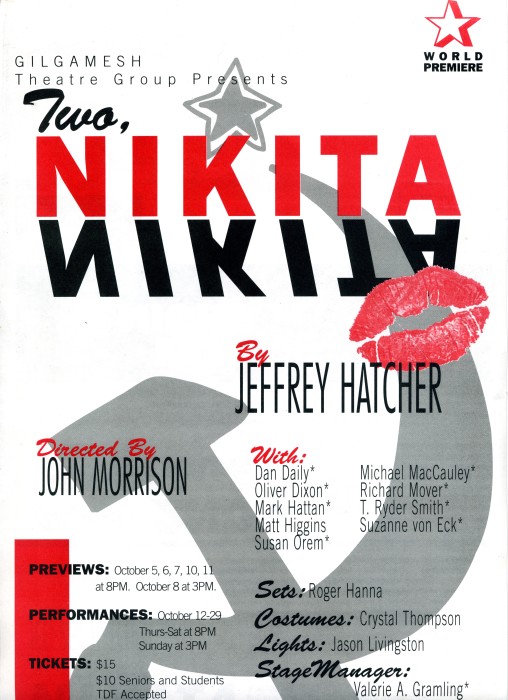 Full reviews
The Village Voice, Randy Gener – MTC's bracing production of 'Three Viewings' proved two things last season: 1) Jeffrey Hatcher is an original new voice, and 2) his complexly-layered plays need a label that says 'Handle with Care'. This John Le Carre-like Cold War thriller about a Russian defector and the unwitting FBI agent who tries to save his butt is already disadvantaged because it lacks political urgency. The Gilgamesh Theatre Group does it worse: despite strong casting and one or two full-throttle actors, everything about this rough-hewn production is over-frenetic, overblown, disjunctively paced or severely out of whack. If you can peel off the travesties, you'll likely discover a clever, calculating albeit overlong potboiler.
New York magazine, John Simon – 'Two, Nikita' is by Jeffrey Hatcher, whose previous 'Thee Viewings' I greatly enjoyed. But this script, about Cold War espionage and counter-espionage was probably intended for the movies or television, and does not adapt to the stage. At least not with the limited resources – financial and artistic – of the Gilgamesh Theatre Group, and it's generally poor cast, with Suzanne Von Eck an especial Gilgamess. In the epic after which the group is named, Gilgamesh the hero slays the monster Humbaba. Considering this production, perhaps a better name would be the Humbaba Theatre Group.
New York Times, Ben Brantly – A Love Triangle Amid Espionage Antics.  The gawky young Soviet defector in Jeffrey Hatcher's "Two, Nikita" explains that he learned about America by watching its sitcoms. It's tempting to assume that this is how Mr. Hatcher learned about writing plays as well. The author of last season's well-received "Three Viewings," Mr. Hatcher here appears to be filtering the bleakly romantic take on espionage and double identities of Tom Stoppard's "Hapgood" through the goofy lens of "Get Smart," the 1960's television show about silly spies. He has mostly borrowed the blandest elements of each, and the play seldom offers the sharper pleasures of quirky satire or cloak-and-dagger yarns. Set during and immediately after Nikita Khrushchev's visit here in 1959, this sentimental comedy is centered on a triangle made up of a hapless member of the Soviet entourage (T. Ryder Smith) who defects in Disneyland while disguised as Mickey Mouse; a handsome, laconic F.B.I. agent (Michael MacCauley, in an amusing Joe Fridayish turn) and a green, attractive translator for the bureau (Suzanne von Eck), who probably loves them both. Mr. Hatcher shows a solid sense of structure and some glimmers of an original wit, but there's something perfunctory about both the jokes and the intricate plot turns, as if they had been assembled from a kit called Make-a-Play. And neither John Morrison's direction nor the hard-working cast members are able to infuse the proceedings with the helium they require.